Kevin C. Cox/Getty Images
Al Horford (16 points, 12 rebounds) was one reason the East-leading Hawks rolled by the Heat.

AP Photo/Susan Walsh
Cavaliers forward LeBron James hurt his left wrist dunking late in the 108-91 loss to Washington.

Photo by Glenn James/NBAE via Getty Images
Dirk Nowitzki matched his uniform number, dropping 41 points on the Spurs in a 99-94 OT win.

AP Photo/Elise Amendola
Mikki Moore holds back Warriors teammate Raja Bell, who disputed a ruling in a 109-95 loss to Boston.

Fernando Medina/NBAE via Getty Images
Dwight Howard and Rashard Lewis, who missed a triple double by one assist, beat OKC 108-94.

Photo by Ron Hoskins/NBAE via Getty Images
Eddy Curry, who scored 10 points in his season debut, helped the Knicks to a 110-103 win over Indy.
Hawks Are Athletic And So Much More

ATLANTA -- "Well, they're athletic."
It happened before every game -- the go-to, garden-variety backhanded compliment that every opposing coach used in the pregame media session when they were trying to say nice things about the Hawks. Left unsaid were things like, "They know how to play," "They have a lot of smart veterans," "They play hard every night" and "There's no obvious place to attack them."
That was the old days, when the Hawks were a lottery team destined to become another speed bump for whatever quality opponent was visiting -- provided the opponent didn't stay out too late in Buckhead the night before. Sure, the Hawks had athleticism, but for good teams, that wouldn't matter if they took the event seriously.
That sentiment faded during last year's 47-win campaign, and a dozen games into the 2009-10 season, everything's been turned on its head. We saw it yet again in the Hawks' 105-90 win over Miami on Wednesday. They sit atop both the computer and human Power Rankings on ESPN.com, and more importantly they're on top in the standings too -- tied with Phoenix for the NBA's best record at 10-2.
We're a long way from answering whether they're actually the East's best team, but we're even further away from the "well, they're athletic" days. The effort on Wednesday night, when the Hawks ran away and hid with a 28-8 second quarter run before coasting to victory, provided further evidence.
Knowing how to play? Check -- even their most suspect performer in this department, Josh Smith, has amazed observers with his shot selection in the early going. Atlanta committed only eight turnovers against a ball-hawking Heat team, and the most cynical Hawk-basher could point to only one or two shots that might have been ill-chosen.
Lots of smart veterans? Check -- adding Joe Smith and Jamal Crawford in the offseason to join the likes of Mike Bibby, Maurice Evans and Zaza Pachulia put the Hawks ahead of the curve in this department. "Guys have figured out that when we play defense at a high level we're tough to beat," said Marvin Williams, who in his fifth season is pretty close to earning a V for veteran himself.
Playing hard every night? Check -- in fact this is probably the area where Mike Woodson's impact has been greatest over the past half decade. Atlanta's lone truly disappointing effort came in Charlotte and was as much a defeat to the schedule-makers (who bypassed consultation with Rand McNally and chose to send them straight from Sacramento to Charlotte) as to the Bobcats. Otherwise they've been spirited on the road (4-2) and invincible at Philips Arena.
No place to attack them? Check -- you can ask Dwyane Wade about that one. He once again struggled to penetrate against the Hawks' defense and suffered from the absence of his usual steady diet of free throws, not to mention the absence of a reliable second scoring threat. The Heat's star mustered only two free-throw attempts en route to a 6-for-18 night that was reminiscent of the 2009 playoffs, when the stout Hawks defense forced him to try more than seven 3-pointers a game.
"Atlanta forces me to be more of a jump shooter," said Wade. "They did a good job of forcing me out of the paint. You have to be smart when you play them, because they are a very athletic team and they will meet you at the rim."
These days, opponent's comments about Atlanta's athleticism emerge in a very different light. No longer is it a throwaway compliment -- it's now a warning. Like, you better not screw up, because they'll make you pay every time.
"Against an athletic team like this," said Heat coach Erik Spoelstra, "you have to really keep your turnovers down. Otherwise they will capitalize on it. They have long athletic defenders that do a good job of defending the paint. We just need to be sharper."
It's not a token plaudit -- it's a reality. Teams have trouble scoring against the length and mobility of Smith and Al Horford, who began the game first and 11th, respectively, in shot-blocking but are quick enough to pick up the likes of Wade on perimeter switches.
Opponents also give up size every night to Atlanta's wings (6-9 Williams and 6-7 Joe Johnson), making for difficult matchups. On Wednesday night, it was Wade who lamented having to give up inches and pounds against Johnson (a game-high 30 points), especially once Quentin Richardson checked out with a lower back strain.
Meanwhile, the Hawks' athleticism has been turbocharged by the fact that they finally figured out how to use it. As a result, plays like Bibby's one-motion scoop off the floor and alley-oop to Smith were the crowning highlight of a monstrous 28-8 second-quarter run, rather than the lone thrilling moment in a disappointing defeat.
Moments of goofiness like Smith's between-the-legs dunk tries -- sorry, that memory races back when these two teams meet in Philips -- have been expunged from the arsenal, as well. Instead Smith dunked pretty much every other way en route to a commanding 16-point, 14-rebound, seven-assist, two-steal, two-block performance.
And at times, the combo of skill, savvy and athleticism can be terrifying. Early in the third quarter, for example, center Al Horford ripped down a rebound, pushed it upcourt to the opposing 3-point line himself and fired a perfect transition bounce pass to Johnson for a layup. Name me another center who can both average double-figure rebounds and lead his own breaks.
It's a long season, of course, and we don't know yet how the Hawks will cope when the inevitable run of injuries and shooting slumps hits. But know this: They're athletic. And now, they're so much more.
John Hollinger writes for ESPN Insider. To e-mail him, click here.
Dimes past: Nov. 1 | 2 | 3 | 4 | 5 | 6-7 | 8 | 9 | 10 | 11 | 12 | 13-14 | 15 | 16 | 17
Nowitzki To The Rescue For Mavs

By Tim MacMahon | ESPNDallas.com
DALLAS -- The Double Guns made their debut Wednesday night at the American Airlines Center.
That's Dirk Nowitzki's newest move.
We're not discussing an addition to Dirk's awesome arsenal of ways to put the ball in the basket. It's another celebration to go along with the goofy jersey tug or tongue-wagging dagger face he occasionally does after drilling big shots.
When Dirk knocked down a 3-pointer to seal the Dallas Mavericks' 99-94 overtime win over the Interstate 35 rival San Antonio Spurs, the big German's biceps went up.
To read the entire MacMahon column, click here.
ESPN.com writers and TrueHoop Network bloggers chatted with fans and gave their in-game opinions throughout Wednesday night's slate of games -- all in Daily Dime Live.
By Maurice Brooks
ESPN.com

WEDNESDAY'S BEST
Dirk Nowitzki, Mavericks
: He hit big shot after big shot on the way to a game-high 41 points as the Mavericks knocked off the Spurs 99-94 in overtime.
---

WEDNESDAY'S WORST
Rafer Alston, Nets
: He missed nine of his 10 attempts from the floor on the way to a five-point game as the Nets (0-12) were tripped up by the visiting Bucks.
---
QUOTE OF THE NIGHT
"Two games in a row we've won. That's the most important. Everything else is just numbers and stats. As you can see, we're playing better."
-- Grizzlies center Marc Gasol, who set a franchise record by making 15 consecutive shots over a two-game period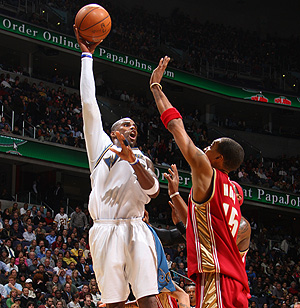 Ned Dishman/NBAE/Getty Images
In his season debut, Antawn Jamison had a double-double of 31 points and 10 rebounds to help Washington end its six-game losing streak with a victory against Cleveland.
TrueHoop: Curry Plays A Little

By Henry Abbott
TrueHoop Network
It wasn't the flashiest performance of the night, but it was meaningful. After a summer of losing weight, and an early season of injuries and ridicule, Knicks big man Eddy Curry checked into an NBA game on Wednesday night with 1:32 left in the first quarter.
The miserable Knicks were down five to the Pacers at the time. Just two minutes later, the Pacers hadn't scored again, and Curry knocked home his first bucket of the season, giving the Knicks their first lead of the game.
In 12 minutes of play, Curry finished with 12 points, on four shots, to go with four rebounds, three turnovers and four fouls. The Knicks were plus-nine while Curry was in the game and beat the Pacers by seven to double their win total of the season.
To read the entire TrueHoop blog, click here
Harrington Torches Pacers

By Elias Sports Bureau
Al Harrington contributed 26 points in the Knicks' win over the Pacers. Harrington, who spent his first six NBA seasons with Indiana, has a career average of 22.9 points per game against the Pacers, his highest mark, by far, against any team. Harrington has also posted more 20-point games against Indiana (12 in 15 games) than he has against any other opponent.
Shooting Bricks On Freebies

By John Hollinger
ESPN.com
Worse free throw shooting: This shouldn't be a big shock because the league set a record for free throw shooting last season; chances were good that we would see a regression. In the first month of last season, the league average was 76.6 percent from the line. This season it's just 75.2 percent. It's not just Ben Wallace and DeAndre Jordan, who are a combined 15-for-35 from the stripe. Even Jose Calderon, who set a record with a free throw percentage of 98.1 last season, is clanking freebies, shooting 74.1 percent through 11 games. Again, this difference likely will go unnoticed to the naked eye, but every 1 percent drop in leaguewide free throw percentage will drop offensive efficiency by about two-tenths of a point.
Faster pace: It's not a huge increase, but games this season have had about 1 percent more possessions than at this point last season. The league has tried to encourage an increase in tempo with assorted rule changes during the past several years, so this is a mildly positive piece of news. It should be a durable change, too, even though it's minor and basically imperceptible to the naked eye. Unlike offensive efficiency, which tends to increase steadily during the course of a season, pace factor is relatively stable.
• To read Hollinger's PER Diem, click here