NBAE/Getty Images
Pau Gasol, who missed 11 games with a hamstring injury, had a double-double in his season debut.

NBAE/Getty Images
Grant Hill had 10 points and six rebounds, but that couldn't keep the Suns from losing their third game.

NBAE/Getty
Ronnie Brewer had 13 points for the Jazz, who dominated the fourth quarter against the Spurs.
Breaking Down Gasol's Return To The Court

For the record, Andrew Bynum got the first touch. Pau Gasol got the first basket, tipping in a missed shot to start the Lakers on their way to a 108-93 victory over the Bulls.
So it began, the process of figuring out how things would work now that the Lakers had their starting lineup intact with Gasol back from a hamstring injury that caused him to miss the first 11 games of the season.
Gasol looked more tired than rusty, scoring 24 points on 9-for-15 shooting, grabbing 13 rebounds and blocking a shot. His sense of timing was good, often winding up just in the right place to collect seven offensive rebounds. And then there was a moment of pure luck: Chicago's Joakim Noah tried to save a ball underneath the Lakers' basket, only to have it bounce directly to Gasol, who was all alone for a layup.
Gasol needs the most work on conditioning; no amount of treadmill work prepares you for an NBA game, and he looked winded four minutes in.
"I was looking forward to the first timeout," he said. "I was glad we had a nationally televised game, because [the timeouts] were a little bit longer."
Of course, with Gasol back, the Lakers were a bit longer themselves.
"They not only have length, they have talent," Bulls coach Vinny Del Negro said. "It's one thing to be tall, but there's also being tall and talented, and they've got both."
There can be such a thing as too much talent, however, and if the Lakers aren't overloaded, they're at the very least stuffed. With Bynum, Gasol, Ron Artest and Lamar Odom, they have four starting-caliber players for the three frontcourt spots -- not to mention a certain guard who likes to get his share of shots.
Odom returned to his spot on the bench, although Phil Jackson actually used him as much as Bynum, who twisted an ankle during the game. (Odom was dinged-up too, with a cut above his right eye that required six stitches.) Odom wound up with eight rebounds and 11 points, giving the Lakers six double-digit scorers. Call him even.
Gasol's return did produce his share of winners and losers.
"Winner": Ron Artest. It was thought he might become a forgotten fourth option on offense with Gasol back. But the Bulls left him alone while they dealt with the Lakers' big men, and he scored 15 points after finishing with a single digit in the points column in three of the previous five games.
"Loser": Andrew Bynum. He had his lowest scoring game of the season, finishing with 11 points on 5-for-12 shooting. He tied his season low in field goal attempts, although it was consistent with the 12.6 attempts he had averaged in the previous three games.
"Winner": Kobe Bryant's passing. He had a season-high eight assists, including a couple of cross-lane lobs to Bynum.
"Loser": Kobe Bryant's scoring. He's been most aggressive in the first quarter this season, but Thursday he let Gasol and Bynum take their turns before finally posting up John Salmons for a lefty hook. He wound up with 21 points on 21 shots (seven made). Even on a night when he was below his season average of 31 points, he still set a scoring milestone, reaching career point 24,182 to move past Kareem Abdul-Jabbar and into second place on the Lakers' all-time list. (The Logo, Jerry West, is first at 25,192).
"Loser": Gasol's teammates. Jackson contemplated giving the Lakers the day off Friday, but decided they need to spend more time getting acclimated to Gasol. So it's back to work at their facility in El Segundo.
"I told Phil and I told my teammates, you can have the day off and I'll come in and get my work done," Gasol said. "But Phil wants us to practice, and that's the bottom line. I'm sorry my teammates have to come in, too."
If the early returns hold up, they'll welcome Gasol back, even if it means an extra practice.
J.A. Adande is an ESPN.com senior writer and the author of "The Best Los Angeles Sports Arguments." Click here to e-mail J.A.
Dimes past: Nov. 1 | 2 | 3 | 4 | 5 | 6-7 | 8 | 9 | 10 | 11 | 12 | 13-14 | 15 | 16 | 17 | 18
Jazz Rookies Playing Like Veterans

By Spencer Hall | TrueHoop Network
Few things put a hop in my step like seeing Jerry Sloan playing two rookies in crunch time of must-win games. Wesley Matthews wasn't even drafted and now he's starting for the Jazz and helping them win in San Antonio for the first time in 13 years. Eric Maynor made a splash in the NCAA tournament and spent four years at VCU proving the doubters wrong at every turn, but no one outside his immediate family imagined his scoring 24 points on the road against the Cavs and getting dap from a clearly impressed LeBron James after the game.
I get e-mail every day from longtime Maynor and Matthews fans who tell me I shouldn't be surprised, but even John Stockton and Deron Williams had to watch from the bench early in their first season.
Clearly, there's something to be said for picking up players who have a proven track record. Both Maynor and Matthews played four years of college ball and got better each year. Shouldn't we have learned from the case of Paul Millsap? He led the NCAA in rebounding for three years at Louisiana Tech and still slipped to the second round of the draft before the Jazz picked up the future $10 million man.
Take a look at the ages: Maynor is 22, Matthews is 23, and LeBron, who seems to have always been with us, is 24. The boys at FreeDarko have been trying to warn us about the Myth of the NEXT for years. Maybe it's time we gave Sloan some credit for not being seduced by the call of ridiculous upside and sticking with the qualities that landed him in the Hall of Fame. Read what DraftExpress had to say about Matthews back in May:
"Matthews isn't a bad athlete by any stretch of the imagination, but he doesn't play above the rim as consistently as most NBA wings, nor does he have the dynamite first step that will let him get to the rim at the next level with the same frequency that he has at Marquette. What he does have is great functional strength, a good basketball IQ, and a willingness to do the little things."
Does that sound like a player Sloan might like?
To read more, check out Hall's TrueHoop Network blog, Salt City Hoops.
ESPN.com writers and TrueHoop Network bloggers chatted with fans and gave their in-game opinions throughout Thursday night's slate of games -- all in Daily Dime Live.
By Maurice Brooks
ESPN.com

THURSDAY'S BEST
Peja Stojakovic, Hornets
: He knocked down seven 3-pointers on the way to scoring 25 points and grabbed 13 rebounds to guide New Orleans past Phoenix.
---

THURSDAY'S WORST
Luol Deng, Bulls
: He came into the game against the Lakers averaging over 17 points per game, but he was held to just six points on 3-for-11 shooting from the field.
---
QUOTE OF THE NIGHT
"If the playoffs started tomorrow, I think we'd be in trouble. But we've got a long way to go."
-- Forward Tim Duncan on San Antonio, which is now 4-6 after losing to Utah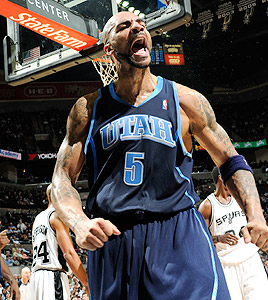 D. Clarke Evans/NBAE/Getty Images
Carlos Boozer powered inside for 18 points, 11 rebounds and five assists to help Utah win in San Antonio for the first time since 1999.

By J.A. Adande
ESPN.com
The numbers in the box score -- 20 points and six assists -- look more like what we're accustomed to seeing from Derrick Rose. That doesn't mean Rose is about to return to the clean-cut rookie we saw last year.
His haircut ban, the one he vowed to keep until his play improved, remains in place because the Bulls lost to the Lakers Thursday night.
"No haircut for me," he said. "I've got to grind it out."
Although he admitted he might go in for "probably a touch-up here and there", the criteria for a full cut will be "Wins. We've just got to keep winning. It doesn't matter how many points I score. As long as I win."
He hasn't had an abundance of victories or points this season, averaging 13.4 points per game while the Bulls went 6-4. He hasn't been driving to the basket as well as he did last season, when he seemed to live at the rim.
The Bulls' coaches thought he had been hesitant to test the ankle he injured before the season and was settling for jump shots. That changed Thursday when half of his 20 shots came from in the lane.
"I really liked the way he was attacking in the first half," Bulls coach Vinny Del Negro said. "He missed a couple of layups that he usually makes, but then in the second half we said, 'Keep attacking.' I thought he got his rhythm in the second half and was attacking the rim, his little floaters in the lane."
The Lakers slid a big man out with Rose when he came off screens, so most of his attacks had to come in transition or early in the offense. At least he was seeking the opportunities to go to the hoop when he could.
"The other games, I was just kind of being relaxed," Rose said. "I was being way more aggressive this game"
The Bulls wound up with their third loss in the past five games. So for now, on a hair scale of 0 to 10 (0 being Michael Jordan, 10 being Julius Erving, ABA days), he's at about a 2. And growing.

By Elias Sports Bureau
The Jazz came into their game in San Antonio with a 5-6 won-lost record while the Spurs were 4-5. It was the first time that those teams met when both had losing records in nearly 22 years, since a game on Jan. 22, 1988 which the Jazz entered at 16-20 and the Spurs came in at 15-19.
Jack Struggling In Toronto

By John Hollinger
ESPN.com
As good as Toronto's offense looks, it would be even better if not for the disastrous start by Jarrett Jack. One of the Raps' big free-agent pickups is shooting only 34.7 percent and averaging a meager 10.8 points per 40 minutes. His 5.58 player efficiency rating is among the worst at his position, and like his Raptors mates, he's had issues at the defensive end. Although Jack can defend bigger guards well, he has a lot of trouble against dribble penetration. For instance, Utah guard Eric Maynor completely wrong-footed him on a crossover Wednesday and blew right past for an easy deuce.
I should note that Jack got off to a very slow start last season before blowing up down the stretch when he took over as the Pacers' starting point guard. It's possible he'll exhibit the same pattern here, and for the Raptors' sake, I sure hope so. He's on the hook for three more years after this one at $5 million a pop.
• To read Hollinger's PER Diem, click here