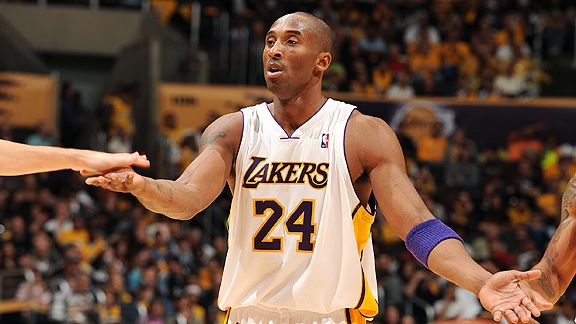 NBAE/Getty Images Kobe Bryant posted 26 points, six rebounds and seven assists against the Thunder.
1. Bynum, Lakers Making It Look Easy
Since apparently mini-concerts are now part of Lakers' games, what with Will.i.am grabbing a silver microphone and performing "I Gotta Feeling" during a fourth-quarter timeout Sunday night, next time they should bring out the Wu-Tang Clan for a rendition of "Can It Be All So Simple."
Shouldn't there be a longer adjustment period when it comes to bringing a starter back with an eighth of the season already gone? Shouldn't Andrew Bynum get thrown out of whack now that he no longer has the paint all to himself? Can anyone get within 10 points of the Lakers again now that Pau Gasol has returned from his hamstring injury and the Lakers have their starting lineup intact?
Their 101-85 victory over Oklahoma City made it seem like there's nothing to it.
"It's easy," Kobe Bryant said. "Because they're both good passers and have good touch outside. It's pretty seamless. We just plug 'em in and off we go."
Phil Jackson thought it would be enough of a challenge that he changed up the schedule and held practice the day after Gasol first played against the Bulls Thursday. Except Bynum missed both that and Saturday's practice with a "jammed" right ankle.
On top of that, Bynum was injured when the Lakers first traded for Gasol in 2008, and he played only 50 games last year. He should still be in the adjustment stage. How's this for an adjustment: 25 points on 9-for-11 shooting (along with nine rebounds and two blocked shots)? And this is basically big man training camp for Bynum.
"It's a good learning experience for me because we're able to go out there, we're able to play together on the offensive side of the ball," Bynum said. "On defense, we're both pretty long, we're both pretty athletic, we're able to change a lot of shots."
The Lakers took control of the game from the outset, with a 24-10 first-quarter advantage in points in the paint, a category they won 60-44 on the night.
"They protect the rim, they protect the paint, they make you play to the weakside, and it's tough to get over there," Thunder coach Scott Brooks said.
Offense was supposed to be the bigger adjustment, but Bynum has already figured out what works.
"[Gasol] can just stand at the free-throw line," Bynum said, "and they can pass me the ball in the post, and his guy can't drop off of him, because I can throw the ball out to him and it's an easy jump shot. If they don't double, then I'm able to take my time and do what I do with the ball."
An effective Bynum is what can make the Lakers better than last season, even if the Ron Artest-Trevor Ariza swap is a wash. The Lakers won with Bynum as a non-factor in the playoffs last season. Now he's averaging 20 points and 11 rebounds and shooting 59 percent. So if Gasol's numbers aren't special, as they were on a 15-point, 7-rebound Sunday (oh, with six assists), the Lakers can still win easily.
"As the season goes on, both of us are going to do better together," Bynum said. "The numbers will go down a little bit. But I think we'll be a stronger team, because everybody will be scoring. We'll be able to get more assists, a lot less double teaming."
Sunday's game in which the Thunder shot 37 percent, with double-digit missed shots from Kevin Durant, Russell Westbrook and James Harden, was a laugher. Most of the entertainment came from Bryant's circus shots, such as an over-the-backboard jumper and a lefty bank at the first-quarter buzzer, Shannon Brown dunks and the mini-concert.
Will.i.am and Fergie from the Black Eyed Peas, along with Alex Rodriguez, took courtside seats after partaking in the American Music Awards at the Nokia Theatre across the street from Staples Center. Celebs at a Laker game? Nothing new. Until Will.i.am. started singing as the group's hit song played over the loudspeakers. Then they all gathered for a picture with B. Real of Cypress Hill.
As Bynum said, perhaps unintentionally quoting the song, "It was a good night tonight."
From the looks of things, one of many to come.
J.A. Adande is an ESPN.com senior writer and the author of "The Best Los Angeles Sports Arguments." Click here to e-mail J.A.
2. What's Wrong With The Celtics?
Chris Sheridan
ESPN.com

Garnett
NEW YORK -- I am not a Celtics fan, which put me in the minority Sunday afternoon at Madison Square Garden (where the loudest cheers were for, in order: Kevin Garnett's game-winning shot, Will Ferrell's appearance on the video board, the Knicks' gritty effort).
But all those folks cheering for Boston (there were so many of them they could have nicknamed MSG "The Greenhouse" instead of "The Mecca of Basketball") had to have walked away with as much frustration as enthusiasm after watching the Celtics squeak past the New York Knicks 107-105 in overtime.
The victory was a relief for the Celtics more than a cause for celebration, a win that excused them from having to explain why they've dropped so precipitously (losing three of four before this one) after looking like world-beaters through the first couple of weeks of the season.
We're now 14 games into the season, and there are at least five things that clearly should be of concern to Celtics Nation -- all of which were glaringly obvious Sunday.
To read the entire Sheridan column, click here
3. Daily Dime Live Recap
ESPN.com writers and TrueHoop Network bloggers chatted with fans and gave their in-game opinions throughout Sunday night's slate of games -- all in Daily Dime Live.
4. Red-Hot Shooting By The Suns
Elias Sports Bureau
ESPN.com

Nash
The Suns made 42 of 73 field-goal attempts, shooting 57.5 percent, in their 117-91 win over Detroit. That's a remarkable shooting percentage against any team, but especially so against the Pistons, which had not allowed a shooting percentage that high in any of their last 333 games. The last team to shoot that well against the Pistons was Dallas, which hit 59.2 percent in a win on Nov. 19, 2005.
By Maurice Brooks
ESPN.com
SUNDAY'S BEST

Paul Pierce, Celtics: Kevin Garnett received most of the props for hitting the game winner but it was Pierce's all-around play (33 points, nine rebounds, six assists) that kept Boston in position to gain the victory.

SUNDAY'S WORST

James Harden, Thunder: There will be better games for the rookie than his poor performance against the Lakers (2-for-15 from the floor, 0-for-10 on 3-pointers).

QUOTE OF THE NIGHT

"I asked him after the game, 'How did you hit that?' It was one of those shots that we needed. The basketball gods were with us on that one."

-- Dwyane Wade on Udonis Haslem's jumper with 15.4 seconds left that lifted Miami to a one-point win against the Hornets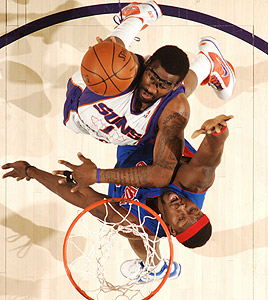 Barry Gossage/NBAE
Amare Stoudemire fired in 21 points in just three quarters to help the Suns cruise past the Pistons.
By Dan Feldman
TrueHoop Network

Bynum
When Will Bynum joined the Detroit Pistons last season, he drew comparisons to Horace Jenkins, Anthony Goldwire and Will Blalock -- point guards who passed through Detroit in recent years. None of the three was good enough to stick in the NBA, but the Pistons had to fill their roster.
Bynum has been anything but filler.
Averaging 14.5 points, 4.0 assists and 3.5 rebounds off the bench, he's one of the few bright spots for the 5-9 Pistons. Some have even began to question whether he should play ahead of Rodney Stuckey, Detroit's cornerstone player.
Stuckey, 23, is a tantalizing mix of size and speed. And he's certainly not a bad player (17.2 points, 5.3 rebounds and 3.9 assists per game). But that should just show endearing Bynum has been this season.
With his ability to drive to the basket, he's often Detroit's go-to player down the stretch. If the NBA's stars pass on the dunk contest again, Bynum should be considered for the event. And he's doing all of this after going undrafted, playing in the NBDL and spending two seasons with Maccabi Tel Aviv.
Perhaps, most remarkable has been his improvement in Detroit. It seems like he's shooting more efficiently and passing, rebounding and defending better each day.
Unfortunately for Detroit, the 26-year-old is a free agent this summer, and it's tough to see the Pistons resigning him.
Faced with a similar situation in 2004, Pistons president of basketball operations Joe Dumars let Mehmet Okur, a promising backup who wouldn't have started over Rasheed Wallace in Detroit, sign with the Utah Jazz. Ben Gordon probably fills the Pistons' high-priced backup guard quota, too.
Teams that might be in the market for a point guard next year -- ahem, Lakers, Heat and Knicks -- should keep an eye on Bynum.
To read more, check out Feldman's TrueHoop Network blog, PistonPowered.
9.

The Mavericks' Star Rookie
By Tim MacMahon
ESPNDallas.com

Beaubois
DALLAS -- Hop aboard the Rodrigue Beaubois bandwagon for what ought to be a thrilling ride.
The featured attractions: a 40-plus-inch vertical leap, 6-foot-10 wing span, shooting range that extends well beyond the 3-point line and quickness that the Dallas Mavericks measured during pre-draft workouts as better than Devin Harris'.
To read the entire MacMahon column, click here