Magic And Bird: On Isiah, Dream Team, More
Monday Game Notes
• Milwaukee's Brandon Jennings brings his 25.3 points per game to the Spurs' AT&T Center. Michael Jordan owns the two highest single-game point totals by a rookie against the Spurs. Jordan netted 45 points against the Spurs at Chicago on Nov. 13, 1984, and 38 points at San Antonio on March 20, 1985. Over the past 15 seasons (since 1995-96), the only rookies to score at least 30 points in a game against the Spurs were LeBron James (32 at Cleveland on Feb. 20, 2004) and O.J. Mayo (32 at San Antonio on Nov. 28, 2008).
• The Spurs (5-6) can climb back to the .500 mark Monday. San Antonio hasn't finished a season with a losing record since 1996-97 (20-62), when Gregg Popovich replaced Bob Hill after the club began the season with a 3-15 mark. In 12 full seasons under Popovich (1997-98 through 2008-09) the Spurs were below the .500 mark this late in a season only twice: 1998-99 (7-8) and last season (5-6).
• The Timberwolves look to halt a 12-game skid when they visit the Clippers. The Wolves, whose only victory was against New Jersey in their first game of the season, are the second team in NBA history to lose as many as 12 consecutive games immediately following a season-opening win. The Magic lost 19 in a row after winning their opener in 2003.
Schedule: Monday, Nov. 23


Grizzlies 116, Kings 98
Box score | Conversation


Spurs 112, Bucks 98
Box score | Conversation

Blazers 122, Bulls 98
Box score | Conversation


Clippers 91, Wolves 87
Box score | Conversation
Bucking The Trend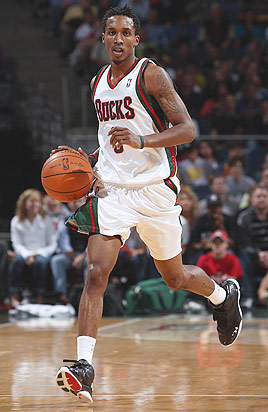 Gary Dineen/NBAE via Getty Images
Can Brandon Jennings lead the surprising Bucks to their third road win of the year in San Antonio?
New Orleans Not Done Yet
By John Hollinger
ESPN.com

Thornton
Rumors of the Hornets' demise have been greatly exaggerated. New Orleans may have lost to Miami on Sunday thanks to an unplanned bank shot from Udonis Haslem and a final play that seemed equally unscripted (unless the play was called "exchange blank looks and confused pointing"), but this was a very strong week from a team that was supposed to be roadkill without Chris Paul.
The Hornets knocked off the team with the best record in the East (Atlanta) and the best record in the West (Phoenix), and a win in Miami would have made it four in a row under new coach Jeff Bower. The Hornets may be only 6-9, but they've also played the league's toughest schedule to date and stand a respectable 17th in the Power Rankings as of this morning.
A big key has been Bower's using players that Byron Scott wouldn't -- rookies Darren Collison and Marcus Thornton. Thornton, in particular, has been a revelation as a scoring sixth man. New Orleans' bench production had been abysmal, but the second-round pick from LSU is averaging a whopping 27.8 points per 40 minutes. He won't maintain that level of production, but he can be a volume scorer in the Flip Murray mold. That's something the Hornets have needed for a long time, and it's yet another indication that this year's draft class is much, much stronger than had been initially projected.
• Read the rest of John Hollinger's PER Diem