Scott Cunningham/NBAE via Getty Images
ANALYST
PREDICTION
J.A.
Adande
ESPN.com

SOUTHEAST: 3 | EAST: 9 The playoffs might make this young team believe it accomplished more than it actually did. Doesn't bode well for a team that played hard only on occasion, and a defense that gave up a lot of points to some bad teams.
Jon
Barry
ESPN.com

SOUTHEAST: 3 | EAST: 10 Don't be fooled by the first-round push of Boston to seven games. This team still won just 37 games. The loss of Josh Childress is bigger than people think. Don't be surprised when they don't win more than 37.
Chris
Broussard
ESPN Mag

SOUTHEAST: 2 | EAST: 7 Bibby could play his best in years because of two game-changing words: contract year. Many believe Al Horford can be a star and an interior complement to their dangerous perimeter attack (Bibby, Joe Johnson, Josh Smith). Marvin Williams is better than people think.
Ric
Bucher
ESPN Mag

SOUTHEAST: 2 | EAST: 8 They had too much talent to just sneak into the playoffs last season with 37 wins. And yet, despite putting a scare in Boston, how much has changed?
Chad
Ford
ESPN.com

SOUTHEAST: 2 | EAST: 9 The Hawks have loads of talent in the starting five, but their lack of depth is scary. With Josh Childress playing in Greece, who's their best player off the bench? Mo Evans? Acie Law? Yikes.
Jemele
Hill
ESPN.com

SOUTHEAST: 4 | EAST: 9 Despite the confidence the Hawks are sure to have after pushing the Celtics to seven games in the playoffs, they just aren't quite there yet. I'm still not convinced this team can be engaged for a full season, and losing Josh Childress hurts.
John
Hollinger
ESPN.com

SOUTHEAST: 5 | EAST: 13 Bench is a FEMA disaster zone minus the criminally underrated Josh Childress, so the Hawks' hopes of a playoff return hinges on the health of its starting five. If they get 380 games from the quintet maybe they sneak in; otherwise they're hosed & as is Mike Woodson.
Jalen
Rose
ESPN.com

SOUTHEAST: 2 | EAST: 7 Josh Smith is probably the best all-around athlete on both ends of the floor in the game. Joe Johnson will be an All-Star. Al Horford averaged almost a double-double as a rookie. They will miss Josh Childress.
Chris
Sheridan
ESPN.com

SOUTHEAST: 2 | EAST: 7 Wanted to put them higher, especially after witnessing them take the champs to seven games in the first round. But the Josh Childress defection will hurt more than they're letting on, and they have less depth than the team I put ahead of them: Toronto.
Marc
Stein ESPN.com

SOUTHEAST: 5 | EAST: 12 The Hawks' likely slippage really isn't connected to Childress' flight to Europe. The more relevant concerns are tied to in-house chemistry and the competition, because 37 wins won't get you a playoff spot this time.


TOTAL SOUTHEAST: 3.0 | Standings EAST: 9.1 | Standings
Team Strength: Starting five
The Hawks will have their problems this year, but not in the first quarter. Atlanta's starting unit can hang with just about anybody's, with the lack of a superstar being the lone thing separating them from the truly elite starting quintets.
Joe Johnson and Josh Smith are the two stars, with Johnson's smooth shooting and ballhandling a nice complement to Smith's open-court finishing but erratic half-court game. Johnson had made consecutive All-Star teams and should Smith overcome his weakness for 20-footers he'll join him, as few combine Smith's shot-blocking ability with a talent for taking opposing big men off the dribble.
In the middle Al Horford is a bit undersized, but he's a beast on the glass and knows how to position himself defensively, while Smith's shot-blocking makes up for Horford's inability in this area. On the wings, Marvin Williams is the top on-ball defender of the bunch and had a nice breakout offensively last season by sizzling with his midrange jumper. And at the point, Mike Bibby settled a spot that had been a weakness ever since Jason Terry left, while providing some much-needed perimeter shooting.
All told, it's a playoff-caliber unit. Darn shame about the guys backing them up.
Sleeper: Mike Bibby
Bibby's numbers were deflated last season due to age, injuries and a change of scenery. Even at his best, Bibby has always been more about solid top-to-bottom production rather than flashy stat lines. As a result, he'll probably slip a round or two lower than he should.
Bust: Marvin Williams
Williams' value still seems to be inflated due to his high NBA draft position and collegiate pedigree. He still has plenty of upside, but has yet to display any ability to rise above the role of third or fourth fantasy forward.
•
Southeast Preview | ESPN Fantasy Hoops | Sign up today
ESPN The Magazine: How Do You Know ...
... that playoff series with the Celtics didn't go to their heads?

Yes, it had to swell their domes to come so close against the soon-to-be champs. But Bibby and Johnson, vets of deep postseason runs, know the difference between winning three of seven and four of seven. They'll mentor budding (and maturing) stars Smith and Horford on what it takes to finish. And before you dis Bibby's leadership, know this: He's in a contract year. Raising this team would sure spice up a résumé.
ESPN The Magazine's NBA Preview hits stands October 22. For more, go to espnthemag.com.
Hawks down one, 9.2 seconds to play, must-win game. What's the play?
I would not run any sort of isolation for Joe Johnson. Almost every NBA team employs a "defensive wing" roughly of Johnson's size and quickness, while very few teams employ someone capable of matching Josh Smith's size and quickness.
Thus, I would call for Smith in the high post to attack the basket forthwith. Smith isn't the slickest of ball-handlers, but the, shall we say, unpredictable nature of Smith's dribble penetration is a worthwhile risk. Plus, with Johnson waiting on the perimeter to receive a kick-out, the likelihood that the possession ends with a made jump shot increases exponentially.
---
Chad Ford's NBA Dish: '08-09 Preview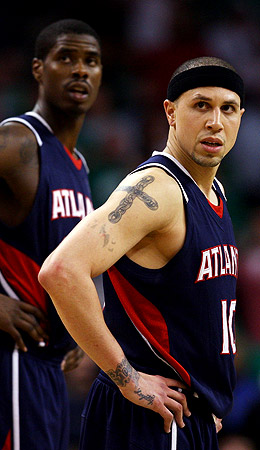 Elsa/Getty Images
Two Hawks with plenty to prove: Marvin Williams has to show what he's got, and Mike Bibby has to show what he's got left.

Mike Woodson
Experience: 4 years
Record: 106-222
Playoffs: 3-4
NBA titles: 0
Coach's profile
Perhaps no team changed its identity during the season as much as Atlanta did last season, as it got much better on offense and far worse on defense after acquiring Mike Bibby.
Mike Woodson, saddled with playoff expectations and little job security, will look to carve out an identity for his team that translates into wins (the team still had a losing record after Bibby's arrival). Developing his bench players will be key to the Hawks' success, as Atlanta already boasts a good starting five.