Brian Babineau/NBAE via Getty Images
ANALYST
PREDICTION
J.A. Adande
ESPN.com

ATLANTIC: 1 | EAST: 2 None of the new big three has played in the NBA Finals yet. They'll need at least a year together before they're ready to take that step. Rajon Rondo will matter less -- but play better -- than people expect.
Greg Anthony
ESPN.com
ATLANTIC: 1 | EAST: 3 A much-improved defensive team with the firepower of KG's best Wolves team but playing in the weaker East. Posey's perimeter D is a key. House's role will be important, as will Rondo's development.

Jon
Barry
ESPN.com

ATLANTIC: 1 | EAST: 2 Expectations are NBA Finals or bust, but I don't think they have the team to win it. With Ray Allen and KG, this will be the team to beat in the East. Big questions: point guard and bench.
Chris
Broussard
ESPN Mag

ATLANTIC: 1 | EAST: 2 The big three will be awesome, as Garnett will battle LeBron for MVP honors. James Posey and Eddie House will bolster the bench, but Boston's lack of depth in frontcourt is major concern. Kendrick Perkins has to stay out of foul trouble, and Leon Powe has to become a reliable bruiser.
Ric
Bucher
ESPN Mag

ATLANTIC: 2 | EAST: 5 The Kool-aid remains untouched in this corner. Playoff team, yes. Title contender? Everybody has evidently forgotten how much depth and transition D divide the haves and have-nots in the postseason. They're about to be reminded.
Chad
Ford
ESPN.com

ATLANTIC: 1 | EAST: 2 The C's will not only be successful, they'll be really fun to watch. If KG, Ray Allen and Paul Pierce all stay healthy they'll be playing (and possibly beating) the Pistons in the conference finals. But if one (or more) of that trio goes down, it will get ugly.
Jemele
Hill
ESPN.com

ATLANTIC: 1 | EAST: 3 I love the big three, but I'm not convinced the Celts will win the East the first time out with their new toys. Can't overlook the thin bench or that it will take time for the trio to blend (See: Iverson, Allen and Anthony, Carmelo).
John
Hollinger
ESPN.com

ATLANTIC: 1 | EAST: 3 Despite my doubts as to whether the new trio of Allen, Pierce and Garnett has enough help to have a realistic shot at winning the East, they should win the division easily and cruise into Round 2 of the playoffs.
Chris
Sheridan
ESPN.com

ATLANTIC: 2 | EAST: 6 What'll matter in Beantown is how the new Big Three perform over the final 41 games, not the first 41 when they're making adjustments. It's a go-for-broke season for Danny Ainge and Doc Rivers, who deserve credit for making the biggest overhaul of any team in the league.
Marc
Stein ESPN.com

ATLANTIC: 1 | EAST: 1 You'll keep saying Boston doesn't have nearly enough around its new big three to go far ... and I'll keep responding by saying that this ain't 1987. In today's East, you can get to the Finals without a Bill Walton or Scott Wedman off the bench.


TOTAL ATLANTIC: 1.2 | Standings EAST: 2.9 | Standings
Team Strength: Offensive Firepower
Kevin Garnett. Paul Pierce. Ray Allen. Who ya gonna double? Not only do the Celtics have three big-time stars, but they put together three players whose games are almost perfectly complementary. Garnett is the headliner, with his ability to play the high post and his unselfishness as a passer giving him the rare ability to coexist with two other stars who need the ball. He'll also be asked to score down low on occasion, especially in size mismatches, but Boston can indulge his preference to play away from the basket more than the Wolves could. That's because the Celtics have an outstanding low-post forward in Pierce. He's amazing at pinning defenders and then getting the advantage when the ball is reversed; with Garnett's passing skills from the high post he should be able to do this more than ever. Pierce also gives the Celtics' offense a penetrator who can slash and draw fouls, plus he's a solid outside shooter. As such, he's the glue guy in this offense. Outside, there's Allen. Owner of the game's deadliest jump shot, he's also a good ballhandler who can shift to the point in a pinch and probably will at several points during the season. Even if his ankles give him trouble, the hope is that he can feast off the attention the other two players draw and rain in 3-pointers. Finally, when considering offensive fireworks don't discount Eddie House. He's averaged better than a point every two minutes over the past two seasons and he's a career 38.1 percent 3-point shooter. •
John Hollinger's complete Celtics forecast


STARTERS
ANALYSIS
Rajon Rondo
Point Guard
6-1 | 171
Would-be college senior shoots worse than some real high school seniors.
Ray Allen
Shooting Guard
6-5 | 205
Surgery to remove bone spurs in spring, walking on air in fall.
Paul Pierce
Small Forward
6-6 | 230
After years of being The Man, can he be just a man among men?
Kevin Garnett
Power Forward
6-11 | 253
Does Big Ticket + Big Dig = a 17th big green banner?
Kendrick Perkins
Center
6-10 | 280
He'll be Beantown's favorite garbage man if he gets nine and nine.
ESPN The Magazine's NBA Preview hits newsstands October 24.
Tony Allen
Player efficiency rating
projection: 15.15
vs. NBA avg.:

+0.15


Celtics profiles

Scouting report: Allen is basically a 6-4 version of Charlotte's Gerald Wallace. He's a potent slasher who can get to the rim thanks to a zippy first step, and he's a thunderous finisher in transition. He can't shoot at all -- he made only nine long 2-pointers on the year -- but he makes free throws and generated a lot of shots even though defenders played way off him.
Obviously, he needs work on his dribbling. The Celtics have talked about him playing point guard occasionally, but he can barely get the ball over half court so I can't imagine how this would be possible. Defensively, Allen's athleticism makes him a monster, although he still needs to get better at choosing when to gamble and when to play straight up. His size also makes him a bit vulnerable against bigger wings.
2007-08 outlook:
Allen has already returned to action, but nobody knows exactly what to expect from him this season. He was so dependent on his athleticism that any lingering effects from the knee injury are going to have a major negative impact on his career. With another Allen in town he's not going to be needed as much anyway, but if he can give the Celtics 10 to 20 minutes a night off the bench, it would give a big boost to one of the league's weakest second units.
If you got some quality time with your team's GM (like those lucky dudes from 3 Shades of Blue), what would you ask?
Jeff Clark, CelticsBlog.com:
I know what Danny Ainge has said publicly about his moves, but if I had a chance to spike his milk with truth serum, here are some questions I'd run by him: How many times have you tried to trade Paul Pierce (and I want details)? Have you ever thought about firing Doc Rivers? What are the biggest deals that never happened and never leaked out? And of course, how did you really get KG from McHale? Of course, I'd never drug him, so I'd settle for shaking his hand and thanking him for making the Celtics matter again.
• TrueHoop, ESPN's NBA blog
---
Chad Ford's NBA Dish: '07-08 Preview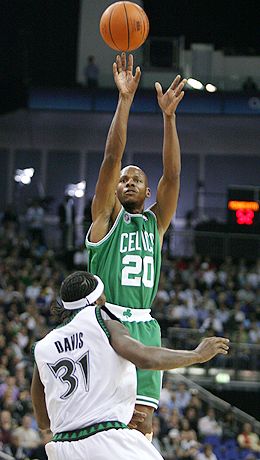 David Sherman/NBAE via Getty Images
Ray Allen holds the NBA record for 3-pointers made in a season (269, in 2005-06). He might get fewer but better looks this season as the eldest member of the Big Three.

Doc Rivers
Experience: 8 years
Record: 273-312
Playoffs: 8-14
NBA titles: 0
Coach's profile
Rarely has a coach had such a different team to manage from one season to the next. Doc Rivers, his team, and the fans are all desperate to pile up wins as fast as possible, but therein lies his challenge. He could press his veterans to win as often as they can, hoping to get 50 or more and earn home-court advantage in the playoffs. Or he can save his big three and enter the playoffs with fresher legs and a deeper bench.
• David Thorpe, Scouts Inc.
Sleeper: Rajon Rondo
In 10 games in April, he averaged 13.0 points, 5.5 assists, 5.8 rebounds and 2.5 steals. He did that while shooting 55 percent from the floor and playing 36 minutes per night. He's not going to give you 3s this season, but he'll give you everything else.
Bust: Ray Allen
From a fantasy perspective, you may want to lay off Allen in the early rounds of drafts. He's been putting up huge fantasy numbers for years as the best offensive player on his team, but this should be the year Ray (and his numbers) eases into a more complementary role.
• Atlantic Preview | Fantasy Hoops