Chip Somodevilla/Getty Images
ANALYST
PREDICTION
J.A.
Adande
ESPN.com

ATLANTIC: 1 | EAST: 1 Most of the central players return, but will the urgency? Strong Finals finish overshadowed the fact the Celtics were almost shown the door in the first round.
Jon
Barry
ESPN.com

ATLANTIC: 1 | EAST: 1 Still believe the Big 3 can make a run. J.R. Giddens could be the new James Posey for them now that Darius Miles, who could have been a major X factor, was cut.
Chris
Broussard
ESPN Mag

ATLANTIC: 1 | EAST: 1 The chemistry among the Big 3 should be even better, and Rondo will rise. No Posey, but the bench may be improved. Bill Walker has the makings of an impact role player.
Ric
Bucher
ESPN Mag

ATLANTIC: 1 | EAST: 1 Losing Posey hurts, but don't underestimate the growth of Rajon Rondo, Kendrick Perkins and Leon Powe.
Chad
Ford
ESPN.com

ATLANTIC: 1 | EAST: 1 I'm not sure the Celtics will be as dominant as last season, but KG, Paul Pierce and (maybe) Ray Allen have enough left in the tank. As long as they get a significant bench contribution, the C's will play for the title.
Jemele
Hill
ESPN.com

ATLANTIC: 1 | EAST: 1 A little hangover is expected after last year's emotional season. The key to a Celtics repeat is Rajon Rondo. If he's a weapon on offense, it'll be nearly impossible to stop this team.
John
Hollinger
ESPN.com

ATLANTIC: 1 | EAST: 1 They're unlikely to match 66 wins, but with up-and-comers like Rondo, Powe and Perkins surrounding the Big 3 (we can call them that since they've won a ring, right?), this is clearly the team to beat in the East -- with or without Posey.
Jalen
Rose
ESPN.com

ATLANTIC: 1 | EAST: 1 The champs lost key role players in James Posey and P.J. Brown. The bench will need to cover those holes but they kept their starting five intact. That includes Pierce, Garnett and Allen. Rajon Rondo has emerged and Doc Rivers is among the coaching elite.
Chris
Sheridan
ESPN.com

ATLANTIC: 1 | EAST: 1 After spending time with them, what struck me was the level of intensity Kevin Garnett brings from Day 1. The tone set by Garnett in October and November is what spurred them to 66 wins last year. I see them with at least 60 this season.
Marc
Stein ESPN.com

ATLANTIC: 1 | EAST: 1 Even without Posey -- and even in a conference that got slightly deeper -- Boston actually is a better bet to win the East than it was a year ago. Only Cleveland (or major injuries) can keep the Celts from getting back to the Finals.


TOTAL ATLANTIC: 1.0 | Standings EAST: 1.0 | Standings
Team Strength: Teamwork
The Celtics have a lot of good players, but I don't think anybody who watched last season's Finals thought they were more talented than the Lakers. What they had instead was cohesion, hunger and effort. Boston operated on the San Antonio model of the whole being greater than the sum of its parts, except in this case the model was on steroids, figuratively speaking.
It all starts with the three stars: Kevin Garnett, Paul Pierce and Ray Allen. It seems they found each other at the perfect time, when they'd already received all the individual accolades they could hope for, and each bought in completely to what Thibodeau and Rivers were selling. With a hustling, committed group around them, Boston's defense turned ferocious overnight.
It helps that all the pieces fit so well. Perkins isn't a major talent, but his brute force made him a perfect frontcourt partner for the hyper but not terribly physical Garnett. The ability of Allen and Garnett to hit long jumpers made it that much harder for defenders to focus on containing Pierce, while Rajon Rondo's inability to shoot from distance was less of an issue because of all the shooting surrounding him.
And although the bench players weren't strong individually, as a unit it was a basketball Noah's Ark. Rivers could look to his bench and find two shooters (House and Posey), two wing defenders (Posey and Allen), two point guards (Eddie House and Sam Cassell), two scorers (House and Leon Powe), and two post defenders (P.J. Brown and Glen Davis). He could play small, big, offense or defense at the snap of a finger, and often did.
Subtracting Brown and Posey changes that picture a little, but keep in mind that other veterans will look to sign with Boston at midseason again this season. Additionally, Powe seems ready to take on a greater role after playing extremely well in limited minutes the previous two seasons, and Tony Allen also seems primed for improved results.
As a whole then, this team should once again vastly overachieve what might be expected by looking at their individual numbers.
Sleeper: Rajon Rondo
Rondo's a gifted distributor, and having a championship in tow, I think the coaching staff will be more likely to keep him on the floor. I'm expecting his minutes to jump to around 36, which would probably boost his assists and steals to more than 7.0 and 2.0 per game, respectively.
Bust: Kevin Garnett
Would you rather have KG for 32 minutes or Elton Brand for 38? Would you rather have 71 games of KG or 80 games of Josh Smith? In fantasy, the answer to these questions is always on the side of the numbers. It's quantity over quality, and you have to draft accordingly.
•
Atlantic Preview | ESPN Fantasy Hoops | Sign up today
ESPN The Magazine: How Do You Know ...
... the big three won't degrade into the Big, Fat and Complacent?

Yes, winning banner 17 after a 22-year drought could cast an our-work-here-is-done lull over the Garden. But in a town where Bill Russell won 11 rings, one barely gets you a footnote in the media guide. Celtics immortality demands more. Besides, Coach Rivers can count on Rondo and high-flying Bill Walker to energize KG and his pals should they begin to rest on their laurels. Face it, friends: The NBA's green initiative isn't going away.
ESPN The Magazine's NBA Preview hits stands October 22. For more, go to espnthemag.com.
Celtics down one, 9.2 seconds to play, must-win game. What's the play?
Oh, that's easy. Give it to KG, the biggest matchup nightmare ever. Too tall, too quick, too skilled to contain. Then again, you can't go wrong giving it to the best shooter in the game, Ray Allen.
On the other hand, reigning Finals MVP Paul Pierce creates better than anyone and can get to the line just about anytime. And if you want to get tricky, you can use them all as decoys to get Eddie House a wide-open look that he simply will not miss.
Man, I love this team. What was the question again?
---
Chad Ford's NBA Dish: '08-09 Preview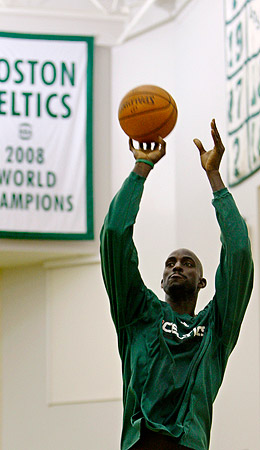 Charles Krupa/Associated Press
Few teams can muster as much intensity as Kevin Garnett practicing alone, which is why banner 17 now hangs over him in Boston.

Doc Rivers
Experience: 9 years
Record: 339-328
Playoffs: 24-24
NBA titles: 1
Coach's profile
Anyone who watched Boston play last November noticed the amazing cohesion the team exhibited. It's often harder to create that in the early going than it is during the playoffs. But chemistry on a team is very difficult to maintain during the entire season, and even moreso from one season to the next.
Yes, Doc Rivers will have to replace James Posey, but his bigger challenge is to renew the great feelings his team had for one another, and to refresh their incredible desire to defend as if their careers were on the line.