Logan Wallace/Associated Press
ANALYST
PREDICTION
J.A.
Adande
ESPN.com

SOUTHEAST: 5 | EAST: 15 Normally you could count on the Larry Brown Boost, but after all these years and health issues, is he still up to it? He hasn't gotten the max from a team since 2004.
Jon
Barry
ESPN.com

SOUTHEAST: 5 | EAST: 14 Give Larry Brown some time with this team, with his proven track record. A healthy Sean May would help.
Chris
Broussard
ESPN Mag

SOUTHEAST: 5 | EAST: 13 As great as his career's been, Larry Brown has been a disaster recently, with both the Knicks and the '04 version of Team USA. The Bobcats have good, albeit injury-prone, talent. Let's see if he can turn it into anything besides a soap opera.
Ric
Bucher
ESPN Mag

SOUTHEAST: 3 | EAST: 9 The damage of the New York debacle on Larry Brown's reputation is reflected in the Bobcats already complaining about his system. Never seen that happen to him this quickly before. That is usually followed by Larry demanding new players, and it's usually downhill from there.
Chad
Ford
ESPN.com

SOUTHEAST: 4 | EAST: 11 I know conventional wisdom says that Larry Brown will save this team. Maybe. But he's needs more than Gerald Wallace, Jason Richardson and Emeka Okafor to show up. Not sure the others on the roster have it in them right now.
Jemele
Hill
ESPN.com

SOUTHEAST: 5 | EAST: 15 Larry Brown is most dangerous when he has a roster that doesn't make sense. He'll be motivated to eradicate that stinker he laid in New York, but this roster is just too weak to expect anything.
John
Hollinger
ESPN.com

SOUTHEAST: 2 | EAST: 8 Yes, Larry Brown is manipulative and neurotic and notorious for wanting to trade his whole team. But he can also coach. The upgrade on the bench alone will get the Bobs within spitting distance of the playoffs; Sean May's return should do the rest.
Jalen
Rose
ESPN.com

SOUTHEAST: 5 | EAST: 12 Wallace and Okafor (when healthy) play hard and tough defense. J-Rich can score. Still not ready for playoffs.
Chris
Sheridan
ESPN.com

SOUTHEAST: 4 | EAST: 11 It appears we have our first conflict of the Michael Jordan-Larry Brown pairing: What to do with Adam Morrison. The guess here is that Brown reluctantly plays him for a 3-4 week span in December to boost his trade value.
Marc
Stein ESPN.com

SOUTHEAST: 4 | EAST: 11 If this roster had fewer holes -- and if we were sure that the Bobcats were getting vintage Larry Brown -- we'd predict the arrival of a proven winner like Larry would lead to a 10-win spike. But those ifs are too big.


TOTAL SOUTHEAST: 4.2 | Standings EAST: 11.9 | Standings
Team Strength: Long-range shooting
This is why the Bobcats were at their most effective with Gerald Wallace playing power forward -- they could space the floor with their shooters and get opposing defenses strung out trying to defend them.
Jason Richardson, obviously, is the cornerstone. In his first season with the Bobcats, he nearly broke the franchise career record for 3-pointers, with his 243 bombs leading the league, and he nailed 40.6 percent of his tries. The top wing reserve, Matt Carroll, is another ace shooter who hit 43.6 percent from downtown. Adam Morrison, if his knee allows, should give the Bobcats a third high-quality deep threat.
Those three can open the floor up for Raymond Felton and Wallace to drive; though Felton and Wallace also take their share of 3s -- more than they probably should. Wallace made 32.1 percent and Felton just 28.0 percent (yet another reason moving him to shooting guard was a bad idea).
An additional factor will be Sean May, who isn't a long-range threat but is deadly from 15 to 18 feet. His presence in the high post will provide more room for Emeka Okafor to operate on the blocks, and if he's in at the 5 then the middle will be emptied out for Charlotte's drivers.
Sleeper: Sean May
If the steady yet oft-injured May ends up getting more than 30 minutes per game, he could end up averaging close to a double-double. Nothing flashy, but a nice player to have on your bench in a best-case scenario.
Bust: Emeka Okafor
Okafor always seems to be the first center drafted in the middle rounds, usually around the time owners start panicking about not having a center. With Okafor, it's not about his numbers; it's about his ability to remain on the court.
•
Southeast Preview | ESPN Fantasy Hoops | Sign up today
ESPN The Magazine: How Do You Know ...
... this team will ever equal the sum of its parts?

Wallace? One of the game's top athletes. J-Rich? A consistent 20-point scorer. Okafor? One of the league's best offensive rebounders. Felton? No star, but far from a stiff. May? Lottery pick. Brown? Hall of Fame coach. Pretty sweet on paper, but they don't play on paper. In fact, some of these guys rarely play anywhere, as their bulging medical files attest. And while the coach was once prized for getting the most of his men, that was long ago.
ESPN The Magazine's NBA Preview hits stands October 22. For more, go to espnthemag.com.
Bobcats down one, 9.2 seconds to play, must-win game. What's the play?
Gerald Wallace inbounds to Raymond Felton. Emeka Okafor sets up on the low post, with Sean May across the lane. The nearly insurmountable double screen frees Jason Richardson, who receives the ball from Felton. Richardson on the wing. Crossover dribble, pulls up for 3. Swish.
Bobcats up 2 with 1 second left and call timeout.
Larry Brown benches J-Rich, berates him for not playing the game the right way and demands that Jordan trade him. When MJ refuses, LB spends the rest of the season playing only Matt Carroll, Adam Morrison, Jared Dudley, Alexis Ajinca and Ryan Hollins.
---
Chad Ford's NBA Dish: '08-09 Preview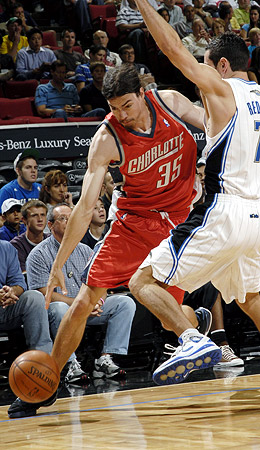 Fernando Medina/NBAE via Getty Images
The Adam Morrison-J.J. Redick rivalry hasn't panned out, as the former college heroes find themselves on the NBA's fringes.

Larry Brown
Experience: 24 years
Record: 1,010-800
Playoffs: 100-89
NBA titles: 1
Coach's profile
Larry Brown has already rolled up his sleeves to address the myriad problems the Bobcats face. Brown will preach defensive rebounding early and often, as the Cats finished third-worst in giving up offensive boards last season.
Getting them to value the ball more, a Brown specialty, will certainly help a team that finished in the bottom third in turnover rate. This team finished strong, so Brown does not have to perform a complete makeover and risk destroying any confidence left over from that final stretch.