Russel Daniels/Associated Press
ANALYST
PREDICTION
J.A.
Adande
ESPN.com

CENTRAL: 3 | EAST: 7 Derrick Rose lacks one of the main factors that made point guards like Magic and Stockton successful: a big man to feed the ball to. Now it will be up to Rose to get inside points by driving to the hole.
Jon
Barry
ESPN.com

CENTRAL: 3 | EAST: 9 Most disappointing team of last season. I'm surprised a team that young could tune out its coach. Maybe the Kobe trade talk was in their heads. Now, can Vinny Del Negro get them competing again?
Chris
Broussard
ESPN Mag

CENTRAL: 4 | EAST: 12 This squad collapsed last season beneath the mental strain. Are there enough minutes to keep Ben Gordon, Larry Hughes and Kirk Hinrich happy, all while developing Derrick Rose? Not to mention there's still no scoring punch down low.
Ric
Bucher
ESPN Mag

CENTRAL: 4 | EAST: 10 Derrick Rose reminds me of Jason Kidd as a rookie -- unbridled drives, high-wire passes -- just as the current Bulls remind me of Kidd's first Mavs team: a weird mix of talent fractured by internal issues.
Chad
Ford
ESPN.com

CENTRAL: 4 | EAST: 8 Last year we all had the Bulls as a top-three team. After being burned, we might be overcautious. If Luol Deng and Tyrus Thomas take another step and Derrick Rose is the real deal, the Bulls will be dangerous.
Jemele
Hill
ESPN.com

CENTRAL: 3 | EAST: 10 Derrick Rose will be an exciting addition, but I'm not sure how Ben Gordon being in a contract year will impact the rest of the team. Also, the thin, inconsistent frontcourt can't be overlooked.
John
Hollinger
ESPN.com

CENTRAL: 4 | EAST: 10 One of the mystery meats of the East, the Bulls have several promising young players led by top pick Derrick Rose. But rookie guards usually struggle, and unless one of the youngsters makes the leap to stardom, it's hard to see them being more than average.
Jalen
Rose
ESPN.com

CENTRAL: 4 | EAST: 10 A talented but crowded backcourt will create confusion. The young bigs (Joakim Noah and Tyrus Thomas) are still developing. Drew Gooden will have a strong season.
Chris
Sheridan
ESPN.com

CENTRAL: 4 | EAST: 10 Few things are head-scratchers as much as John Paxson's inability to unclutter his backcourt: Derrick Rose and Kirk Hinrich at the point, Ben Gordon and Larry Hughes at the 2. Wouldn't be surprised if they revisited the idea of acquiring Shawn Marion.
Marc
Stein ESPN.com

CENTRAL: 3 | EAST: 8 Rookie coach. Rookie point guard. Too many guards. Not enough quality size. Add it all up and it's a lot for the Bulls to overcome to get back to the playoffs ... but we're giving them a shot even after last season's colossal underachievement.


TOTAL CENTRAL: 3.6 | Standings EAST: 9.4 | Standings
Team Strength: Depth
Chicago's greatest strength is that this team is built for the regular-season grind, possessing enviable depth at every spot on the floor. Nowhere is this more evident than at small forward, where the Bulls have Luol Deng playing ahead of Andres Nocioni -- himself an accomplished scorer and one whose name has come up often in trade rumors over the past year.
The other positions have nearly as much depth. Derrick Rose and Kirk Hinrich, obviously, should make for a strong tandem at the point, and Kirk Hinrich can slide over to the 2. At that spot, he, Larry Hughes, Ben Gordon and young defensive ace Thabo Sefolosha give the Bulls an embarrassment of riches; in fact, it seems probable that Chicago will make a trade to clean up the rotation a bit here.
Up front, it's a similar situation. Power forwards Tyrus Thomas and Drew Gooden might be peas in a pod -- talented space cadets who need to improve their focus -- but there's no question that both would start for a big chunk of the league's teams; here they'll likely split the minutes. And in the middle, Joakim Noah's assorted off-court dramas disguised a very productive rookie season, while second-round banger Aaron Gray was one of Chicago's few pleasant surprises a year ago.
Sleeper: Kirk Hinrich
Many assume that the addition of Rose will diminish Hinrich's value. But Chris Duhon forced him to play out of position last season, and the Bulls' starting lineup was a carousel. Still, Hinrich still managed to average six assists, a 3-pointer and 1.2 steals per game even though he played fewer minutes.
Bust: Andres Nocioni
High 3-point totals often seduce fantasy owners, and Nocioni's 1.5 3s per game is an enticing stat. But he's never earned a consistent starting role after several years of trying. So with the team focused on developing Tyrus Thomas and Joakim Noah, Nocioni likely will end up being the odd man out in the Bulls' frontcourt. •
Central Preview | ESPN Fantasy Hoops | Sign up today
ESPN The Magazine: How Do You Know ...
... Derrick Rose will do what so many Chicago lottery picks did not?

Relax. Rose is for real. He's more athletic than Jay Williams was, fits the plan better than Tyson Chandler did and loves the game more than Eddy Curry ever will. Still, everyone needs to be patient. A backcourt bottleneck (Ben Gordon, Hinrich, Hughes, Thabo Sefolosha) leaves little room for Rose to bloom. That's okay; the only one-and-done PG who shone out of the blocks was Stephon Marbury. How has that worked out?
ESPN The Magazine's NBA Preview hits stands October 22. For more, go to espnthemag.com.
Bulls down one, 9.2 seconds to play, must-win game. What's the play?
Think of it as a microcosm for the season. Give it to Derrick Rose, and get out of his way.
Deng and Gordon are the shooters, Thomas and Noah are there for a potential tip-in, and new coach Vinny Del Negro doesn't have to come up with some genius play call. He'll realize, like the franchise as a whole, that this season is about getting Rose to be the best he can be and finding teammates who can help that process. Luckily for the Bulls, Rose will make the winning play, and make them good, sooner than most think.
---
Chad Ford's NBA Dish: '08-09 Preview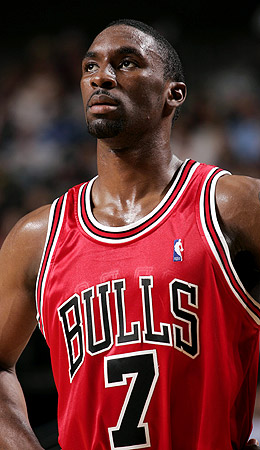 Glenn James/NBAE via Getty Images
The baffling Ben Gordon saga epitomizes the past 12 months for the Chicago Bulls, who are now searching for their lost mojo.

Vinny Del Negro
Experience: 1st year
Record: 0-0
Playoffs: 0-0
NBA titles: 0
Coach's profile
As a new coach, with a rookie No. 1 overall draft pick at point guard, Vinny Del Negro will need to get right to work rebuilding Chicago's offense. The Bulls finished 26th out of 30 teams in offensive efficiency. His experience with Phoenix and its fast-paced and fluid approach should heavily influence Chicago's plans, with Derrick Rose's one-on-one skills an added bonus.
Del Negro cannot forget, though, that the Bulls were a preseason contender last season based on their defense, which also collapsed to the middle of the pack after being the league's strongest.