AP Photo/Eugene Hoshiko
ANALYST
PREDICTION
J.A. Adande
ESPN.com

CENTRAL: 3 | EAST: 5 LeBron keeps getting better, but the team is worse as long as Anderson Varejao and Sasha Pavlovic hold out. There's more competition and there won't be that easy path to the conference finals again.
Greg Anthony
ESPN.com
CENTRAL: 3 | EAST: 6 Only way they can improve is through the growth of young players. No Sasha Pavlovic and Anderson Varejao? Now there's more questions than last year. Larry Hughes healthy? How much does Zydrunas Ilgauskas have left? Will Shannon Brown step up?
Jon
Barry
ESPN.com

CENTRAL: 3 | EAST: 5 Can't see a return to the Finals. I saw them last season as not really a Finals-worthy team but more a product of a bad conference and LeBron's superhuman effort against Detroit. Team hasn't done anything to improve.
Chris
Broussard
ESPN Mag

CENTRAL: 1 | EAST: 1 Varajao and Pavlovic will be missed, but not as much as they think. Scary thought: LeBron will be better than ever. Plus, Larry Hughes is finally healthy. Team will improve simply because of continuity, experience and swagger gained from last season's run to the Finals.
Ric
Bucher
ESPN Mag

CENTRAL: 3 | EAST: 6 They'll have Anderson Varejao and Sasha Pavlovic in the fold eventually, but unless they find the same postseason red carpet to the Finals, this season will represent a rude welcome back to reality.
Chad
Ford
ESPN.com

CENTRAL: 3 | EAST: 5 The Cavs rode LeBron to the Finals. This year, without either Anderson Varejao or Sasha Pavlovic and with no significant additions, I don't think they're so lucky. Then again, if LeBron shoots 3s like he did in Vegas, it may not matter who's beside him.
Jemele
Hill
ESPN.com

CENTRAL: 3 | EAST: 5 Not sure if LeBron can take this squad to the Finals again. Cavs slid down the pecking order because of upgrades in Boston and Chicago. Larry Hughes needs to stay healthy because the patchwork point guard play won't get it done.
John
Hollinger
ESPN.com

CENTRAL: 2 | EAST: 2 No Sasha, no problem. Devin Brown fills that hole cheaply and ably. No Varejao is a different story -- he was the key to their defensive mojo and if he doesn't resign the Cavs will have trouble repeating.
Chris
Sheridan
ESPN.com

CENTRAL: 3 | EAST: 5 Hard to put these guys third after watching the way LeBron James improved his jump shot over the summer, but there's a lot of bad karma brewing as a result of the holdouts of Sasha Pavlovic and Anderson Varejao, and that stuff impacts the rest of the team.
Marc
Stein ESPN.com

CENTRAL: 3 | EAST: 5 LeBron says this will be his best season yet, but that was never an issue. The issue is everything else around him, because the Cavs are getting thinner with Varejao and Pavlovic holding out instead of going the right way.


TOTAL CENTRAL: 2.7 | Standings EAST: 4.5 | Standings
Team Strength: The Frontcourt
People look at me cross-eyed whenever I mention that the Cavs have an elite frontcourt, but it's true. The four-man rotation Cleveland used last season made them one of the best rebounding teams in the game, and in addition three of the four frontcourt players can score. The leader is Ilgauskas, who is the Cavs' second offensive option thanks to his low-post game and ability to hit open midrange shots. The 7-3 center is an added threat because he's so good at tipping in offensive boards around the basket. Drew Gooden is another player who takes some unfair abuse because of his occasional mental breakdowns, but he can finish around the basket and hit open jumpers as well, and he's a good, quick defender when he's not having his space cadet moments. His backup, Donyell Marshall, is a serious 3-point threat the Cavs often turned to in crunch time to space the floor. That leaves Anderson Varejao, the one weak offensive player of the group. However, he's easily the best defender, leading the NBA in offensive fouls drawn and doing more than his share on the glass. Losing him would have a big impact on the Cavs' high defensive ranking from a season ago. Of course, joining them up front is another pretty good player in LeBron James. He has more than enough size to play power forward if the Cavs ever want to go small; that's an unpalatable option with the current backcourt, but one that might become more plausible down the road if some personnel changes happen. •
John Hollinger's complete Cavaliers forecast


STARTERS
ANALYSIS
Daniel Gibson
Point Guard
6-2 | 190
Was Boobie's playoffs coming-out party work of fact or fiction?
Larry Hughes
Shooting Guard
6-5 | 184
Out of position again after Cavaliers failed to land Mike Bibby.
LeBron James
Small Forward
6-8 | 240
What he did last season? It won't be enough this time.
Drew Gooden
Power Forward
6-10 | 250
His mental lapses erase memories of board work and stealth touch.
Zydrunas Ilgauskas
Center
7-3 | 260
Shade of former self still has high-def hook and midrange J.
ESPN The Magazine's NBA Preview hits newsstands October 24.
Daniel Gibson
Player efficiency rating
projection: 9.37
vs. NBA avg.:

-5.63


Cavaliers profiles

Scouting report: At 6-2 with decent athleticism, Gibson should have the size to be able to get to the basket more than he does -- something he showed at least briefly in the Detroit series. The threat of his shot could become an especially potent weapon, as he's a deadly outside shooter who should be able to open up driving lanes with a pump fake.
Gibson isn't a natural point guard by any stretch, but on this team that isn't a problem -- LeBron James and Larry Hughes do most of the ballhandling anyway. However, he'll have to cut down on the turnovers (a common rookie problem) in coming seasons.
Defensively, Gibson seems to do better against bigger point guards, especially in the playoffs. He seemed to have a much easier time defending bigger points like Chauncey Billups and Jason Kidd than he did chasing around Tony Parker.
2007-08 outlook: Of all the projections I ran for this season, Gibson had the most interesting, and perhaps telling, comparables. His most similar players included names like Chauncey Billups, Rex Chapman, Leandro Barbosa, Mike Bibby, Maurice Williams and Jason Richardson.
What you'll notice about that list is that all of them eventually became good players ... with the operative word here being eventually. Most of Gibson's comps had an unusually long development process, with Billups obviously being the poster child.
If we buy that, what it means for Gibson is that he should eventually become an important piece of the puzzle in Cleveland -- but that we shouldn't expect it to happen overnight. Historically, shoot-first point guards have needed some time to get their act together at the pro level, and Gibson's projected player efficiency rating of 9.37 is a sign that he might be one of them. But that projection is just a one-year slice; based on his comparables, Gibson still has a rosy future.
And who knows, maybe his present is rosy too. His playoff performance provides encouragement, and his ability to drain the long ball is a sought-after commodity on this team. Additionally, his main competitors for playing time are Damon Jones and Eric Snow, so it seems he'll be getting plenty of chances.
If you got some quality time with your team's GM (like those lucky dudes from 3 Shades of Blue), what would you ask?
Brian aka The Cavalier, YAYsports! NBA:
Questions I would ask Danny Ferry: I'd need to know three things, and they all involve coach Mike Brown. Does he have an offensive system? Why doesn't he have an offensive system? If he has an offensive system, is it written in crayon on a post-it note? Does it just say "stand there"? That's really the only problem here -- the free-agent foreigner affair will work itself out. Since I have words left: "Who Shot Mamba?" Orange Roundie forever.
• TrueHoop, ESPN's NBA blog
---
Chad Ford's NBA Dish: '07-08 Preview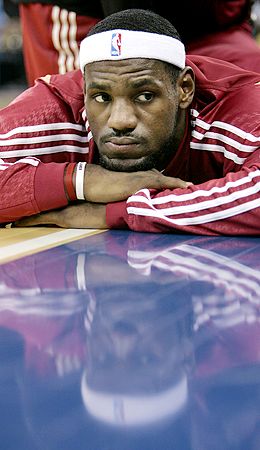 AP Photo/Kin Cheung
LeBron has seemed down because of the roster issues in Cleveland ... or maybe it's because the Indians beat his Yankees.

Mike Brown
Experience: 2 years
Record: 100-64
Playoffs: 19-14
NBA titles: 0
Coach's profile
There is no getting around that fact that Mike Brown is coaching a team that got worse over the offseason, making it unlikely for him to win again with just rebounding and defense and LeBron. Coming up with new offensive strategies could end up being a real positive if and when his two holdouts return; the Cavs need an offensive infusion to return to the East finals and beyond.
• David Thorpe, Scouts Inc.
Sleeper: Anderson Varejao
Varejao is entering his fourth season and, like his coiled locks, is ready to spring to the next level … if he ever shows up. In less than 24 minutes a game, he averaged 6.8 points, 6.7 rebounds, 0.6 blocks and almost an assist and a steal. If he can improve on his 62 percent free-throw shooting, he could boost his scoring significantly.
Bust: Drew Gooden
Varejao's ascension may come at Gooden's expense. Despite the third-most minutes on the team (28 per game), Gooden averaged only 11.1 points, 8.5 rebounds and a paltry 0.3 blocks per game. The 26-year-old Gooden is only one year older than Varejao, whose energy will get the better of Gooden before long.
• Central Preview | Fantasy Hoops