Lynne Sladky/Associated Press
ANALYST
PREDICTION
J.A.
Adande
ESPN.com

CENTRAL: 1 | EAST: 2 Do you get the feeling the Cavs are trying to prove LeBron can win no matter who you throw next to him? Mo Williams is his best sidekick since Boozer left, but still not enough to beat the best teams.
Jon
Barry
ESPN.com

CENTRAL: 2 | EAST: 3 LeBron is great enough to make this team a factor. I like the Mo Williams acquisition. But the lack of the Other Guy to make plays is a problem -- you need another guy to relieve pressure. LBJ needs a Robin.
Chris
Broussard
ESPN Mag

CENTRAL: 1 | EAST: 2 The unquestioned leader of the Redeem Team, LeBron will be spurred by the pain of past Cavs losses. He'll focus on delivering a high playoff seed and getting after it defensively. Oh, and Mo Williams will be a big help, too.
Ric
Bucher
ESPN Mag

CENTRAL: 2 | EAST: 6 If the regular season really, truly mattered to LeBron, there's no reason the Cavs couldn't win 55-plus. He's that good. I can't see why his Olympic commitment won't be cause to coast at times again.
Chad
Ford
ESPN.com

CENTRAL: 2 | EAST: 5 This should be the year that LeBron emerges as the MVP of the league. Everyone knows the Cavs play great defense, but the addition of Mo Williams finally gives Cleveland another potent offensive weapon. If they click, the Cavs will be dangerous.
Jemele
Hill
ESPN.com

CENTRAL: 1 | EAST: 2 LeBron finally gets an adequate running mate on the perimeter. Given the way he dominated the Olympics, this should be LeBron's year to put his stamp on the league. Finally, they seriously compete for the top seed in the East.
John
Hollinger
ESPN.com

CENTRAL: 2 | EAST: 5 Cavs are much more difficult in the playoffs, when they can play LeBron all 48. As for the regular season, they still have glaring holes at power forward and shooting guard, and have only one bullet left (Wally's expiring deal) to try filling them.
Jalen
Rose
ESPN.com

CENTRAL: 2 | EAST: 5 The mobility of Ilgauskas and declining production of Ben Wallace will hurt the interior on both ends. LeBron will have the chance to win his first MVP award. Mo Williams has the ability to create off the dribble and shoot it.
Chris
Sheridan
ESPN.com

CENTRAL: 2 | EAST: 5 Curious to see what Danny Ferry turns Wally Szczerbiak's expiring contract into. Mo Williams is a big upgrade from Delonte West at the point, and Daniel Gibson could win the Sixth Man award, but they don't have enough frontcourt scoring to help LBJ in the postseason.
Marc
Stein ESPN.com

CENTRAL: 1 | EAST: 2 LeBron is only getting older, smarter and better. And he just got a good bit of help via the Mo Williams trade. The Cavs played Boston pretty close in the playoffs without Williams, if memory serves.


TOTAL CENTRAL: 1.6 | Standings EAST: 3.7 | Standings
Team Strength: King James
Sorry, Kobe fans, but LeBron James is the best player in the league, and it isn't even close. And in addition to being a force of nature who is a nightly triple-double threat, James has the added advantage of being virtually indestructible.
This is Cleveland's one huge advantage. They're basically a 24-58 team, except that they have the greatest player in the world, and in a seven-game series that advantage becomes hugely magnified because they can play him virtually every minute of every important game.
Take a look at that Boston series again, for instance. In the last four games James played 44, 45, 47 and 47 minutes, and the Cavs beat Boston by a composite six points in that time; in the nine minutes he sat out the Cavs were outscored 22-12. That's consistent with his massive on-court versus off-court disparities over the past few seasons; last year the Cavs were 11.1 points per 48 minutes better with James on the floor.
Because these were the playoffs, he was on the bench for a total of only nine minutes in those four games against Boston ... in the regular season it would have been more like 32. Those extra minutes where LeBron is on the court instead of somebody like Sasha Pavlovic or Wally Szczerbiak are the reason that Cleveland is such a scary team to face in the postseason -- any time they get into a must-win game, James can play all 48 minutes, so the playoff Cavs are markedly stronger than the regular-season Cavs.
Sleeper: Anderson Varejao
With Ben Wallace past his prime, Z on the downward swing, no Joe Smith and no contract holdout, Anderson Varejao is primed for his best season yet. He'll back up Big Ben and Z at the 4 and 5, although he should see at least 30 minutes per game and could crack the starting lineup at some point.
Bust: Sasha Pavlovic
He has terrible percentages (for example, his .362 field-goal percentage and .688 free-throw percentage last season), no clear money category and more competition this year. Don't waste a late-round flier just because he's listed as the starter next to LeBron on the depth chart. I predict more productivity out of West, Szczerbiak and Gibson.
ESPN The Magazine: How Do You Know ...
... Mo Williams is the Robin whom Batman has long been waiting for?

Most of LeBron's fizzled second fiddles had issues: Szczerbiak was old, Larry Hughes had no J, Ricky Davis was loco. But Mo is 25 and has hash-mark range and the sense to know whose castle this is. No, he's not a true point, but LBJ's vision means he won't need to be. Williams' jumper opens lanes for The King, and his drive-and-kick skills will make games target practice for the Cavaliers' many other shooters. Holy bucket brigade, Batman!
ESPN The Magazine's NBA Preview hits stands October 22. For more, go to espnthemag.com.
Cavs down one, 9.2 seconds to play, must-win game. What's the play?
Hitting buzzer-beaters may make "SportsCenter," but it's not the only way to evaluate how clutch a player is. A statistic defined as a clutch stat is a player's "production per 48 minutes of crunch time," where crunch time is defined as "fourth quarter or overtime, less than five minutes left, neither team ahead by more than five points." Last year, LeBron obliterated the competition in this department with a mind-boggling 56.0 average.
So when it comes to what the Cavs do with the game on the line, you don't need X's and O's to figure this out: Give the ball to LBJ and get the hell out of his way.
---
Chad Ford's NBA Dish: '08-09 Preview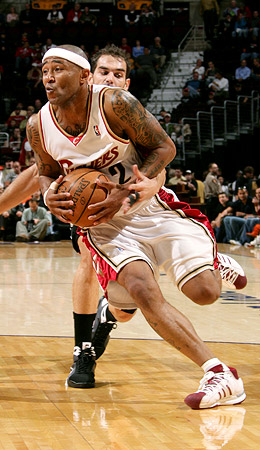 David Liam Kyle/NBAE via Getty Images
Could Cleveland really pick up the pace this season? Yes, if new PG Mo Williams gets the green light from coach Mike Brown.

Mike Brown
Experience: 3 years
Record: 145-101
Playoffs: 26-20
NBA titles: 0
Coach's profile
With back-to-back postseason eliminations by the eventual NBA champs, Mike Brown ought to be able to sell his players on the idea they can be world champions, especially after taking Boston to seven games.
He'll have a tough time doing it, though, unless he can coax more consistent production from players not named LeBron James. Adding Mo Williams won't be enough. Brown might be wise to allow his players to push the pace more often (they were the eighth-slowest team last season), better utilizing the world's best transition finisher and their stable of shooters.