Tim Heitman/NBAE via Getty Images
ANALYST
PREDICTION
J.A. Adande
ESPN.com

SOUTHWEST: 2 | WEST: 3 You wonder how much psychological baggage the Mavs carry with them into this season. Will one bad turn in the playoffs bring on too many doubts and old issues?
Greg Anthony
ESPN.com
SOUTHWEST: 3 | WEST: 5 A team bearing psychological scars from the past two seasons. This is a real factor. And if Devin Harris doesn't prove to be a legitimate starter, and Jerry Stackhouse has to start, that could have a big effect.
Jon
Barry
ESPN.com

SOUTHWEST: 2 | WEST: 3 Most of the blame for the playoff disappointment is on Dirk Nowitzki, but it also has to be with this team. The Mavs have to come out focused, out to prove last season's playoff failure was a fluke.
Chris
Broussard
ESPN Mag

SOUTHWEST: 2 | WEST: 3 No team will dread the 82-game season more than Dallas. It's all about postseason performance for the Mavs, who have melted down famously the past two years. Do the Mavs (and particularly MVP Dirk Nowitzki) have the mental toughness to bounce back? Honestly, I'm not sure.
Ric
Bucher
ESPN Mag

SOUTHWEST: 2 | WEST: 3 There's a reason Mark Cuban is trying so hard to get Kobe Bryant: As it stands, he doesn't have the go-to closer a team needs to win a title. As is, they're a nice bunch of pretty good players, leaving them vulnerable to being mad-dogged right out of a series. Again.
Chad
Ford
ESPN.com

SOUTHWEST: 3 | WEST: 5 If we could put three Southwest teams in the top four, we would. The Mavs should be just as dangerous as they were last year. The question is really about confidence. After imploding in two consecutive playoff series, does this team believe anymore?
Jemele
Hill
ESPN.com

SOUTHWEST: 1 | WEST: 1 Despite the Mavs' penchant for playing small when it matters, I don't think they're ready to lie down just yet. This is still an extremely talented team. If they can tune out the chump talk, they'll be there in the end.
John
Hollinger
ESPN.com

SOUTHWEST: 3 | WEST: 5 Dirk won't win MVP again unless he averages a triple-double, but the Mavs will again be among the league's elite. Questions for them don't start until April, when they have to shake off recent disappointments.
Chris
Sheridan
ESPN.com

SOUTHWEST: 3 | WEST: 5 We'd call them mental midgets after watching them melt down the past two postseasons, but that's a little harsh. Still, we're down on their collective cranium capacity when things get tight, and it's hard not to wonder whether we've already seen them peak.
Marc
Stein ESPN.com

SOUTHWEST: 1 | WEST: 2 I'm going to let Dirk supply this thumbnail sketch on the elite team that knows playoff torture like no other: "You [media] guys all talk, but nobody really knows if we can [bounce back] or we can't. We're just going to have to go out and get over it."


TOTAL SOUTHWEST: 2.2 | Standings WEST: 3.5 | Standings
Team Strength: One-On-One Play
The Mavs are the masters of the isolation, with Dirk Nowitzki leading the way. Setting up shop from his office at the top of the key, he can survey the defense before lofting a jumper over smaller defenders or taking bigger ones off the dribble. But he's far from the only one. Dallas has several players who can wreak havoc if the opponent fails to match up correctly, as Josh Howard, Jerry Stackhouse, Jason Terry and Devin Harris all are capable shot creators in individual matchups. Second-year pro J.J. Barea could be another -- his D-League numbers from last season were off the charts. This is what enabled the Mavs to beat San Antonio in the playoffs two seasons ago, as they were able to take advantage of whatever mismatch presented itself by allowing that offensive player to attack. Conversely, one reason they struggled against the Warriors was that Golden State's lineup matched up so well against everyone besides Nowitzki, and Dirk couldn't find his jumper. •
John Hollinger's complete Mavericks forecast


STARTERS
ANALYSIS
Devin Harris
Point Guard
6-3 | 185
D whiz has Nash and Mr. Longoria covered. Now, about Baron Davis …
Jason Terry
Shooting Guard
6-2 | 180
On in years, down in speed. Is it off to the bench and up with Stackhouse?
Josh Howard
Small Forward
6-7 | 210
First-time All-Star has to hit gym if he wants another invite.
Dirk Nowitzki
Power Forward
7-0 | 245
Spent summer camping in Australia. Hope he finds his way back by tip-off.
DeSagana Diop
Center
7-0 | 280
Brings enough D and hops, but needs a visa for offense.
ESPN The Magazine's NBA Preview hits newsstands October 24.
Eddie Jones
Player efficiency rating
projection: 11.61
vs. NBA avg.:

-3.39


Mavericks profiles

Scouting report: Though he turns 36 in the preseason, Jones is still a decent athlete and can defend the shooting guard position. He's bigger than most 2s at 6-6 and has great anticipation, finishing in the top 10 in steals as recently as two years ago. He's not an on-ball stopper, but he does a decent job in those situations too.
Offensively, Jones is no longer the transition threat he once was and now gets nearly all his points off long jump shots. While his 3-point stroke remains solid (35.1 percent last year; 37.5 percent career), he hardly ever gets to the free-throw line these days. When he does put it on the floor, it's usually one bounce followed by a 2-pointer.
2007-08 outlook: Jones signed a two-year deal with Dallas for the biannual exception over the summer. While at first glance this looks like your typical Mavs irrational infatuation with a veteran role player, this one is actually a bit of a bargain because Jones still looks to have some life left in him.
Jones can be the defensive answer off the bench at the wings, much as Jerry Stackhouse is the main offensive sub, and he won't kill the offense the way Greg Buckner and Devean George did a year ago.
Look for him to play 15 minutes a game or so off the pine, and while his numbers might continue their gentle decline, he should provide a decent source of 3-point shooting and defense -- something the Mavs sorely could have used in the first round a year ago.
If you got some quality time with your team's GM (like those lucky dudes from 3 Shades of Blue), what would you ask?
Wes C, mavsmoneyball.com:
I'd thank Donnie Nelson for staying sane this offseason while most Mavs fans were ready to blow everything up. I think there were even some people who wanted to take a mulligan on the Dirk Nowitzki-Tractor Traylor trade. There would have been no sense in tearing apart a team (the best team in franchise history) that won 67 games and is just a year removed from the NBA Finals. Massive changes might have given us some excitement coming into the season, but it certainly wouldn't have made the team any better. Oh, and forget everything I just said if he pulls off a Kobe trade.
• TrueHoop, ESPN's NBA blog
---
Chad Ford's NBA Dish: '07-08 Preview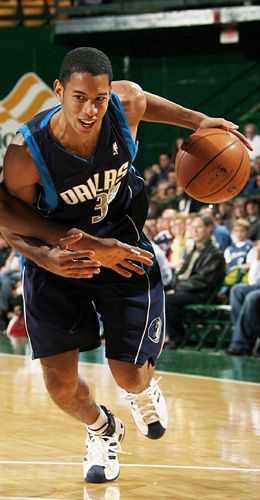 Ned Dishman/NBAE via Getty Images
No one talks about Devin Harris, but the Mavs know his two-way talents as a penetrator and stopper are critical to their title hopes.

Avery Johnson
Experience: 3 years
Record: 143-39
Playoffs: 22-20
NBA titles: 0
Coach's profile
With a team as efficient as the Mavs last year -- No. 2 on offense and No. 5 on D -- Avery Johnson has little to worry about strategically. Yes, he will have some new players to get acclimated with, but on this team that will be simple. What's hard is helping all of them, especially his MVP, get over their two straight heartbreaking postseason disappointments and focus on running yet another marathon. But if Johnson can do that, the Mavs might see an open window for a title.
• David Thorpe, Scouts Inc.
Sleeper: Jerry Stackhouse
It's been so long since he was
Jerry Stackhouse
that folks forget that the guy can play when healthy. There's talk of him getting the starting gig at the 2, and a late-round flyer on Stack is not the worst thing you could do.
Bust: Jason Terry
Bust is a strong word here. But at 30 years old and with talk that he'll come off the bench, there's not much upside. And last year he had fewer points, steals and 3s than the year before.
• Southwest Preview | Fantasy Hoops