Filippo Monteforte/AFP/Getty Images
ANALYST
PREDICTION
J.A.
Adande
ESPN.com

SOUTHWEST: 4 | WEST: 8 Would feel better about having Jason Kidd around for a full season if he hadn't looked so average during the Olympics. Rick Carlisle has a tough job changing the mentality of a team that has folded in its past three playoff series.
Jon
Barry
ESPN.com

SOUTHWEST: 4 | WEST: 7 Time for this team to be broken up. It's not the right mix since the 2006 Finals meltdown. Just not a championship-quality team. Maybe they'll deal Howard if they get off to a slow start. Don't be surprised if Cuban mixes it up.
Chris
Broussard
ESPN Mag

SOUTHWEST: 4 | WEST: 8 The Mavs are younger than the Suns, but the story lines are the same: Like the Kings of C-Webb, Bibby & Co., they missed their opportunity for a ring. Carlisle's newness will have them all saying it's not the same ol' song. But it is.
Ric
Bucher
ESPN Mag

SOUTHWEST: 4 | WEST: 8 Biggest challenge of Rick Carlisle's career. He'll get more out of Jason Kidd, but this team needs a major overhaul. The psychological scar of the 2006 collapse is still visible.
Chad
Ford
ESPN.com

SOUTHWEST: 4 | WEST: 8 The Mavs' problem is that they didn't make that significant infusion of youth to an aging franchise -- they went opposite. The trade of Devin Harris and two first-round picks for Jason Kidd will haunt them for the next five years.
Jemele
Hill
ESPN.com

SOUTHWEST: 4 | WEST: 8 Dirk Nowitzki is a franchise player who is unable to be a closer. The Mavericks have been sliding backward since going to the 2006 NBA Finals. This might be the year they don't make the postseason.
John
Hollinger
ESPN.com

SOUTHWEST: 4 | WEST: 7 The Jason Kidd panic trade likely ended their title-contending days, but any team lining up Dirk Nowitzki and Josh Howard at the forward spots should at least make the playoffs, especially given new coach Rick Carlisle's track record.
Jalen
Rose
ESPN.com

SOUTHWEST: 4 | WEST: 9 It will be very important for this team to get off to a fast start. Especially with so many changes made and distractions this offseason. They will be led by Nowitzki, Kidd and Howard. Rick Carlisle has proven to be a great coach.
Chris
Sheridan
ESPN.com

SOUTHWEST: 4 | WEST: 9 Although owner Mark Cuban tries to subcategorize all of ESPN's talent by what he sees as their respective shticks, we'll categorize his team as what it is: a mediocre assemblage of talent whose long-term hopes were ruined by the Jason Kidd deal.
Marc
Stein ESPN.com

SOUTHWEST: 4 | WEST: 6 Just a thought: If they won 51 games last season when everyone in Mavsland was so unhappy, should we hold off on all those obituaries until we see how the Mavs look (and feel) under Carlisle?


TOTAL SOUTHWEST: 3.9 | Standings WEST: 7.8 | Standings
Team Strength: Forwards
Dallas may be weakened at other positions relative to its peak, but the Mavs still can put two All-Stars on the floor at the forward spots who create havoc for opposing defenses.
The linchpin is Dirk Nowitzki, whose offensive skill goes underappreciated because one of his main attributes is how shockingly few negative plays he makes. Between his high-percentage shooting, his insanely low turnover rate and the fact that he almost never misses a foul shot, he gets more out of his possessions than almost any player in the league. Throw in solid rebounding and vastly improved defense, and he's one of the 10 best players in the league -- even though his numbers fell off from his 2007 MVP season.
At the other forward spot is Josh Howard, whose flaky behavior in the past six months has been a concern, but whose play on the court has been consistently excellent. Howard is a jack-of-all-trades type who doesn't excel in any one area, but can handle the ball, shoot from midrange, defend and rebound. His numbers slipped after the Jason Kidd trade a year ago, so between that and the odd behavior there's some concern -- keep an eye on him early in the season.
Meanwhile, behind the scenes Brandon Bass had a huge year off the bench as a reserve forward behind Nowitzki. He'll likely take on a greater role this year, and we'll get to see if his outstanding mid-range shooting numbers from last year were a fluke or not.
Sleeper: Brandon Bass
Bass was dynamic in limited action in 2007-08, averaging 8.3 points, 4.4 rebounds and 0.6 blocks in just 19.7 minutes per game. He also added stellar percentages: 49.9 percent from the floor and 82.2 percent from the line. Project those numbers to reflect 35 minutes per game and you'll see a highly productive fantasy player: 14.7 points, 7.8 rebounds and 1.1 blocks per game.
Bust: Jason Terry
His assists have vanished (3.2 per game) and his steals have dipped to just 1.1 per game. Don't get us wrong, Terry is still a nice option for points (15.5) and 3-pointers (1.7), but there are plenty of shooting guards out there that can offer similar stats at half the price. Why take Terry in the 5th round when you can find a similar talent three rounds later? •
Southwest Preview | ESPN Fantasy Hoops | Sign up today
ESPN The Magazine: How Do You Know ...
... Trading for Jason Kidd didn't set the Mavs back five years?

Five years ago, Dallas was coming off a 60-win season in which it made the conference finals; they'd gladly take a setback like that. Seriously though, the club didn't exactly mortgage its future to get Kidd. The only guy they'll miss is Devin Harris, and he's years from a peak that may not scrape where Kidd (even at 35) is today. Besides, if Kidd isn't The One, Dallas can use his roster spot and his $21M to find the answer elsewhere next year.
ESPN The Magazine's NBA Preview hits stands October 22. For more, go to espnthemag.com.
Mavs down one, 9.2 seconds to play, must-win game. What's the play?
I've got a perfect play drawn up that is guaranteed to score two points 100 percent of the time, but unfortunately it requires 9.3 seconds. Instead I have Dirk inbound the ball to Kidd, who isn't watching from the bench, and have Kidd give it right back to Dirk.
At that point, you have to just trust Dirk to either find a shot or get to the free-throw line -- and we all know the refs won't hesitate to make themselves a part of the game at a crucial moment.
---
Chad Ford's NBA Dish: '08-09 Preview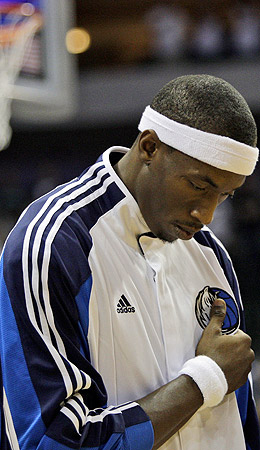 AP Photo/LM Otero
Josh Howard might be praying for peace after the furor over his comments on his marijuana use, the national anthem and race.

Rick Carlisle
Experience: 6 years
Record: 281-211
Playoffs: 30-32
NBA titles: 0
Coach's profile
Because of a difference in coaching styles, new coach Rick Carlisle may feel like he's on a honeymoon for the first part of the season. His demeanor is very different from his predecessor, Avery Johnson. Carlisle should get his guys to adopt whatever strategies and teaching points he cares to share, and he'll likely look to tweak an offense that underperformed last season.
More fluid passing and cutting seems likely, taking advantage of the prodigious talents of Dirk Nowitzki. The fact that the Mavs are "underdogs" for the first time in years should help Carlisle create an edge as well.
•
David Thorpe, Scouts Inc.