Garrett Ellwood/NBAE/Getty Images
ANALYST
PREDICTION
J.A.
Adande
ESPN.com

NORTHWEST: 3 | WEST: 10 Not a good idea to trade away the best defender on a weak defense. With Marcus Camby gone, it will be a 48-minute layup line for opponents. Even if both Melo and A.I. could shoot on every possession, they wouldn't be able to overcome that.
Jon
Barry
ESPN.com

NORTHWEST: 3 | WEST: 9 No defense, but you get rid of Camby and Najera and Diawara, the only guys who play D? I'm sensing a retreat from 50 wins -- I see them in a free fall.
Chris
Broussard
ESPN Mag

NORTHWEST: 3 | WEST: 9 The Nuggets have too much talent to miss the postseason, especially with J.R. and Kleiza coming into their own. In the end, maybe it's best that they end up in the lottery. After all, it'd be another quick trip if they were to make the playoffs.
Ric
Bucher
ESPN Mag

NORTHWEST: 3 | WEST: 10 It's not the physical loss of Camby and Najera, it's the mental message that the Nugs are tearing down, not building up. That never plays well with vets looking for one more shot, and that's who is left.
Chad
Ford
ESPN.com

NORTHWEST: 2 | WEST: 9 Unless there's a legitimate Nene sighting, the Nuggets will join the Spurs, Suns and Mavericks as teams on the decline. Carmelo can be great and A.I. will be gunning for his next contract, but I can't find any real positives right now.
Jemele
Hill
ESPN.com

NORTHWEST: 3 | WEST: 10 They got rid of two of their best defensive players, Camby and Najera.
John
Hollinger
ESPN.com

NORTHWEST: 3 | WEST: 9 Half-dismantled Nuggets aren't sure whether they're coming or going -- but they'll know by midseason. If it's the former, they'll use their trade exception and pay the tax. If not, they'll trade A.I. and get under it. Either way, watch for J.R. Smith to break out.
Jalen
Rose
ESPN.com

NORTHWEST: 4 | WEST: 10 A.I. and Melo will be All-Stars and All-NBA. Will Nene and Kenyon be healthy? Who will anchor the already poor defense without Camby? J.R. Smith starts to really make a name for himself. Team may score 170 in a game.
Chris
Sheridan
ESPN.com

NORTHWEST: 3 | WEST: 11 The message of the Marcus Camby trade was unmistakable: Money is more important than winning, especially when it's Stanley Kroenke's money and he doesn't want to spend it on luxury tax. Our choice for our annual train wreck prediction. (Last year I chose Miami.)
Marc
Stein ESPN.com

NORTHWEST: 3 | WEST: 9 The Nuggets might not fall as far as initially feared without Camby. That said, No. 8 in the West would again appear to be their best-case scenario ... whether or not it takes another 50 wins to get there.


TOTAL NORTHWEST: 3.0 | Standings WEST: 9.6 | Standings
Team Strength: Perimeter scoring
Good luck hiding a bad wing defender against these guys. Denver can send out a lineup with Allen Iverson, J.R. Smith and Carmelo Anthony at the three perimeter positions at the same time; to really turbocharge things, the Nuggets also can play with Kleiza as an undersized 4.
Iverson and Anthony, of course, are among the league's highest-scoring combos. Last season, they averaged a combined 52 points per game, and you got the sense they weren't even playing that well while they were doing it. They both look to get to the basket but do it in different ways -- Anthony likes to catch on the block or face up from the midpost, while Iverson prefers to attack off the dribble from out top.
The wild card in all this is Smith, who was quietly one of the league's most prolific scorers last season. Smith averaged 25.5 points per 40 minutes with one of the highest true shooting percentages in basketball, and after the All-Star break, that number climbed to 28.8 -- more than Anthony or Iverson. With unlimited range and the quickness to attack defenders off the dribble, he has the skill to be a big-time scorer if he keeps his head on straight. His ability to break out as a third scorer this year is Denver's best chance of hanging on to its spot in the playoffs.
Sleepers: J.R. Smith and Linas Kleiza
When Kleiza played regularly last season (25 minutes-plus), he was a solid source of points and 3s. And extending the 23-year-old's current deal is a priority for the Nuggets, so more consistent minutes in 2008-09 should be assured. Has Smith, the oft-exasperating 3-point gunner, turned a corner? After the All-Star break last season, Smith averaged 15.7 points, 2.6 3s and 49.3 percent shooting.
Bust: Allen Iverson
Probably no true bust here, but I'm leery of Iverson, whose grace is pretty much confined to the hardwood. Or have you forgotten A.I.'s ugly departure from Philadelphia, when the Sixers essentially suspended him till they got a deal done? I mention this because it is a realistic possibility that the now-frugal Nuggets will look to move Iverson sometime this season.
ESPN The Magazine: How Do You Know ...
... someone can fill the void left by Marcus Camby?

Well, there is one contender in the locker room: Chris (Birdman) Andersen. The dude never quits, as anyone who saw all those flubbed dunks during 2005's All-Star weekend knows. Yes, this is the same Andersen who got 1.8 boards and 0.8 blocks in five games for the Hornets. And, yes, Camby had 13.1 and 3.6 in 79 games. So maybe PF-to-C Nenę will rise up with Birdman to get the job done. "We need one more big man," Nenę says. Maybe not.
ESPN The Magazine's NBA Preview hits stands October 22. For more, go to espnthemag.com.
Nuggets down one, 9.2 seconds to play, must-win game. What's the play?
This play will win the game and further the development of J.R. Smith, thus making the Nuggets better both immediately and in the future. Carmelo is on the right wing and AI on the left. Kenyon inbounds the ball to J.R. and then jogs along the right side of the court before cutting to the rim along the baseline.
Nene sets a high screen for J.R. driving to his right. J.R. can dive and score, pass to a rolling Nene, throw a lob to Kenyon or, with the defense collapsing, kick out to Melo or AI for an open jumper.
---
Chad Ford's NBA Dish: '08-09 Preview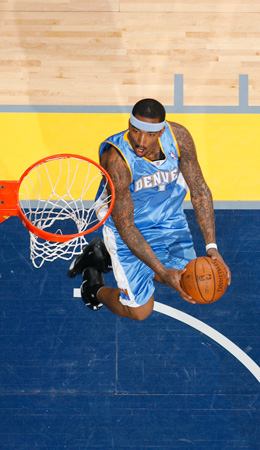 Joe Murphy/NBAE via Getty Images
He might have his lapses, but don't get it twisted: J.R. Smith can flat-out score.

George Karl
Experience: 20 years
Record: 879-614
Playoffs: 62-83
NBA titles: 0
Coach's profile
For the first time in a few years, no one on the Nuggets, including George Karl, thinks this team can just show up without putting up a massive fight and expect to earn a playoff spot. So perhaps Karl may have, finally, the ability to get his players to grind out a game with toughness and tenacity.
Without Marcus Camby inside, the Denver perimeter guys must focus on keeping players in front of them. And all five guys on the court will need to crash the glass as well. Karl may not have any patience in the early going, expecting wholesale changes if this team of two stars is not successful right away.
•
David Thorpe, Scouts Inc.