Nathaniel S. Butler/Getty Images
ANALYST
PREDICTION
J.A.
Adande
ESPN.com

CENTRAL: 2 | EAST: 3 Can't call them one of the elite teams anymore, because it's been five seasons since they won the championships and four since they went to the Finals. The pledged revamping brought little more than Kwame Brown. That's a step in the wrong direction.
Jon
Barry
ESPN.com

CENTRAL: 1 | EAST: 2 Can't overlook this talent. They still have the pieces. In Stuckey's second season, he'll be ready to play a larger role. They've made six straight conference finals, and I see no reason not to make it seven. Coach Michael Curry gets them over the hump.
Chris
Broussard
ESPN Mag

CENTRAL: 2 | EAST: 3 No major roster changes, but the Pistons will improve from within, notably Amir Johnson, Rodney Stuckey and Jason Maxiell. Michael Curry isn't afraid to put his foot in the players' rear ends, which will be huge for this legendarily complacent crew.
Ric
Bucher
ESPN Mag

CENTRAL: 1 | EAST: 2 No more Flip to blame for their shortcomings. If Sheed, Rip and Chauncey have anything left, this is their last chance to prove it. I'm betting they will.
Chad
Ford
ESPN.com

CENTRAL: 1 | EAST: 2 Joe Dumars' idea to shake up the team this summer was a good one. But I think he was wise not to just give away players. The Pistons have one of the most dangerous starting fives and their depth is more impressive than ever.
Jemele
Hill
ESPN.com

CENTRAL: 2 | EAST: 3 Giving youngsters Rodney Stuckey and Amir Johnson bigger roles should help in the motivation department. They seem to respect rookie coach Michael Curry, but it's fair to question how much vets like Billups and Rasheed have left.
John
Hollinger
ESPN.com

CENTRAL: 1 | EAST: 2 Dumars again Flips coaches, but surprisingly didn't flip any players. Despite the ascendance of their next generation -- led by Rodney Stuckey, Amir Johnson and Jason Maxiell -- Pistons still look like a not-quite-elite, 50-plus-win outfit ... unless Joe makes a deal, that is.
Jalen
Rose
ESPN.com

CENTRAL: 1 | EAST: 2 Every key player is still there and playing at a high level but obviously older. Stuckey and Maxiell will be ready to play big minutes. Tayshaun Prince has to play like a go-to guy every night.
Chris
Sheridan
ESPN.com

CENTRAL: 2 | EAST: 3 One East scout said to watch them for any continued slippage over the first 41 games, especially from Chauncey Billups. He believes Billups would be the first key piece Joe Dumars would trade if he ever were to follow through on his threat to shake things up.
Marc
Stein ESPN.com

CENTRAL: 2 | EAST: 3 I'll concede that some of the luster is gone. But I still see too much here, after six straight trips to the conference finals, to peg the Pistons for any lower than third in the East.


TOTAL CENTRAL: 1.5 | Standings EAST: 2.5 | Standings
Team Strength: Depth
The Pistons have an impressive four-man nucleus with Billups,
Richard Hamilton
,
Tayshaun Prince
and Wallace, but what made them so powerful last season is that they lost little when the subs checked in. The second unit was so effective that no Piston played more than 33.6 minutes per game last season. Instead the subs played large stretches in the second and fourth quarters and played them extremely well.
One former sub who may be graduating to starter this year is Jason Maxiell, who seems set to take over Antonio McDyess' starting frontcourt spot after outperforming the veteran as a reserve a year ago. But Maxiell may find himself having to hold off the challenge of another rising young star, as Amir Johnson is a huge talent coming into his own as a player and needs only to curb a mammoth foul rate to become a more regular contributor. McDyess, of course, isn't chopped liver himself, and if you're a Kwame Brown believer, that takes Detroit to five-deep in quality bigs.
It's a similar story on the perimeter. Herrmann has been under the radar the past two years but has played quite well whenever he has been given the opportunity, while Arron Afflalo emerged as a potential defensive stopper as a rookie last season and likely will get more time this year.
And then there's Rodney Stuckey. The 6-5 combo guard appears to have all the makings of a future star, with a sketchy outside shot being the only potential hurdle. The plan is for him to get 30 minutes a game backing up both backcourt slots this season, and his development could be one of the key factors for Dumars in deciding whether to deal Billups or Hamilton at the trade deadline.
Sleeper: Amir Johnson
One of the last vestiges of the straight-outta-high school days, Johnson averaged 18.9 points, 9.7 rebounds and 3.1 blocks per game in 22 D-League contests in 2006-07, and his 20-point, 12-rebound, 4-block and 3-steal performance in a game this past April provided a glimpse into his potential.
Bust: Kwame Brown
Don't let the intrigue of a change in scenery fool you into thinking that he'll finally put it together, and you should not waste a draft pick on him. Brown might block about a shot per game, but his free-throw percentage is awful (just over 40 percent last season).
ESPN The Magazine: How Do You Know ...
... Chauncey Billups is still the best point guard in town?

At the risk of overhyping a second-year small-college pro, you don't. This summer, Rodney Stuckey capped a nice playoff run by hanging tough in Team USA scrimmages, and Detroit fielded offers for its 32-year-old Mr. Big Shot. Coach Curry will use a three-guard rotation -- and at times a three-guard lineup -- to get both guys PT. Billups, meanwhile, has slimmed down, bent on erasing two subpar springs. If Stuckey does push his elder, everyone -- except foes -- wins.
ESPN The Magazine's NBA Preview hits stands October 22. For more, go to espnthemag.com.
Pistons down one, 9.2 seconds to play, must-win game. What's the play?
The Pistons will struggle under pressure this year, right? After all, they have a rookie head coach!
I don't buy it. Curry lacks coaching experience, but his roster has seen it all.
Give Chauncey the ball 25 feet out, put Rip in the right corner, Rasheed on the block (whether he wants to be there or not) and McDyess setting a pick at the top of the key. Let Chauncey drive and react: He has weapons evenly spaced all over the court, and if he wants the shot himself, he's also the most likely to get fouled.
---
Chad Ford's NBA Dish: '08-09 Preview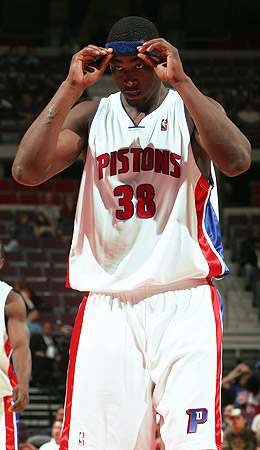 D. Lippitt/Einstein/NBAE via Getty Images
When the Pistons promised big moves during the offseason, Detroit fans weren't expecting Kwame Brown to be the headliner.

Michael Curry
Experience: 1st year
Record: 0-0
Playoffs: 0-0
NBA titles: 0
Coach's profile
Few new coaches find themselves with a challenge similar to the one facing Michael Curry: juggling a lineup very deep with both veterans and talented youngsters. Curry knows his team has every chance to compete for a conference title, so he can experiment with lineups and rotations and not worry about missing the playoffs.
Keeping so many players happy and invested in the team, when there are not enough rotation spots for them all, is a challenge in and of itself. Slowly building momentum as April nears seems a likely goal.
•
David Thorpe, Scouts Inc.