AP Photo/Matt Slocum
ANALYST
PREDICTION
J.A.
Adande
ESPN.com

PACIFIC: 4 | WEST: 11 Without a full Monta Ellis season, they won't make the playoffs. Plenty of talented young players for the future, but the real intrigue is the front-office power plays that will determine who gets to shape it.
Jon
Barry
ESPN.com

PACIFIC: 4 | WEST: 11 Without Baron, who ran the show for the up-tempo Warriors, along with the Ellis suspension, I think their time is up. Nellie can get back to Hawaii and chill out.
Chris
Broussard
ESPN Mag

PACIFIC: 4 | WEST: 11 Like every Nellie team, they'll be fun to watch, but the days of upsetting top seeds and capturing the nation's imagination are over, at least for this season. But assuming Monta isn't damaged goods, the future is bright. (Keep an eye on Randolph.)
Ric
Bucher
ESPN Mag

PACIFIC: 4 | WEST: 11 If the franchise was united, a la the Blazers, it would have the raw ability to compete for a playoff spot. But the Warriors have issues galore, beginning with a front-office rift and a disgruntled player or two.
Chad
Ford
ESPN.com

PACIFIC: 3 | WEST: 10 With Baron Davis having bolted to L.A. and Monta Ellis out and on the outs with Warriors management, the team is dangerously close to joining the Clippers in sliding back into obscurity in the West.
Jemele
Hill
ESPN.com

PACIFIC: 4 | WEST: 11 I'm sure the Warriors hope Monta Ellis is able to get his 30-game suspension reduced. If not, they've got enough to survive. Adding Corey Maggette makes them even more potent. But one word ensures they won't make the playoffs: DE-FENSE.
John
Hollinger
ESPN.com

PACIFIC: 3 | WEST: 10 You never want to bet against Don Nelson when he's the underdog, but losing Monta Ellis for half the season makes it a lot easier -- don't hold your breath waiting on that Marcus Williams breakout. Corey Maggette, however, will put up some serious numbers.
Jalen
Rose
ESPN.com

PACIFIC: 4 | WEST: 11 Missing Ellis for 30 games will hurt the running game. Turiaf and Maggette were good pickups. Stephen Jackson will get a new deal.
Chris
Sheridan
ESPN.com

PACIFIC: 4 | WEST: 10 It was fun while it lasted, eh? But Baron Davis is gone, Monta Ellis is out, and Corey Maggette is nowhere near the player either of them are. Prediction: Al Harrington will be one of the first big-money players to be traded.
Marc
Stein ESPN.com

PACIFIC: 4 | WEST: 11 Winning 48 games and still missing the playoffs, as seen last season, is bound to seem like a treat compared to what's in store for the Warriors after losing Baron in free agency and dealing with the Monta mo-ped nightmare.


TOTAL PACIFIC: 3.8 | Standings WEST: 10.7 | Standings
Team Strength: Scoring depth
Golden State doesn't overwhelm with a single player, but because everybody on the roster can score they stress defense and can always attack weak defenders.
The go-to guy will be Corey Maggette, who hasn't gotten his due for his phenomenal scoring and foul-drawing ability. He averaged 24.8 points per 40 minutes a year ago for a slow-paced Clippers team; in this environment that could easily get up to 27 or 28.
Monta Ellis, of course, is a huge threat as well, if he comes back healthy from the ankle injury. That's a bit of a concern given how dependent he is on his quickness, but Ellis has made sharp improvements in each of his three pro seasons and might score even more from his new point guard spot than he did as an off guard last year.
Stephen Jackson averaged 20.1 points a game last year, so he can't be underestimated, and neither can productive reserve Kelenna Azubuike. Even Marcus Williams, despite his rough play the past two years, has shown a knack for scoring, as has backup-to-the-backup C.J. Watson.
Up front it's a similar story. Andris Biedrins annually contends for the league shooting percentage title, while Ronny Turiaf also scores plenty for a big man. Power forward Al Harrington is an inside-outside threat because of his 3-point stroke, and second-year-pro Brandan Wright is a potential breakout candidate who shot 55.4 percent in limited minutes last year.
Sleeper: Marcus Williams
Marcus Williams is a pass-first point guard and will get at least six assists per game with starters' minutes. He has scorers surrounding him and a coach who likes to push the pace. The only question mark is if he has the wind to run with the rest of the Warriors. The offseason reports are promising: Williams has lost weight and dedicated himself to improving his endurance.
Bust: Monta Ellis
No one likes to kick a man when he's down, but here's the problem: he's not down! You guys are taking Ellis way too early in drafts. His most recent average draft position is 52.3, ahead of healthy players like Mike Miller, Leandro Barbosa and Jamal Crawford. At this point, it appears Ellis will miss at least one-third of the season. Ask yourself; is two-thirds of Ellis more valuable than the players listed above? •
Pacific Preview | ESPN Fantasy Hoops | Sign up today
ESPN The Magazine: How Do You Know ...
... Monta Ellis didn't just ruin everything?

It's bad enough Ellis slowed his own rapid rise. But if Harrington's public anger is a barometer, the 30-game punishment given Ellis for his moped mishap by team prez Robert Rowell has the whole locker room veering off course. Thing is, if the players stage a slowdown, they won't be the ones who suffer. Coach Nelson and GM Chris Mullin are in the final year of their deals; it will be easy for Rowell to ax them if the season goes sour.
ESPN The Magazine's NBA Preview hits stands October 22. For more, go to espnthemag.com.
Warriors down one, 9.2 seconds to play, must-win game. What's the play?
When Baron Davis left, the Warriors officially became Stephen Jackson's team. So the Warriors will allow Jackson to make their game-determining plays late in games.
Don Nelson isn't big on sets. He much prefers to put the ball into his best player's hands, and this year that will be Jackson.
During critical possessions, the Warriors will run a lot of 1-4 sets with Jackson at the top, hoping he can make a play for himself or someone else.
The most likely someone else -- at least until Monta Ellis returns -- is Corey Maggette, who has an uncanny ability to get to the line.
---
Chad Ford's NBA Dish: '08-09 Preview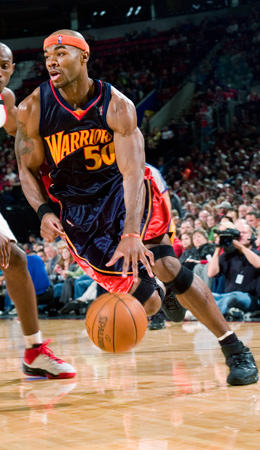 Sam Forencich/NBAE/Getty Images
If the Warriors are to maintain their mojo, it's on Maggette to pick up the scoring slack.

Don Nelson
Experience: 29 years
Record: 1.280-954
Playoffs: 75-91
NBA titles: 0
Coach's profile
Don Nelson is always dangerous with a group of athletic and talented scorers, but now he has to deal with losing his best player for likely half the season. He'll have to revamp without both Baron Davis and Monta Ellis, and both are irreplaceable talents.
Nelson may look to establish a stronger inside game around Andris Biedrins and some of his young draft picks. With an offense that is likely to struggle more, he can also add fire to a defense that was below average last season, trapping and gambling less and working harder to make opponents take tougher shots.