AP Photo/Houston Chronicle, Melissa Phillip
ANALYST
PREDICTION
J.A. Adande
ESPN.com

SOUTHWEST: 3 | WEST: 6 Love the influx of new players, but only one of them (Mike James) brings what this team what it desperately needs: experience playing beyond the first round. T-Mac, Yao and Co. need to take that step before they're ready for the West's elite.
Greg Anthony
ESPN.com
SOUTHWEST: 2 | WEST: 4 Rick Adelman is the perfect coach for this team. His offensive system has shown in multiple places that it helps players thrive. Bonzi Wells did well under Adelman, but he needs to be in shape.
Jon
Barry
ESPN.com

SOUTHWEST: 3 | WEST: 6 Underwent a total change in philosophy, bringing in offensive-minded Rick Adelman. Can T-Mac get his team past the first round? Yao is up for a big year. Can Steve Francis accept being a role player? Success depends on how well they play defense.
Chris
Broussard
ESPN Mag

SOUTHWEST: 3 | WEST: 5 Loads of talent and a terrific offensive coach in newcomer Rick Adelman. Could be problems, though, with James, Alston and Francis fighting for minutes at the point. Their W-L record should be strong, but neither the coach nor the two superstars have proven they can go all the way.
Ric
Bucher
ESPN Mag

SOUTHWEST: 3 | WEST: 5 If Yao stays healthy and Bonzi Wells plays the way he did for Rick Adelman in Sacramento, the nights Tracy McGrady decides to be his electric self will be icing rather than essential.
Chad
Ford
ESPN.com

SOUTHWEST: 2 | WEST: 3 We want to see if this team's ready for prime time. They finally have depth and a head coach that could be a great fit. But whether Yao Ming and Tracy McGrady can keep healthy is the big question.
Jemele
Hill
ESPN.com

SOUTHWEST: 3 | WEST: 5 Yao Ming might have been the league MVP if he hadn't gotten hurt last year. If the West and their own division weren't so loaded, they would be a better favorite to go to the Finals. They'll have to settle for being my dark horse, but they're a very dangerous team.
John
Hollinger
ESPN.com

SOUTHWEST: 1 | WEST: 1 Yes, those are two 1s. Nobody added more talent in the offseason than this team, and it already had a ton with the Yao-McGrady combo. They have much to prove, yes, but don't be shocked if they get a ring.
Chris
Sheridan
ESPN.com

SOUTHWEST: 2 | WEST: 4 We're not going to predict Luis Scola will be the Rookie of the Year, but we will opine that he'll be the biggest impact rookie for a playoff team. It's tricky relying on Tracy McGrady's back and Yao Ming's feet. Their health makes the difference between 40 wins and 60 wins.
Marc
Stein ESPN.com

SOUTHWEST: 3 | WEST: 5 Tracy McGrady hasn't won a playoff series in his 10 pro seasons and Houston has likewise failed to win a single round in the same span. I think both droughts end this season, but that's as far as I'm going. Professor Hollinger is on his own with the bold Rockets talk.


TOTAL SOUTHWEST: 2.5 | Standings WEST: 4.4 | Standings
Team Strength: Backcourt Depth
Last season, the Rockets had to play Rafer Alston nearly 40 minutes a game -- even as his bricks were killing them in the playoff loss to Utah -- because they had nobody else. Suffice it to say that shouldn't be an issue this season. In fact, the Rockets have so many quality backcourt players that it's going to be difficult to decide whom to play. At the point, Steve Francis and Mike James figure to split most of the minutes, but Alston and Aaron Brooks remain in the picture too. Yet that position seems relatively easy to figure out compared to the shooting guard slot. Tracy McGrady is the nominal starter, but could see a lot of minutes at small forward if the Rockets choose to play small. If so, that opens up room for Wells to re-establish himself as a quality scorer off the pine. Then there's Luther Head, last season's 3-point specialist. There's Kirk Snyder, who played well for the Hornets two seasons ago but lost most of last season to injuries. And of course, there are Francis and James, both of whom are capable of sliding up from the point guard spot to play the 2. Complicating matters further is that Rick Adelman rarely goes deep into his bench. It might be that only three of these guys will play, or four at most. McGrady is obviously one, with the smart money on Francis, James and Bonzi Wells being the others. If so, there are going to be some awfully good players waving towels at the end of the Houston bench. •
John Hollinger's complete Rockets forecast


STARTERS
ANALYSIS
Rafer Alston
Point Guard
6-2 | 175
Trade bait, but fits new up-tempo better than Mike James or Steve Francis.
Tracy McGrady
Shooting Guard
6-8 | 223
Will still get touches and shots, but later in the shot clock.
Shane Battier
Small Forward
6-8 | 220
The breath on his neck is from a trimmed-down Bonzi Wells.
Luis Scola
Power Forward
6-9 | 230
Olympic-qualifying tourney MVP? Okay, what else you got?
Yao Ming
Center
7-6 | 310
One injury-free season away from league's-best-center status.
ESPN The Magazine's NBA Preview hits newsstands October 24.
Chuck Hayes
Player efficiency rating
projection: 15.41
vs. NBA avg.:

+0.41


Rockets profiles

Scouting report: Hayes was one of the league's best defensive power forwards last season despite his small stature. While that sometimes allowed taller players to shoot right over him, more often it resulted in an opponent running unsuccessful post plays against Hayes because he was able to muscle the guy so far from the basket. Hayes is also an excellent team defender who frequently put himself in position to challenge shots.
Hayes' shot is one weird bird. He has a hitch in it, almost like he's double-pumping, and he does this even on free-throw attempts. It's as though he took shooting lessons from Juwan Howard. At least he knows it -- he only attempted one jumper all season.
2007-08 outlook: Hayes signed a four-year deal worth $8 million (if likely bonuses are achieved) to stay in Houston, allowing the Rockets to keep him at a fairly large discount to the market. I'm a little surprised there wasn't stronger interest. While Hayes can't score in quantity, he makes his few shots, and his defense and rebounding have real value. Teams have been throwing bigger bills at far lesser players this summer.
Hayes will have to take a back seat, however, as newly arrived Luis Scola figures to take over as the starting power forward. But look for Hayes to play a major role off the bench, backing up Scola and likely finishing games when Houston goes up against tough post players.
If you got some quality time with your team's GM (like those lucky dudes from 3 Shades of Blue), what would you ask?
Bethlehem Shoals, FreeDarko:
I admire Daryl Morey and expect the Rockets to contend under him. However, I have to know what came first: The decision to hire Rick Adelman, or the plan to field a team comprised solely of point guards. If it was Adelman, I smell blackmail; if not, I smell a man desperate for another shot as a head coach. If this horribly imbalanced roster works, though, I see it becoming the Next Big Thing in the NBA -- and the genius of Isiah Thomas once again going unrecognized. The Rockets had to have gotten the idea from somewhere, right? •
TrueHoop, ESPN's NBA blog
---
Chad Ford's NBA Dish: '07-08 Preview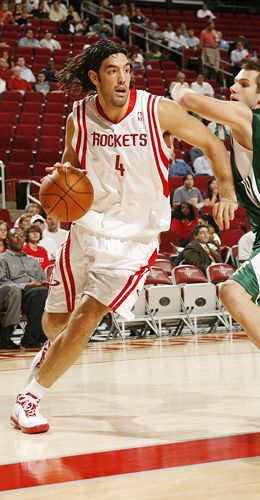 Bill Baptist/NBAE via Getty Images
Swiping Scola from the Spurs is one of the savvy moves that are earning respect for the Rockets' rookie GM, Daryl Morey.

Rick Adelman
Experience: 16 years
Record: 756-477
Playoffs: 70-68
NBA titles: 0
Coach's profile
Rick Adelman's new players in Houston should take to his systems with glee, so Adelman will not have to worry about being accepted as the leader. He will, however, have to get his guys to trust the system over some of their own instincts. He also can't let them forget the defensive disposition they learned under Jeff Van Gundy.
• David Thorpe, Scouts Inc.
Sleeper: Luis Scola
Scola is the odds-on favorite to start for the Rockets. He never put up big block totals in the Euroleague, but should be well above average for a big man in steals. For a late-rounder, maybe even free-agent claim, Scola should be a valuable fantasy backup who might grow into more.
Bust: Steve Francis
The Rockets are simply loaded at point guard, but loaded is relative; the three players in question -- Francis,
Mike James
and
Rafer Alston
, are all limited mediocrities of some sort. The whole point guard situation is one to avoid.
• Southwest Preview | Fantasy Hoops