Bill Baptist/NBAE via Getty Images
ANALYST
PREDICTION
J.A.
Adande
ESPN.com

SOUTHWEST: 2 | WEST: 3 Love the potential, but asking Ron Artest's head and the bodies of Tracy McGrady and Yao Ming to stay together all season is a bit too much. The Rockets could win an NBA championship ... or set U.S.-China relations back 50 years.
Jon
Barry
ESPN.com

SOUTHWEST: 2 | WEST: 3 The question first and foremost is health. Yao has been out of action for good amounts of the past three seasons. McGrady's surgeries are bothering him. But if they stay healthy with Artest, I really, really like this team.
Chris
Broussard
ESPN Mag

SOUTHWEST: 1 | WEST: 2 The problem may not be Ron-Ron, who's playing for his favorite coach in a contract year (hello, best behavior). The bigger question could be whether T-Mac and Yao can stay healthy enough for this team to reach its potential.
Ric
Bucher
ESPN Mag

SOUTHWEST: 2 | WEST: 4 It's an odd mix of talent and disparate personalities, but nobody is better at making the most of that kind of bouillabaisse than Rick Adelman.
Chad
Ford
ESPN.com

SOUTHWEST: 2 | WEST: 4 I'm having a hard time drinking the Rockets' Kool-Aid. Yao has to be exhausted. Tracy McGrady is already hurting, and you never know what you'll get with Ron Artest. On paper, the Rockets look GREAT. In real life, they're a little scary.
Jemele
Hill
ESPN.com

SOUTHWEST: 3 | WEST: 5 If Yao Ming and Tracy McGrady stay healthy, the Rockets are a great dark horse to win the West. This already was an impressive defensive unit, but with Artest, the Rockets could be as suffocating as the C's.
John
Hollinger
ESPN.com

SOUTHWEST: 1 | WEST: 3 Ron Artest adds the ultimate wild card to form a championship-caliber nucleus -- especially given that the Rockets made a strong second-half run even without Artest or Yao Ming. But will they ever be at full strength? Already Tracy McGrady and Shane Battier are hurting.
Jalen
Rose
ESPN.com

SOUTHWEST: 2 | WEST: 4 Wow, if this team can stay healthy and Artest can mix, don't be surprised if they win the West! Yao and T-Mac are All-Star starters -- do the fans still vote?).
Chris
Sheridan
ESPN.com

SOUTHWEST: 1 | WEST: 2 We're going to steal a page from Hollinger here and predict big things for these guys, knowing, of course, that Yao's fragile foot, Ron Artest's fragile psyche and Tracy McGrady's fragile pain tolerance are all major, major concerns.
Marc
Stein ESPN.com

SOUTHWEST: 2 | WEST: 3 I think we can safely say that T-Mac and Yao, with Artest's help, will finally get out of the first round ... assuming you can say anything safely about a team that racks up big injuries the way the Rockets do.


TOTAL SOUTHWEST: 1.8 | Standings WEST: 3.3 | Standings
Team Strength: Perimeter defense
Seriously, how tough is it going to be for wing scorers to get points on this team when Ron Artest is their
backup
defensive stopper? Shane Battier is an elite defender despite not being an elite athlete, using his size, smarts and effort to continually frustrate opposing scorers. But when he exits, Houston can now move Artest down from the power forward spot to check opponents with a completely different style that relies on aggression and brute strength. It should be a devastating 1-2 punch.
What makes it even more effective is the knowledge the bigs have their back. The return of Yao Ming puts a 7-foot-6 goalie at the rim on the rare occasions when Battier or Artest is beaten off the dribble, while reserves like Chuck Hayes, Dikembe Mutombo (if he re-signs), Joey Dorsey and Carl Landry each are fantastic defenders.
And of course, the Rockets can also shift everybody down a spot and play Artest and Battier on the wings at the same time, either when Tracy McGrady is resting (or injured) or with him as the point guard. That approach seems especially plausible against teams like Dallas or Denver that have multiple wing scorers on the floor simultaneously.
Sleeper: Luis Scola
Scola should be able to earn 27-30 minutes per game. He'll be a solid producer in points and rebounds, and although he doesn't block shots, he will create more steals than your average big man. Now, it's important to realize that Scola may not be your traditional sleeper. He won't be overlooked on draft day.
Bust: Tracy McGrady
Playing in an average of just 61.3 games over his past three seasons, T-Mac has become one of the league's most injury-prone players. To make matters worse, McGrady's skill set is also starting to deteriorate. Maybe it wouldn't be so bad if he didn't take so many shots, but 41.9 percent from the floor is a major drag when you're taking 19.8 shots per game. •
Southwest Preview | ESPN Fantasy Hoops | Sign up today
ESPN The Magazine: How Do You Know ...
... Ron Artest will bring this team together and not rip it apart?

Give him a break -- or at least a year. Artest's first season in a new uni is smooth. Plus, Houston is insured by the three C's: coach, contract, cast. 1) Artest had his best season in Sac-Town under Adelman; 2) he's a free agent-to-be, and this team doesn't keep knuckleheads (besides Alston); 3) Artest knows this is Yao's team. "We'll be okay if Ron goes his own way," says one Rocket. "As long as no one follows him." Okay, six months.
ESPN The Magazine's NBA Preview hits stands October 22. For more, go to espnthemag.com.
Rockets down one, 9.2 seconds to play, must-win game. What's the play?
No play. Rick Adelman doesn't have to do anything but channel his inner Gene Hackman -- "Get the ball to T-Mac, top of the key. Rest of you spread the floor!"
McGrady is a nasty threat to score himself, but his ability to find the open man makes the Rockets a dangerous team when they also have Yao Ming, Ron Artest and Luis Scola flanking him. There's a catch though -- the (tremendously wide) open man is usually Rafer Alston.
---
Chad Ford's NBA Dish: '08-09 Preview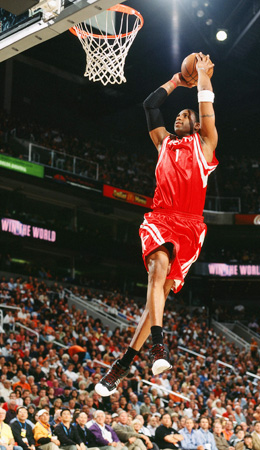 Barry Gossage/NBAE/Getty Images
It's not just durability, it's also declining production that has made T-Mac a shaky, streaky franchise player for the Rockets.

Rick Adelman
Experience: 17 years
Record: 811-504
Playoffs: 72-72
NBA titles: 0
Coach's profile
The Rockets were a dynamic defensive team last season, then added Ron Artest to the mix this year. So the pressure is on Rick Adelman to mix in Artest and re-create the incredible chemistry that the Rockets exhibited last season when Yao Ming went down.
Adelman has had success with Artest before, but never with stakes this high. If he can get the talented player to move the ball on offense and compete every possession on defense, then Houston can expect big things. If not, and the team becomes disjointed, Adelman's worst fears will be realized.