Issac Baldizon/NBAE via Getty Images
ANALYST
PREDICTION
J.A.
Adande
ESPN.com

CENTRAL: 5 | EAST: 12 Unlike the slowdown teams that infected the '90s NBA, the Pacers decided if they're going to be bad they might as well score a lot of points in the process. They might be even more uptempo this year, but it won't get them any further.
Jon
Barry
ESPN.com

CENTRAL: 5 | EAST: 13 There's been a serious change of culture in Indy, helped further with T.J. Ford now at the point. But the bottom line is there's still not enough here for this team to get in the playoffs.
Chris
Broussard
ESPN Mag

CENTRAL: 5 | EAST: 15 Jim O'Brien is a good coach, but he needs more to work with. Not one Pacer has ever averaged 20 points a game. The only other team in the league you can say that about is Portland.
Ric
Bucher
ESPN Mag

CENTRAL: 5 | EAST: 14 Dear Larry: Loved you as a player. Liked you as a coach. As a GM ... Did I mention I loved you as a player?
Chad
Ford
ESPN.com

CENTRAL: 3 | EAST: 7 I might be crazy, but this year's Pacers remind me a little of the Pistons six years ago. They don't have any stars, but they're filled with talented role players with chips on their shoulders. If T.J. Ford stays healthy, they'll surprise.
Jemele
Hill
ESPN.com

CENTRAL: 5 | EAST: 11 Lots of new parts, but who knows how they fit? T.J. Ford stabilizes them at PG, and Roy Hibbert should make nice contributions. They're just not ready to compete in that division.
John
Hollinger
ESPN.com

CENTRAL: 3 | EAST: 7 T.J. Ford is always a health risk, but he'll put up big numbers in this system for as long as he's out there. The Pacers were only a game out of playoffs last year, and an upgrade at the point should get them into the postseason this time.
Jalen
Rose
ESPN.com

CENTRAL: 5 | EAST: 13 This team is in total rebuild mode in terms of roster, image and fan base. T.J. Ford and Jarrett Jack will push the tempo to go with the scoring of Danny Granger and Mike Dunleavy. One key question: Can they trade Jamaal Tinsley?
Chris
Sheridan
ESPN.com

CENTRAL: 5 | EAST: 14 Hard to decide which of Larry Bird's decisions was worse: Trading Jermaine O'Neal for a bag of spare parts or benching Jamaal Tinsley at the start of camp rather than allowing him to display whatever value he has to potential suitors.
Marc
Stein ESPN.com

CENTRAL: 5 | EAST: 13 Don't know how Jim O'Brien got 36 wins out of the Pacers last season. And don't think he'll be able to get that many out of them this season, with almost all of the East's non-playoff teams making upgrades.


TOTAL CENTRAL: 4.6 | Standings EAST: 11.9 | Standings
Team Strength: Long-range shooting
Some of coach Jim O'Brien's teams have shot the 3 a lot merely because their players liked shooting them
(cough, Antoine Walker, cough)
. On this team, however, they shoot them because they can really hit them.
Mike Dunleavy and Danny Granger each shot over 40 percent last season, while Troy Murphy just missed joining them at 39.8 percent. Travis Diener is another long-range ace if you go by his career numbers, although he had an off year shooting last year, and third-year forward Shawne Williams should be a very good 3-point shooter as he adjusts to the NBA line. The same goes for Rush, who hit over 40 percent on 3-pointers at Kansas, and players like Jarrett Jack aren't bad either -- that covers the entire perimeter rotation except T.J. Ford.
And there's some addition by subtraction, too. Take away Jamaal Tinsley's 28.4 percent on 3.6 attempts per game and the Pacers' average should only improve from last year's 37.4 percent, especially since Ford hardly ever shoots threes.
Sleeper: Troy Murphy
With Jermaine O'Neal out of the picture, Murphy should start at power forward and play some at center as well. He has a rare combination of rebounding and 3-point-shooting ability. Murphy should top 30 minutes per game, which should put him around 16 points, 9 rebounds and 1.5 3s with a solid free-throw percentage (career 78 percent).
Bust: T.J. Ford
Everything hinges on his health. If he can stay on the floor, he'll put up huge assist numbers. He easily could put up around eight per game and be among the league leaders. But he doesn't shoot 3s or rack up steals, and I find it hard to believe he'll be on the floor for 82 games.
ESPN The Magazine: How Do You Know ...
... these guys will ever be able to win back hoops-loving Hoosiers?

Prez Larry Bird continues to purge the problems, and that alone makes his team more lovable. It won't, however, find W's, and those are what lure fans. Dunleavy and Granger had career years, but neither pumps up a dire lack of star power. Besides the Blazers, this is the only team with no rotation player who ever got 20 ppg. Luckily, O'Brien's fast-and-free style is just what's needed to lift stats and spirits -- of anyone who will bother to watch.
ESPN The Magazine's NBA Preview hits stands October 22. For more, go to espnthemag.com.
Pacers down one, 9.2 seconds to play, must-win game. What's the play?
Nine point two seconds is an eternity in a Jim O'Brien offense run by T.J. Ford. So Ford, bored waiting to set up one last shot, breaks down his defender and quickly scores on a stunned defense. Pacers up one with 8.9 seconds left.
The opposition exposes a struggling Pacers defense as a late weakside rotation leads to a dunk with 2.8 seconds left.
Granger, Dunleavy and Murphy spread out and spot up, attracting defense on the shooters. Ford zips up court, shedding his man on a Hibbert high-post pick.
When help arrives, Hibbert rolls alone to the hoop, finishing an oop from Ford and surprising the defense with his sure hands and agility.
---
Chad Ford's NBA Dish: '08-09 Preview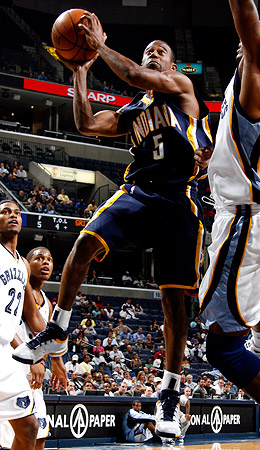 Joe Murphy/NBAE via Getty Images
With Larry Bird and coach Jim O'Brien pushing Indiana's pedal, expect their new point guard T.J. Ford to put the "pace" in Pacers.

Jim O'Brien
Experience: 6 years
Record: 218-204
Playoffs: 14-17
NBA titles: 0
Coach's profile
Jim O'Brien quietly helped his team make some real progress in his first year, and can now build to another level with his new quarterback, T.J. Ford. The team is built around its perimeter shooters spreading the floor for Ford, who can drive or dish.
But making the playoffs usually requires more than long-range shooting. O'Brien will try to get his team to defend better by not fouling as often (second in yielding most foul shots per field-goal attempt), which will also help to maintain the breakneck speed of the game that he wants.