Andrew D. Bernstein/NBAE via Getty Images
ANALYST
PREDICTION
J.A.
Adande
ESPN.com

PACIFIC: 3 | WEST: 9 For a guy who didn't make the All-Star team last season, Baron Davis sure can impact franchises. He'll make the Clippers livelier and better, but not quite good enough for the playoffs.
Jon
Barry
ESPN.com

PACIFIC: 3 | WEST: 10 I love the frontcourt of Marcus Camby and Chris Kaman, who would have been Most Improved Player had he not been hurt. Davis is at the point, but they still might be looking for some shooting help.
Chris
Broussard
ESPN Mag

PACIFIC: 3 | WEST: 10 They have playoff talent, but it's hard to see them bumping one of the top eight. Their front line of Camby, Kaman and Thornton, whom they have high hopes for, is impressive. Still, getting them to the postseason would be one of Baron's greatest hits.
Ric
Bucher
ESPN Mag

PACIFIC: 3 | WEST: 9 Excuse me for not joining the "same ol' Clippers" refrain. Baron Davis, Chris Kaman, Marcus Camby? With Eric Gordon and Al Thornton chipping in? Barring a physical meltdown, they have enough talent to bump Dallas from the eighth spot.
Chad
Ford
ESPN.com

PACIFIC: 4 | WEST: 11 I hope Mike Dunleavy is a religious man. He'll need a lot of prayers and some serious faith to keep both Baron Davis and Marcus Camby healthy and interested on what looks like a mediocre team.
Jemele
Hill
ESPN.com

PACIFIC: 3 | WEST: 9 Although I'm an admitted Baron Davis apologist, I seriously doubt this team has enough to shake up the Western hierarchy. They flat-out stole Camby, and he and Kaman will be monstrous inside, but losing Brand and Maggette might be too significant to overcome.
John
Hollinger
ESPN.com

PACIFIC: 4 | WEST: 12 The Clippers effectively traded Elton Brand for Baron Davis and Corey Maggette for Marcus Camby. I'd argue both moves were downgrades and the players weren't that good beforehand. If Davis and Camby stay healthy, they can make a run at the eighth spot, but don't count on it.
Jalen
Rose
ESPN.com

PACIFIC: 3 | WEST: 8 Yes, they did lose Brand and Maggette but it will work out for all involved. Baron Davis is coming home and wants to show he is the best PG in the game. Camby and Kaman will have All-Star credentials. The squad is loaded with scorers.
Chris
Sheridan
ESPN.com

PACIFIC: 2 | WEST: 6 As one of the biggest Baron Davis fans on this side of the Mississippi, I loved this signing. So much so that I'll go out on a limb and say it'll have a bigger positive impact on the Clips than the Brand signing on the Sixers.
Marc
Stein ESPN.com

PACIFIC: 3 | WEST: 10 Few teams, it would seem, can match the Clips' swing capacity. They might contend for a low playoff seed if Davis and Camby thrive ... and they might be in for another season of serious suffering if the skeptics' injury fears are realized.


TOTAL PACIFIC: 3.1 | Standings WEST: 9.4 | Standings
Team Strength: Rebounding
The Clippers were among the league's worst rebounding teams last season, but that's likely to change in a major way this year. The addition of Marcus Camby alongside Chris Kaman puts two of the best rebounders in basketball alongside each other in the frontcourt; it also builds in some redundancy should either miss time with injuries, which given their respective histories is extremely likely.
Sliding everyone else down a spot should also improve the rebounding numbers. Al Thornton was a poor rebounder for a power forward but is fine if he's playing the 3; same goes for Thomas, who occasionally had to play center last season but now will be a combo forward.
Adding Baron Davis should also help. He's a good rebounder for a point guard, and the Clippers got very little from their point guards in that respect last season.
Sleeper: Ricky Davis
Despite underperforming on a largely dysfunctional Heat team last season, Davis has been a valuable fantasy play throughout his career. Paired with a strong presence like Baron Davis, Ricky Buckets should be on his best behavior (much as he was with the Celtics a few seasons ago) and put up good numbers. He will back up both shooting guard and small forward and log well more than 30 minutes per contest.
Bust: Chris Kaman
The only time Kaman has played the full 82 was his rookie season, but it is not his health concerns that make him a bust candidate. It is his new teammate in the front court, Marcus Camby. By all accounts, Camby is an angry, motivated man since being traded from the Denver Nuggets. He will eat significantly into Kaman's rebounding and block numbers. If Elton Brand, inferior in both categories to Camby, hurt Kaman here, what do you think Camby will do? •
Pacific Preview | ESPN Fantasy Hoops | Sign up today
ESPN The Magazine: How Do You Know ...
... these guys didn't just invest in the Baron Davis Retirement Fund?

Coming home will surely ratchet up the distractions, but if Davis doesn't raise the Clips, it just may hurt his local movie production business. Besides, why would he want to mail it in? There's more talent here than in Golden State, including better bigs. And a cross-arena rivalry with pal Kobe will keep the juices flowing. One wild card: Will he jibe with Dunleavy? A coach who has Davis' respect has Davis at his best. Otherwise? Davis may as well be on leave.
ESPN The Magazine's NBA Preview hits stands October 22. For more, go to espnthemag.com.
Clippers down one, 9.2 seconds to play, must-win game. What's the play?
We begin in the huddle with an icy staring contest between Baron Davis and Mike Dunleavy. The two men agree on nothing -- but discuss the set telepathically. Thornton, Mobley, Camby, and Kaman glean what they can.
Off the inbound, Davis dribbles ... and dribbles. Al Thornton squirrels around a Kaman and Camby baseline stack to free himself. Off the stack, Camby flashes to his favorite spot from 15. Mobley has solid high post position. Kaman owns the block.
Dunleavy sees four guys with four good looks.
Davis sees a contested 22-footer he's been nailing since birth.
Guess who wins?
---
Chad Ford's NBA Dish: '08-09 Preview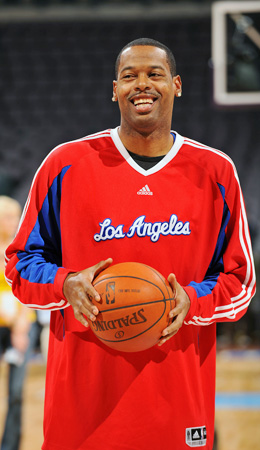 Garrett W. Ellwood/NBAE/Getty Images
Marcus Camby felt betrayed when the Nuggets traded him to the Clippers. Now paired with Davis, he has something to prove.

Mike Dunleavy
Experience: 15 years
Record: 573-625
Playoffs: 38-33
NBA titles: 0
Coach's profile
Losing Elton Brand but gaining Marcus Camby and Baron Davis forces Mike Dunleavy into changing the way his team plays. The team was the second slowest, in terms of pace, in the NBA, but both of its newcomers are experienced at breakneck-style basketball.
Getting their teammates used to that speed will take some work, but Dunleavy will preach getting easy baskets in transition to help improve last season's third-worst offensive team. There is potential for chemistry problems -- or for this group to catch fire and be a surprise.