Lisa Blumenfeld/Getty Images
ANALYST
PREDICTION
J.A. Adande
ESPN.com

PACIFIC: 3 | WEST: 9 Right now they're the wildest card in the deck. With Kobe Bryant they could squeeze into one of the last playoff spots. Without him they're lottery bound. Lamar Odom would become their best player by default, and he's played more than 64 games only once in three years as a Laker.
Greg Anthony
ESPN.com
PACIFIC: 3 | WEST: 8 The cloud hangs over L.A. no matter what happens with Kobe. If he leaves, there's an adjustment period for the new players. If he stays, the question of if, and when, he will be traded will linger. Tough times.
Jon
Barry
ESPN.com

PACIFIC: 3 | WEST: 10 Quite miraculous they made playoffs last year. Kobe Bryant and Lamar Odom are not a good tandem -- both are terrific individually -- but sometimes it just doesn't work together. I saw no improvement with Andrew Bynum throughout the year.
Chris
Broussard
ESPN Mag

PACIFIC: 3 | WEST: 9 If Kobe remains, he still won't be enough to get this crew into the playoffs. Injuries are a problem again, and team chemistry is -- and always will be -- horrible. The good news? Maybe a "to-heck-with-it'' Kobe will entertain us with another 81, or more.
Ric
Bucher
ESPN Mag

PACIFIC: 3 | WEST: 8 It hurts to see such a proud franchise be reactive, not proactive. Patching it up with Kobe was never going to happen, making the draft the time to trade him. Now they have to make a face-saving deal. Meanwhile, a season is wasted.
Chad
Ford
ESPN.com

PACIFIC: 2 | WEST: 9 If Kobe is happy and motivated, the Lakers are probably in line for the seventh seed. But if the melancholy Kobe we've seen in the preseason shows up, the Lakers will be in trouble. Kobe being halfhearted might be the final straw that gets him traded.
Jemele
Hill
ESPN.com

PACIFIC: 2 | WEST: 7 Assuming Kobe is still there, the Lakers will be wonderfully mediocre. Thankfully the Smush Parker era is over, but their frontcourt is still an eyesore. Let's see if Kobe makes it to midseason without taking out his frustration on someone.
John
Hollinger
ESPN.com

PACIFIC: 2 | WEST: 7 This prediction obviously assumes Kobe stays here all season, which is still where the smart money lies in my estimation. If not, revise this downward by 15 wins or so.
Chris
Sheridan
ESPN.com

PACIFIC: 2 | WEST: 9 With or without Kobe, they're no better than a 44-win team. They should be a terrific soap opera, however, so don't fall asleep on them. The clock is ticking on the next Kobe eruption.
Marc
Stein ESPN.com

PACIFIC: 3 | WEST: 8 You have to believe that Kobe, after everything that was said in the offseason, is going to play with a chip on his shoulder so big that every other Laker can hop aboard. But it takes some serious faith to believe that Kobe and his chip will be Laker property for the whole season.


TOTAL PACIFIC: 2.6 | Standings WEST: 8.4 | Standings
Team Strength: Frontcourt Depth
The Lakers don't have All-Star talent up front, but they make up in quantity what they lack in quality.L.A. has built up what might be the NBA's deepest frontcourt rotation, making its refusal to part with Andrew Bynum last winter even more baffling. For starters, of course, there's Bynum, who at age 20 is one of the game's best young centers but must win the battle of the bulge and improve his work habits if he's to continue along that track. Then there are last season's two missing centers, Chris Mihm and Kwame Brown. Brown is limited offensively but has become a quality defensive player with the size to bang with opposing big men on the blocks. The 7-foot Mihm is more the offensive complement, dropping in short hooks down low and doing a solid job on the boards. Behind them is the energetic Ronny Turiaf, an active but foul-prone power forward who can score and block shots; against smaller lineups he can fill in at the center spot and do a solid job, and one wonders why he hasn't played more the past two seasons. Moving over to power forward, L.A. can man the position with either Lamar Odom or Luke Walton, though each is capable of playing the 3 as well. Behind them are Turiaf and two deadly shooters in Vladamir Radmanovic and Brian Cook; while it's a bit ridiculous that the Lakers felt the need to sign both as free agents last summer, it does make for a fairly endless reservoir of frontcourt talent. And that saddens me a bit, because the Lakers are bringing Virginia grad Elton Brown to camp this fall. He's trying to double my alma mater's NBA representation (if one Cavalierly presumes Roger Mason, Jr. can keep his toehold in the league), but I suspect he hasn't a prayer with this roster. •
John Hollinger's complete Lakers forecast


STARTERS
ANALYSIS
Derek Fisher
Point Guard
6-1 | 205
Clutch in playoffs, but that might not matter here.
Kobe Bryant
Shooting Guard
6-6 | 220
Took it to another level this summer. And he played well, too.
Luke Walton
Small Forward
6-8 | 232
Rode the bench the last time the Lakers went up-tempo.
Lamar Odom
Power Forward
6-10 | 230
Lakers tried to deal him all summer. Kind of makes you wonder.
Chris Mihm
Center
7-0 | 265
Missed all 2006-07; still better option than Kwame Brown or Andrew Bynum.
ESPN The Magazine's NBA Preview hits newsstands October 24.
Jordan Farmar
Player efficiency rating
projection: 11.83
vs. NBA avg.:

-3.17


Lakers profiles

Scouting report: Farmar left UCLA after his sophomore year and is only 20 years old, so perhaps we should have expected him to take some lumps. He's shown promise at the defensive end, where he's able to pressure in the backcourt, but needs to foul less in these situations.
Offensively, Farmar needs to take advantage of his speed more often. While the Lakers often had him spotting up, he'll be a lot more effective if he can get to the basket more often. When he does, he has to learn how to create contact and get to the rim.
2007-08 outlook: OK, now for the good news: Rookie years for point guards are often poor indicators of how the rest of their career will turn out, and those who make lots of turnovers tend to develop faster than those who don't, presumably because they can learn from their mistakes.
Farmar is young enough and talented enough too improve substantially. The bad news is that he pretty much has to, because he was a poor excuse for a backup point guard last season.
If you got some quality time with your team's GM (like those lucky dudes from 3 Shades of Blue), what would you ask?
Kurt, Forum Blue and Gold:
Obviously, the first question for Mitch Kupchak on the lips of every Lakers fan is, "When you played in the 1976 Olympics, did you get to meet Nadia Comaneci?" Maybe after that the conversation would include a couple of nagging questions about this year's Lakers, like, "Do you really think there is a fair trade for Kobe?" Then, ultimately, "Is there any cohesive vision amongst the two Busses, yourself and Phil Jackson for the future? You all say you talk constantly and there is a plan, then in your next sentence you contradict each other. So, what is that plan?"
• TrueHoop, ESPN's NBA blog
---
Chad Ford's NBA Dish: '07-08 Preview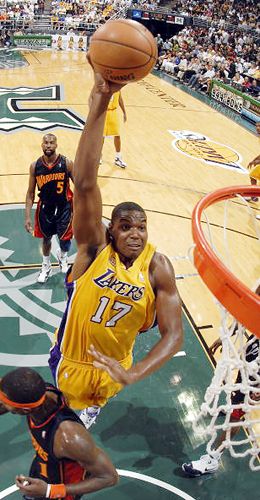 Andrew D. Bernstein/NBAE via Getty Images
The Lakers won't trade Andrew Bynum, so will Phil Jackson play him? Whether Kobe wants him to or not, Jackson might have to if Bynum fulfills the potential he's shown.

Phil Jackson
Experience: 16 years
Record: 918-393
Playoffs: 179-77
NBA titles: 9
Coach's profile
It won't be easy for Phil Jackson to improve upon the league's sixth-worst defense. But that is what he'll have to do, with a host of players distracted by the Kobe drama. Zen Mastery is what this situation calls for, along with the daily challenge to get everyone focused on "today, not tomorrow."
• David Thorpe, Scouts Inc.
Sleeper: Luke Walton
A mini-Boris Diaw, Walton's key to success his offensive game, as he shot 38.7 percent from beyond the arc while attempting 2.1 3-pointers per game. He makes for a versatile forward who helps only in roto leagues.
Bust: Vladimir Radmanovic
Brian Cook
does what Radmanovic does, but better, and does it for less than $25 million over the next four seasons. Toss in the aforementioned Walton and then
Maurice Evans
off the bench and it's hard to see Radmanovic carving a niche for himself.
• Pacific Preview | Fantasy Hoops