AP Photo/Kevork Djansezian
ANALYST
PREDICTION
J.A.
Adande
ESPN.com

PACIFIC: 1 | WEST: 1 A happy Kobe Bryant and a healthy Andrew Bynum should make this the Western team to beat -- but Lamar Odom in the final year of his contract could become the big story.
Jon
Barry
ESPN.com

PACIFIC: 1 | WEST: 1 The return of Andrew Bynum is huge -- the Lakers really lacked his presence in the Finals versus Boston. They have the best player in the game, but I still think this team needs a big-time defender.
Chris
Broussard
ESPN Mag

PACIFIC: 1 | WEST: 1 All they lacked last season was toughness up front. Well, Andrew Bynum solves that problem and then some. Before long, this will be his team. Until then, he'll help Kobe win his first ring sans Shaq.
Ric
Bucher
ESPN Mag

PACIFIC: 1 | WEST: 2 Will going flat in a Finals they were favored to win haunt them? Something certainly has Lamar Odom present but unaccounted for. Andrew Bynum is back, but why have I seen more jumpers than dunks? Then again, I can recall another training camp filled with questions and …
Chad
Ford
ESPN.com

PACIFIC: 1 | WEST: 1 The Lakers had what it took to win it all last year. Add a healthy Andrew Bynum and Trevor Ariza, along with a possible midseason trade of Lamar Odom, and I think the Lakers will bring home the trophy.
Jemele
Hill
ESPN.com

PACIFIC: 1 | WEST: 1 The ripple effect of Andrew Bynum's return makes the Finals-bound Lakers even more dangerous than they were last season. Failing in the Finals is not a legacy Kobe is willing to live with.
John
Hollinger
ESPN.com

PACIFIC: 1 | WEST: 2 Andrew Bynum's return creates an imposing frontcourt but also some problems. In particular, the mix of Bynum, Pau Gasol and Lamar Odom is better on paper than in practice because of spacing issues. Though L.A. has awesome potential, it may need one more trade to win the title.
Jalen
Rose
ESPN.com

PACIFIC: 1 | WEST: 1 This team should be salty after having to watch Boston's Gatorade bath in the Finals. Kobe could win back-to-back MVP awards. Gasol and Bynum -- the new twin towers? Will miss Turiaf. What happens with Odom? Will he be a starter? A sub? Get an extension? Get traded?
Chris
Sheridan
ESPN.com

PACIFIC: 1 | WEST: 1 It'll be good to see Kobe go out on top before he leaves for Olympiacos or CSKA. (Just kidding, I think.) How long can he play with his fractured pinkie? It should have been repaired by now, and Kobe's decision to blow off the surgery is puzzling.
Marc
Stein ESPN.com

PACIFIC: 1 | WEST: 1 Is Bynum's knee healed? Will Kobe keep that endangered pinkie safe? Can Odom accept a reduced role and/or co-exist with Gasol and Bynum? One more question: Is there a team in the West that wouldn't trade for L.A.'s problems?


TOTAL PACIFIC: 1.0 | Standings WEST: 1.2 | Standings
Team Strength: Depth
Any team that is talking openly about bringing Lamar Odom off the bench obviously has a lot of weapons, and in the Lakers' case it's not just in the starting five, either. While the Bryant-Gasol-Bynum-Odom quartet looms as one that no team in basketball can match, L.A. also has a devastating second unit.
The rising star of that bunch is Jordan Farmar, who had a big year off the bench in his second pro season and is still just a pup at 21. He seems poised to take Derek Fisher's starting gig if he just improves his defense a little, but with this group he may be just as effective piling up points off the pine since he can get more shots with the second unit.
Sasha Vujacic is another huge threat, especially if he can continue shooting the way he did last season. Even if he doesn't, he can defend, handle the ball and play all three perimeter spots, and despite his slim build he is the feistiest player on a team that has a rep for softness.
At forward, L.A. has an embarrassment of riches. Vladimir Radmanovic, if he doesn't start, is a flaky but dangerous long-range bomber who can play both forward spots, while Luke Walton is one of the best passers in the league. And don't sleep on Trevor Ariza. Though he hardly played last year due to injuries, he's played extremely well whenever he's had the chance, and he could steal a rotation spot with his athleticism on the wing.
Up front the Lakers aren't quite as loaded, but they still have Josh Powell and Chris Mihm -- a handy backup if he can overcome recent ankle troubles. Plus, with two 7-foot starters, it's easy to slide one to center and bring one of the forwards off the pine as a sub.
Sleeper: Andrew Bynum
This assumes he stays healthy this season. The signs all point to a full recovery for Bynum and if that is the case, his owners are in for a treat. Bynum injured his knee after landing on Lamar Odom's foot going for a rebound. In other words it was a freak thing and given Bynum's youth, owners can assume he is 100 percent. Bynum shouldn't really be a sleeper as he clearly broke out last season.
Bust: Pau Gasol
It's not that I don't like Gasol. I do. He was very efficient upon joining the Lakers and his ability to pass out of the high and low post is a great asset in the triangle. The problem is that owners will be counting on Pau to provide excellent big man numbers and I think this is where he will disappoint owners. Gasol averaged just 7.9 rebounds per game as a Laker and that was with Lamar Odom as his main competition on the glass. This year he will be contending for rebounds with Odom and Andrew Bynum. •
Pacific Preview | ESPN Fantasy Hoops | Sign up today
ESPN The Magazine: How Do You Know ...
... Andrew Bynum's return is just what the Lake Show needs?

In theory, it's a no-brainer. Gasol and the other Lakers bigs were schooled around the rim by the Celtics in the Finals; how can the presence of a second seven-footer not flip the script? Neither Pau nor Odom is physical, and now they won't have to be. The snag is Odom: He might be tired of his dual role of trade bait and scapegoat. Bynum's return can help that dicey situation, turning those potentially loud issues into mere background noise.
ESPN The Magazine's NBA Preview hits stands October 22. For more, go to espnthemag.com.
Lakers down one, 9.2 seconds to play, must-win game. What's the play?
Have Luke Walton inbound the ball to Derek Fisher, who quickly tries to find Pau Gasol, popping out off a down screen into the high post. From there, Gasol's first option is to find Andrew Bynum, who flashes across the middle of the lane, but I think it's safe to say that the defenders will try to front him to deny the pass. So then ...
Ah, screw it. Just get the ball to Kobe and clear out.
---
Chad Ford's NBA Dish: '08-09 Preview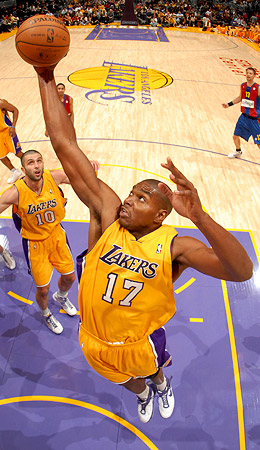 Andrew D. Bernstein/NBAE/Getty Images
Until a knee injury stopped him, Bynum was the MVP of Kobe's supporting cast. Now he's back and ready to reclaim the paint.

Phil Jackson
Experience: 17 years
Record: 975-418
Playoffs: 193-84
NBA titles: 9
Coach's profile
This is far from the first time that Phil Jackson has come into a season with sky-high expectations. So he knows well how to keep his team focused on today instead of tomorrow. And he's not without a few major concerns, dealing with the return of Andrew Bynum and pushing Pau Gasol back to his old home at power forward.
That adjustment, along with helping Lamar Odom find ways to be a more efficient and productive player (especially if he's playing small forward), will give Jackson plenty to chew on as the season opens.