Joe Murphy/NBAE via Getty Images
ANALYST
PREDICTION
J.A. Adande
ESPN.com

SOUTHWEST: 5 | WEST: 10 The Grizzlies had a productive summer, adding some nice young players. The problem is their best player isn't one of the league's best. More than half of the teams in the league wouldn't trade their best player for Pau Gasol.
Greg Anthony
ESPN.com
SOUTHWEST: 5 | WEST: 15 At some point, we're going to hear the Pau Gasol trade talk. How soon depends on how this team-in-progress develops. Big fan of Rudy Gay, and it's time for Darko Milicic to step up.
Jon
Barry
ESPN.com

SOUTHWEST: 4 | WEST: 8 Potentially the most improved team in the league. Pau Gasol is a much-maligned player who's actually a legitimate stud in this league. Darko Milicic could be a nice complement. He's got a lot to prove. New coach Marc Iavaroni has an excellent basketball mind.
Chris
Broussard
ESPN Mag

SOUTHWEST: 5 | WEST: 10 Say what you want about Pau, but when healthy, he leads his team to Ws. If Rudy Gay and Mike Conley can mature quickly, the Grizz could be in the hunt for the final playoff spot. They won't get it, but they could be in the hunt.
Ric
Bucher
ESPN Mag

SOUTHWEST: 5 | WEST: 12 There's one small problem with importing the Suns' system: If Steve Nash isn't part of the package, it's akin to batteries not being included. Can Mike Conley or fellow Spaniard Juan Carlos Navarro do for Pau Gasol what, say, Sam Cassell did for Elton Brand? It's their only hope.
Chad
Ford
ESPN.com

SOUTHWEST: 4 | WEST: 7 One of the most underrated summers on record. Pau Gasol's happy with Juan Carlos Navarro aboard. Mike Conley fills a huge need. Rudy Gay had a good summer. Darko Milicic gives them an athletic inside presence they've lacked. Adds up to a playoff shot.
Jemele
Hill
ESPN.com

SOUTHWEST: 5 | WEST: 10 Great, young nucleus, starting with Mike Conley. Remember this name: Juan Carlos Navarro. Coach Marc Iavaroni will make them fun to watch, but they're still a season or two away from doing anything.
John
Hollinger
ESPN.com

SOUTHWEST: 5 | WEST: 11 With Pau happy and healthy and two lightning quick guards to help get him the rock, the Grizzlies will improve greatly on last year's horror show. But not enough to get into the playoffs.
Chris
Sheridan
ESPN.com

SOUTHWEST: 4 | WEST: 9 My sleeper pick in the West, mainly because I love Mike Conley Jr. and believe Darko Milicic will have a breakout season -- but also in large part because we expect nobody to take them seriously after they were such a disaster a year ago. Over/under date for a Damon Stoudemire trade is Jan. 19.
Marc
Stein ESPN.com

SOUTHWEST: 5 | WEST: 10 So what it's like sharing divisional space with the three Texas teams? Here's what it's like: The retooled Grizz might actually have a better shot at making the playoffs than avoiding last place in the Southwest.


TOTAL SOUTHWEST: 4.7 | Standings WEST: 10.2 | Standings
Team Strength: Speed
I hope Marc Iavaroni likes to run, because with this team he doesn't have much other choice. His two point guards, Mike Conley and Kyle Lowry, are total greyhounds who are much more effective in transition than the half court. Wingmen Tarence Kinsey and Rudy Gay are dangerous finishers in the open floor but struggle to get free in sets, while Juan Carlos Navarro's lack of size will be more easily exposed by opposing wings in the half court. Up front it's a similar story. Pau Gasol can run all day, especially if he's matched up against centers, while off the bench Stromile Swift, Andre Brown and Hakim Warrick are fearsome finishers in transition who do little of note in the half court. Of the key players, only Darko Milicic and Mike Miller are better walking than running. •
John Hollinger's complete Grizzlies forecast


STARTERS
ANALYSIS
Damon Stoudamire
Point Guard
5-10 | 174
Less floor general, more seat filler for Mike Conley Jr.
Rudy Gay
Shooting Guard
6-9 | 220
Hey, second year was the charm at UConn. Wait -- never mind.
Mike Miller
Small Forward
6-8 | 218
His summer with Team USA can only help.
Pau Gasol
Power Forward
7-0 | 260
Does he want to play here, and is he healthy enough if he does?
Darko Milicic
Center
7-0 | 275
Euro-style offense and more minutes might lift him to quasi-bust status.
ESPN The Magazine's NBA Preview hits newsstands October 24.
Tarence Kinsey
Player efficiency rating
projection: 12.98
vs. NBA avg.:

-2.02


Grizzlies profiles

Scouting report: Kinsey can get out in transition for easy buckets and, last year at least, knocked down midrange jumpers repeatedly. He's also a quality athlete who isn't going to need to score a ton to keep his spot on the roster, because he has the agility to defend NBA wing players. Surprisingly, he did very little on the boards -- he ranked 57th among small forwards in rebound rate.
An even bigger shock is his paltry blocked shot total -- one all season. Kinsey had the lowest blocked-shot rate of any NBA small forward, which is jaw-dropping news considering the athleticism he showed.
2007-08 outlook: Kinsey should have more opportunity to make a name for himself, as he should one of the Grizzlies' top wing reserves. How bright his future is depends in large part on his ability to make shots. He doesn't have much of a 3-point stroke (28.3 percent), and I suspect the long 2s will prove more troublesome for him this year than they were a year ago. So he might have to develop his game in other areas to make up for it.
If you got some quality time with your team's GM (like those lucky dudes from 3 Shades of Blue), what would you ask?
Spartacus, Shades of Blue:
Three more questions I would ask Chris Wallace: After Darko made his now-infamous comments, do you have any hesitation in bringing your wife to games now? Before Memphis, you were the GM in Boston. Was it a comforting thought knowing that Isiah Thomas was in your division each season to be compared against? On a serious note, how much of an effect did the pursuit and eventual acquisition of Juan Carlos Navarro have on the relationship between franchise player Pau Gasol and the Memphis Grizzlies? Did it foster a higher level of trust and show that this team is committed to winning and listening to his input? •
TrueHoop, ESPN's NBA blog
Chad Ford's NBA Dish: '07-08 Preview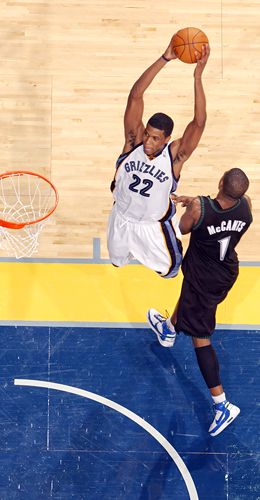 Joe Murphy/NBAE via Getty Images
All signs say Rudy Gay is ready to take off in his sophomore season.

Marc Iavaroni
Experience: 1st year
Record: 0-0
Playoffs: 0-0
NBA titles: 0
Coach's profile
In his first season as a head coach, Marc Iavaroni will look to establish his own identity away from the Suns. It's easy to get caught up in the idea that the Grizzles will run like Phoenix, but Iavaroni will be tuned to the little things first and foremost. That will include some of the fundamentals of the running game, including spacing, reading, outlet passes, racing not running, etc. If he can get his team focused on the details this season, he will have laid a great foundation for the future.
• David Thorpe, Scouts Inc.
Sleeper: Darko Milicic
At the very least, Milicic has demonstrated one skill: a superb ability to block shots, averaging 1.8 blocks in about 24 minutes per game last season. Darko is a lock to at least return his draft day value from his blocks alone.
Bust: Rudy Gay
Gay's post All-Star break numbers: 34-plus minutes per game, 41.2 percent from the field, 1.9 assists to 2.8 turnovers. Down the line Gay is going to be quite the fantasy monster, but he would need to improve substantially to become even a serviceable fantasy asset.
• Southwest Preview | Fantasy Hoops