Joe Murphy/NBAE/Getty Images
ANALYST
PREDICTION
J.A.
Adande
ESPN.com

SOUTHWEST: 5 | WEST: 14 The roster is loaded with good athletes. Can Marc Iavaroni get them to play defense and run an organized offense?
Jon
Barry
ESPN.com

SOUTHWEST: 5 | WEST: 14 O.J. Mayo and Rudy Gay will pile up the points, but don't expect them to pile up many wins.
Chris
Broussard
ESPN Mag

SOUTHWEST: 5 | WEST: 12 They've been mocked endlessly for the Kwame Brown trade, but the Grizzlies are actually building a talented young nucleus. Gay, Mayo, Mike Conley, Marc Gasol. Things could be worse.
Ric
Bucher
ESPN Mag

SOUTHWEST: 5 | WEST: 12 The D-over-O thinking seems to be sweeping the league. Or at least the Western Conference. At least here, with all the young talent, it has a chance of growing into something down the line. A slim chance, but still a chance.
Chad
Ford
ESPN.com

SOUTHWEST: 5 | WEST: 13 Rudy Gay, O.J. Mayo and Mike Conley create one of the best young cores. But they'll only go so far as their big men -- Darko Milicic and Marc Gasol -- can take them. Right now, I'm not too confident.
Jemele
Hill
ESPN.com

SOUTHWEST: 5 | WEST: 14 O.J. Mayo will give Michael Beasley a run for ROY, but the Grizz are still in rebuilding mode. Don't expect much defense from such a young team.
John
Hollinger
ESPN.com

SOUTHWEST: 5 | WEST: 13 How's this for a backhanded compliment? The Grizzlies will be less awful than some expect because Mike Conley should take a major step forward, Rudy Gay is a rising star, Marc Gasol adds a competent center (sorry, Darko), and maybe they'll actually try on D.
Jalen
Rose
ESPN.com

SOUTHWEST: 5 | WEST: 14 Lots of highlight plays from Rudy Gay and O.J. Mayo. Lots of growing pains in the West standings.
Chris
Sheridan
ESPN.com

SOUTHWEST: 5 | WEST: 13 I liked the O.J. Mayo trade a lot, wondered why they even considered bringing Zach Randolph aboard, and can't fathom why they haven't found a trade that would bring some value for Kyle Lowry and/or Javaris Crittenton.
Marc
Stein ESPN.com

SOUTHWEST: 5 | WEST: 14 Successful? Can't tell you how long it'll take for us to say that about a team so young and unproven. But watchable? The Grizz should have the capacity to entertain us a bit with Gay and Mayo.


TOTAL SOUTHWEST: 5.0 | Standings WEST: 13.3 | Standings
Team Strength: Team speed
If Memphis is going to beat people it will be by running them into the ground. The Grizzlies are undersized at nearly every spot and don't have much to offer in terms of shooting or defense, but man, can they fly.
Leading the attack will be Mike Conley, whose speed was what got him drafted. He's a strong breakout candidate in his second year after injuries sullied his rookie season, especially since the lefty has plenty of guys to run with him.
The two forwards are his main finishing threats. Rudy Gay busted out last season with several highlight-reel jams and is deadly in transition, while Hakim Warrick is another athletic leaper who can finish with spectacular dunks.
Off the bench, Kyle Lowry won't offer defenses much of a break. He loves to advance the ball in transition and has the jets to push it up quickly. Javaris Crittenton is likely the backup shooting guard, but his ballhandling is good enough to play the point so he can be another factor in transition. O.J. Mayo, the likely starter at shooting guard, is another set of young legs to get out on the break; his ballhandling and passing can help get the ball upcourt quickly.
Sleeper: Marc Gasol
O.J. Mayo will get all the pub, but Marc Gasol may actually be the most productive fantasy rookie in Memphis. He earned MVP honors in the Spanish ACB League after averaging 16.1 points, 8.3 rebounds and 1.8 blocks per game, and he looked strong with 11 points and five rebounds in just 23 minutes in the gold-medal game in Beijing.
Bust: Hakim Warrick
Now entering his fourth season as a pro, Warrick has progressed nicely as an offensive player. This was evident last season after the Pau Gasol trade when he averaged 16.0 points and 6.7 rebounds while shooting 49.1 percent from the floor. Unfortunately, he was unable to use his long arms to do much of anything on the defensive end. •
Southwest Preview | ESPN Fantasy Hoops | Sign up today
ESPN The Magazine: How Do You Know ...
... that if a Grizzly makes a noise, someone else in the league will hear it?

Memphis is tired of suffering in silence. In fact, it's tired of suffering at all. For once, the Grizz are going to dish it out. Looking to sport a claws-out, bared-fangs approach, they've welcomed D-minded assistant Kevin O'Neill, stopper Quinton Ross and Gasol, who relishes contact as much as his older bro recoils from it. Coach Iavaroni's Suns-soft style never did entertain owner Michael Heisley. And you can bet that came through loud and clear.
ESPN The Magazine's NBA Preview hits stands October 22. For more, go to espnthemag.com.
Grizzlies down one, 9.2 seconds to play, must-win game. What's the play?
We're down one, which means that I want my team to attack the basket like Jerome James and Eddy Curry fighting over the last cupcake: To the death!
That takes big men out of the equation, since guards are the real performers when the game is on the line. That leaves me with Conley, Mayo or Gay to take the final shot. I'm putting the ball in the hands of Ovinton J'Anthony Mayo.
Run a simple iso from the left side for O.J. and then celebrate after he hits the bucket or the free throws for the win.
---
Chad Ford's NBA Dish: '08-09 Preview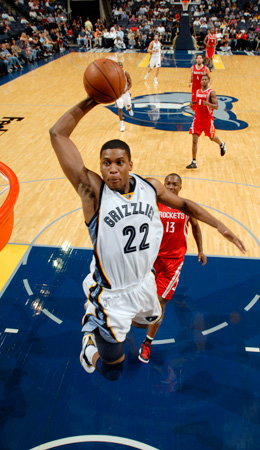 Joe Murphy/NBAE via Getty Images
Rudy Gay proved he could score last season, but will this be the year when he starts developing his game even more?

Marc Iavaroni
Experience: 1 year
Record: 22-60
Playoffs: 0-0
NBA titles: 0
Coach's profile
Marc Iavaroni will be able to build a season-long strategy knowing that he will not be losing his franchise player. Much of his attention will focus on the defense, third-worst last season and with no help arriving inside this season.
The Grizz are very athletic on the perimeter, so Iavaroni can add some traps and zone-blitz ball screens, hoping to create offense from their defense. Getting so many talented young players to jell together is a challenge as well, especially when they will likely lose far more often than they win. But it is a must for their future.