AP Photo/Lynne Sladky
ANALYST
PREDICTION
J.A. Adande
ESPN.com

SOUTHEAST: 1 | EAST: 4 Learned last season that they can't just turn it on in the playoffs; will find out this season that they lost too many pieces to have a great regular season. If camp is any indication, injuries will plague them all season.
Greg Anthony
ESPN.com
SOUTHEAST: 3 | EAST: 9 They've gotten really old. That's the reality. The fact that they need Penny Hardaway shows where their roster is. One guy who has a chance to make a difference is Smush Parker, if Pat Riley can get him to realize his talent.
Jon
Barry
ESPN.com

SOUTHEAST: 3 | EAST: 9 Team Geriatric is going to feel its years this season. Shaquille O'Neal's not feeling well these days. I don't ever see him being the Shaq we've come to know -- you could see that last season. Just an old, old team.
Chris
Broussard
ESPN Mag

SOUTHEAST: 3 | EAST: 9 This is the season it falls apart completely. Shaq is already banged up, and it's legitimate to wonder about Dwyane Wade's durability; injuries are never far away from him. Riley's already frustrated and perturbed, and don't be surprised if he walks away before season's end.
Ric
Bucher
ESPN Mag

SOUTHEAST: 3 | EAST: 9 Pat Riley has successfully recycled recalcitrant gunners before, but unlike JWill or 'Toine, Ricky Davis doesn't have much redeeming value if he isn't jacking it. Besides, hasn't Davis already been through Riles' mill and been found wanting?
Chad
Ford
ESPN.com

SOUTHEAST: 2 | EAST: 8 Questions about Wade's health make the outlook uncertain. Shaq used to be great, and still can be, but it's hard to see him playing more than 50 games. The additions of Davis and Blount provide depth. They're a bubble playoff team that would be dangerous if everyone is healthy.
Jemele
Hill
ESPN.com

SOUTHEAST: 2 | EAST: 7 Pat Riley was desperate enough to reacquire Ricky Davis. But as long as the Heat have D-Wade and Shaq, it's like having an NBA exemption card into the playoffs.
John
Hollinger
ESPN.com

SOUTHEAST: 2 | EAST: 6 Tough team to predict since so much depends on health of Shaq and Wade. The rest of the roster is an eyesore that Pat Riley did nothing to fix in the offseason, so if Wade's out for long, it could get ugly.
Chris
Sheridan
ESPN.com

SOUTHEAST: 2 | EAST: 9 Expect a troublesome start as they await the return of Wade, and it'll be an uphill climb the rest of the way. Not a lot of offense (or perimeter defense) here, although the Davis acquisition was a nice pickup. Our nominee for train wreck of '07-08.
Marc
Stein ESPN.com

SOUTHEAST: 3 | EAST: 8 I don't doubt that the Heat can still be a playoff force in the East with a healthy Wade and a healthy Shaq. I simply question how often they'll be healthy again at the same time.


TOTAL SOUTHEAST: 2.4 | Standings EAST: 7.8 | Standings
Team Strength: Star Power
As old and declining as they may seem, the Heat still have Shaq and Dwyane Wade. And on many nights, that's more than enough to get the job done. O'Neal only played 40 games a year ago, but when he stepped on the court he still shot 59.1 percent and ranked fifth among centers in PER -- this despite the avalanche of bricks he rained from the free-throw line and the fact that he was in something less than ideal shape for most of the season. And then there's Wade. For three quarters of last season he was the best player in the league, a driving dynamo that defenders were forced to reach and grab at to prevent blow bys for easy dunks. Wade led the league in PER thanks to his spectacular drives, and one shudders to think how unstoppable he might become if he ever develops an accurate 3-point shot. The Heat's biggest problem a year ago was that the two combined to play only 91 games, something that would put pressure on any club. Even in the postseason Wade was far from full strength, exacerbating what were already long odds against Chicago. But as long as the Heat have these two guys in reasonable health, they're almost guaranteed a playoff spot in the East. •
John Hollinger's complete Heat forecast


STARTERS
ANALYSIS
Jason Williams
Point Guard
6-1 | 180
Coming around, but still might get Smushed out of lineup.
Dwyane Wade
Shooting Guard
6-4 | 212
Even if shoulder and knee heal by mid-November, load is too tough to lug.
Ricky Davis
Shooting Guard
6-7 | 226
Shaq and Wade need his help, but can they keep him in line?
Udonis Haslem
Power Forward
6-8 | 235
Keeps rebounding, defending and going unnoticed.
Shaquille O'Neal
Center
7-1 | 325
End is near: career lows in points, boards, games -- and Shaq-isms.
ESPN The Magazine's NBA Preview hits newsstands October 24.
Udonis Haslem
Player efficiency rating
projection: 13.23
vs. NBA avg.:

-1.77


Heat profiles

Scouting report: Haslem is slightly undersized for a power forward and doesn't have much of a low-post game. He makes up for it with a good midrange jumper and a willingness to use his body. He's an above-average rebounder (20th among power forwards) and will knock down open shots from 15-17 feet.
Defensively, he's strong and can handle himself on the blocks despite being easy to shoot over. He's also a willing help defender who takes more than his share of charges, and does it with a low foul rate. Oddly, the Heat gave up more points per minute with him on the court than off it for a second straight season, though the difference was microscopic.
2007-08 outlook: Haslem is 27 and has had two nearly identical seasons, so there's no reason to expect his output to change any this season. He has an ironclad lock on the starting power forward job and should again play his 30 minutes a game. The only variable is the potential for a trade -- Haslem is the only Miami player besides Dwyane Wade who is both effective and under 30, so his name inevitably comes up in almost any trade discussion involving the Heat.
If you got some quality time with your team's GM (like those lucky dudes from 3 Shades of Blue), what would you ask?
Vivek Wallace, Crazy from the Heat:
When the great Pat Riley joined the Miami Heat as head coach in '95 he promised a championship. It took him 10 years. When the great Shaquille O'Neal joined the Miami Heat he promised a championship. It took him two years. When I joined Most Valuable Network writing about the Miami Heat I promised a championship. We did it that same year. So I would ask Riley: Are any of the new guys on this roster like me?
• TrueHoop, ESPN's NBA blog
---
Chad Ford's Dish: '07-08 Preview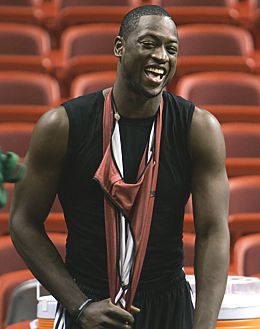 Ron Hoskins/NBAE via Getty Images
Heat fans won't share D-Wade's joviality until they see their superstar back in uniform.

Pat Riley
Experience: 24 years
Record: 1,244-638
Playoffs: 186-115
NBA titles: 5
Coach's profile
Manufacturing points from players not named Wade or Shaq will be Pat Riley's challenge. Dorell Wright hasn't developed, and now they have a talented but raw Daequan Cook. Will Riley play them through their mistakes in hopes of counting on them later in the year? Or will he stick with his vets, hoping Udonis Haslem and a pain-free Jason Williams can carry more of a scoring load?
• David Thorpe, Scouts Inc.
Sleeper: Dorell Wright
Due to the decimation of Miami's bench, this could be the year Wright steps up. I wouldn't draft him at this point, but he should be on your radar.
Bust: Mark Blount
Blount averaged 10.7 points and 5.1 rebounds a year ago when he was getting decent minutes. Now he won't get those minutes, even when Shaq misses time, and he wasn't rebounding or blocking shots anyway. You can do better than this, even for a backup fantasy center.
• Southeast Preview | Fantasy Hoops