J. Pat Carter/Associated Press
ANALYST
PREDICTION
J.A.
Adande
ESPN.com

SOUTHEAST: 2 | EAST: 8 After Dwyane Wade, Shawn Marion and Udonis Haslem, there isn't much history of success on this roster. That goes for new coach Erik Spoelstra, too. Who will defend the lane, and who will relieve Wade of the offensive burden?
Jon
Barry
ESPN.com

SOUTHEAST: 4 | EAST: 12 No denying how great D-Wade looked for Team USA this summer. Big question: Can Beasley stay off South Beach? If Livingston can come back healthy, they could make a surprise run and get in the playoffs.
Chris
Broussard
ESPN Mag

SOUTHEAST: 3 | EAST: 8 With all due respect to Haslem, this is a three-man squad. D-Wade is back in the same breath as LeBron and Kobe, and Beasley is a straight-up scoring machine. Marion's going to be OK. But they're monumentally weak at point guard and center.
Ric
Bucher
ESPN Mag

SOUTHEAST: 4 | EAST: 11 Erik Spoelstra is saying all the right things about Michael Beasley's commitment and work ethic and coachability, but I'll believe it when I hear Pat Riley, who had his doubts, endorse him. Fact is, he's a wild card of the first order.
Chad
Ford
ESPN.com

SOUTHEAST: 3 | EAST: 10 I have no idea where to place the Heat. Dwyane Wade looks healthy, and Michael Beasley looks like the real deal. But how well does Shawn Marion fit? And who's playing point guard or center?
Jemele
Hill
ESPN.com

SOUTHEAST: 2 | EAST: 6 I put a lot of stock into D-Wade's Olympic performance. Beasley will be outstanding, and if Shawn Marion stuffs the box scores like normal, the Heat could see a turnaround akin to Boston's last year.
John
Hollinger
ESPN.com

SOUTHEAST: 3 | EAST: 9 Impossible team to predict given all the questions: Will the Wade from the Olympics make a run at MVP? Will he play more than 50 games? How will Beasley perform? Will they trade Marion? Should they carry a three-man roster and cut everyone else?
Jalen
Rose
ESPN.com

SOUTHEAST: 4 | EAST: 11 Wade will be dominant. Beasley will contend for Rookie of the Year. Shawn Marion, if not re-signed, will put another team over the top after a trade.
Chris
Sheridan
ESPN.com

SOUTHEAST: 5 | EAST: 12 The D-Wade I saw in Beijing was every bit as good as the D-Wade from 2005-06, but this is a team in a major transition year with serious gaps at small forward and point guard. Forty wins would be a major accomplishment.
Marc
Stein ESPN.com

SOUTHEAST: 3 | EAST: 10 D-Wade was undeniably superb in Beijing, but there's only so much he can do on a team with unknowns at point guard and center ... as well as a first-year coach and a rookie power forward.


TOTAL SOUTHEAST: 3.3 | Standings EAST: 9.7 | Standings
Team Strength: Speed
The Heat may have the fastest perimeter trio I've ever seen. Marcus Banks may not be anybody's idea of a true point guard, but he is one of the speediest players in basketball and can push it upcourt with anyone. (He'll follow that burst with a horrible decision, but we're setting that aside for now.) Dwyane Wade, of course, is a blur at both ends when he's healthy, constantly creating breakouts with his running ability and penchant for steals. And then there's Shawn Marion, one of the best transition finishers of his generation and an especially speedy threat when he slides up to power forward and consistently beats his man down the floor.
It gets interesting in that Miami's other players don't seem to have the jets to keep up. With the exception of Dorell Wright and Michael Beasley, pretty much everyone else on Miami's roster is a pure half-court player who doesn't seek out transition opportunities. So when Wade and Marion break out, players like Chris Quinn, James Jones, Udonis Haslem and Mark Blount will have to keep up or risk being left behind.
Sleeper: Mario Chalmers
Chalmers fell into Miami's lap in the second round, and with so much offensive talent surrounding him, he is in a prime situation to have eventual fantasy value in his rookie season.
Bust: Chris Quinn
Quinn had a few big games down the stretch, but he should essentially be a placeholder for Chalmers.
•
Southeast Preview | ESPN Fantasy Hoops | Sign up today
ESPN The Magazine: How Do You Know ...
... a team with no point guard or center can compete?

Conventional wisdom defines the post and the floor general as the most important jobs on the court. The CW most assuredly does not define Haslem and Banks as worthy of those hallowed spots. But does the CW remember that MJ and Scottie won rings with nondescript points and pivots? D-Wade, The Matrix and "Beastley" aren't on their level, but there are three of them. And didn't the Celtics do all right with a similar setup?
ESPN The Magazine's NBA Preview hits stands October 22. For more, go to espnthemag.com.
Heat down one, 9.2 seconds to play, must-win game. What's the play?
With 9.2 seconds on the clock in a game for all the marbles, I see Magloire in the paint, Wade at the point, Beasley and Marion flanked wide on the wings, and 3-point threat J. Jones roaming. As it unfolds, Wade -- with ball in hand -- encounters a double-team, tosses it out to Beasley who pump-fakes a shot, allowing Wade to escape his coverage, where Beasley hits him with a no-look pass.
Wade then bolts into the paint, goes airborne, where he gets fouled, earning two shots, hitting both.
Lights out, end of script, game over!
---
Chad Ford's NBA Dish: '08-09 Preview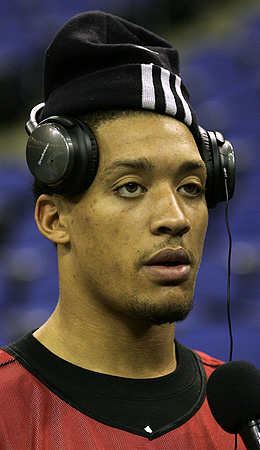 Tom Hevezi/Associated Press
No one doubts the talent of Heat rookie Michael Beasley. And so far no one is quite sure what's happening with his noggin.

Erik Spoelstra
Experience: 1st year
Record: 0-0
Playoffs: 0-0
NBA titles: 0
Coach's profile
Oftentimes, the biggest challenge facing an NBA coach is whether or not he can grab the reins of the team. Erik Spoelstra has an even tougher task than that -- gaining control of a team that features players who remember him as a lower-level assistant.
He is well-liked, to be sure, and has impressed his team with his intricate knowledge of the game. With one current superstar and one future one, the Heat can begin their ascent back into the playoff picture if their new coach can get them to follow his lead.