Gary Dineen/NBAE via Getty Images
ANALYST
PREDICTION
J.A. Adande
ESPN.com

CENTRAL: 4 | EAST: 12 Andrew Bogut has more to prove than Yi Jianlian. The numbers so far for Bogut, the No. 1 pick in 2005: 10.7 ppg, 7.8 rpg. Is that it?
Greg Anthony
ESPN.com
CENTRAL: 4 | EAST: 11 I like the complementary potential of Andrew Bogut and Yi Jianlian, offering inside/outside, strength/finesse pairing. And I like how Bogut plays to his strengths. Michael Redd's established himself, and Mo Williams is good as lead guard. Team must overcome injury bug.
Jon
Barry
ESPN.com

CENTRAL: 4 | EAST: 10 A lot of GMs are in love with Yi Jianlian -- but I think he physically resembles a young Darko Milicic. Can he handle the rigors of 82-game season? Michael Redd leads a good starting five, but depth is an issue.
Chris
Broussard
ESPN Mag

CENTRAL: 4 | EAST: 10 Michael Redd and Mo Williams are one of the most explosive backcourts there is, but a meek and mild frontcourt will be the Bucks' undoing. Unless Yi Jianlian can make good on those Dirk Nowitzki comparisons pronto, it's back to the lottery.
Ric
Bucher
ESPN Mag

CENTRAL: 5 | EAST: 14 A trimmed-down Michael Redd will compete for the league scoring title, and I'm interested to see Larry Krystkowiak install the up-tempo offense that his team's talent best suits. As for Coach K's claim Yi hasn't been guaranteed minutes: Watch what happens if he doesn't get them.
Chad
Ford
ESPN.com

CENTRAL: 4 | EAST: 11 Probably a year or two away from playoff contention. Michael Redd's perfect for leading the young talent. If Andrew Bogut, Charlie Villanueva and Mo Williams take another step and if Yi Jianlian is the real deal, they could sneak into that last spot.
Jemele
Hill
ESPN.com

CENTRAL: 4 | EAST: 12 If not for health problems last year, the Bucks would have been more of a threat. They have the firepower, but not the defense required to be a true playoff threat. Michael Redd will still put up hella numbers.
John
Hollinger
ESPN.com

CENTRAL: 5 | EAST: 12 Changing coaches doesn't change the story. The Bucks are a sweet-shooting team that doesn't have nearly enough defensive strength to keep its head above water in the rough-and-tumble Central Division.
Chris
Sheridan
ESPN.com

CENTRAL: 5 | EAST: 12 Probably the toughest team in the conference to predict after injuries caused them to take such a big step backward last season. If healthy, they're a 46-win team. If not, hello again, lottery.
Marc
Stein ESPN.com

CENTRAL: 4 | EAST: 10 There's obviously an abundance of talent and potential on that Bogut-Villanueva-Yi frontline. But toughness? Togetherness? The Bucks need their bigs to prove they have those qualities to be a factor in this division.


TOTAL CENTRAL: 4.3 | Standings EAST: 11.4 | Standings
Team Strength: Outside Shooting
When this team gets the jumpers falling, it's extremely difficult to guard. Now that they're healthy again, the Bucks should climb back into the top 10 in offensive efficiency, and perhaps even the top five. Michael Redd is the biggest threat, obviously, with the southpaw being able to spot up or shoot J's off the dribble with equal skill, but the many perimeter threats surrounding him help provide lots of space for him to work. Charlie Bell is a strong long-range shooter, and the return of Bobby Simmons adds another 3-point ace to the lineup. But it's not just the 3-pointers with this team -- they have a lot of real good midrange shooters too. Mo Williams and Charlie Villanueva both are very good from that range. Andrew Bogut can face up from 15 too, as can Jake Voskuhl and Yi Jianlian. Because of all the shooters, it's very hard to send help against this team without getting burned. •
John Hollinger's complete Bucks forecast


STARTERS
ANALYSIS
Mo Williams
Point Guard
6-1 | 185
$52M says he won't get complacent. Or is it "will"?
Michael Redd
Shooting Guard
6-6 | 215
Riding high on FIBA fumes. Give him 'til December.
Desmond Mason
Small Forward
6-5 | 222
Objects behind arc are farther than they appear (26.3% 3PT).
Charlie Villanueva
Power Forward
6-11 | 240
Plenty of points, but team may want to allergy-test for defense.
Andrew Bogut
Center
7-0 | 245
Solid pivot may take some lumps for summertime comments.
ESPN The Magazine's NBA Preview hits newsstands October 24.
Charlie Villanueva
Player efficiency rating
projection: 17.19
vs. NBA avg.:

+2.19


Bucks profiles

Scouting report: Though 6-11, Villanueva prefers to play away from the basket and mix in long jump shots with off-the-dribble moves. As a consequence, he gets to the line much less than most power forwards -- unfortunate, considering he was 82.0 percent from the stripe last season. He's also a passable 3-point shooter (33.0 percent for his career), although the greater weapon here is his use of the threat of the triple to beat slower opponents off the bounce.
Despite his size, Villanueva isn't a great finisher around the basket, which is another reason he likes to play outside. He's also a middling rebounder and, despite his many dribble drives, a non-factor as a passer -- he ranked 57th at the position in assist ratio. Defensively, Villanueva needs to add strength and greatly increase his attentiveness. For some reason, he stopped blocking shots last season -- he went from 63 as a rookie to just 12 last season, and the missed games don't come close to explaining this disparity. Perhaps it's a sign that he was less than full strength on many nights he played; either way, the Bucks are desperate for shot-blocking and would like more from Villanueva in this department.
2007-08 outlook:
After undergoing shoulder surgery, Villanueva should be ready by training camp and figures to be the Bucks' starting power forward. His combination of scoring skills should make him one of the better offensive players at his position, with seemingly lots of upside left to explore. The bigger question is whether he can overcome his defensive shortcomings, which seemingly are more tied to concentration than ability. It should be one of the top items on coach Larry Krystkowiak's list, because this guy has as much talent as anyone on the roster.
If you got some quality time with your team's GM (like those lucky dudes from 3 Shades of Blue), what would you ask?
Frank, Just Another Bucks Fan:
Aside from the obvious queries about his meticulously-gelled hair and whether he's recently given Charlie Bell a much-needed hug, Larry Harris will face questions all season about the talented but largely unproven roster he's put together. With the acquisition of Yi, what are the odds Charlie Villanueva is still a Buck next summer? Is Bobby Simmons' foot in danger of spontaneously combusting?
Given the close oversight of Herb Kohl and the notoriously meddling lawyers the Bucks use to negotiate contracts, how much freedom has Harris even had over personnel decisions?
And I'm hoping the Damir Markota Experience wasn't his idea.
• TrueHoop, ESPN's NBA blog
Chad Ford's NBA Dish: '07-08 Preview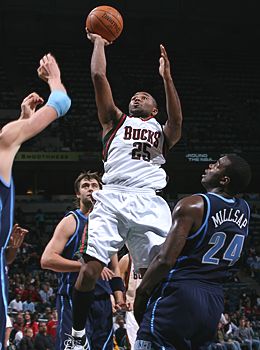 Lippitt/Einstein/NBAE via Getty Images
Mo Williams is no household name, but the Bucks know their 24-year-old point guard and what he's worth to them: $52 million.

Larry Krystkowiak
Experience: 1 year
Record: 5-13
Playoffs: 0-0
NBA titles: 0
Coach's profile
Larry Krystkowiak knows that his team simply has to play with a lot more toughness and purpose, and getting his team to understand that shouldn't be hard when he shows them last year's statistics (and film). In his first full season, he has the authority to sit talented players who are playing casually in favor of more intense contributors. How this meshes with getting Yi Jianlian minutes is an interesting question.
• David Thorpe, Scouts Inc.
Sleeper: Andrew Bogut
It's hard to call a former No. 1 overall pick a sleeper, but Bogut could be ready to issue a wake-up call to the rest of the league as he enters his third season. Bogut is already a solid shooter (55 percent from the field), rebounder (8.9) and passer (3.0 assists), and at 34 minutes per game, he should better his 12.3 scoring average if he can improve his dismal 58 percent free-throw shooting. If he can increase his shot-blocking (0.5 last season, down from 0.8 in his rookie year), he could become a complete fantasy center.
Bust: Charlie Villanueva
Villanueva is coming off shoulder surgery, but the bigger pain may come from him constantly looking over his shoulder at Yi waiting in the wings. Villaneuva's modest contributions (11.8 points, 5.8 rebounds, 0.3 blocks in 25 minutes per game before his season ended after 39 games) will not be enough to hold off Yi from taking his job.
• Central Preview | Fantasy Hoops