Gary Dineen/NBAE/Getty Images
ANALYST
PREDICTION
J.A.
Adande
ESPN.com

CENTRAL: 4 | EAST: 11 Michael Redd and Richard Jefferson would make great No. 2 guys, but neither is a No. 1. Their man at the 5-spot, Andrew Bogut, was a blown No. 1 pick when they could have drafted an elite 1 (CP3 or D-Will). It doesn't add up.
Jon
Barry
ESPN.com

CENTRAL: 4 | EAST: 11 It's been a long time since the Bucks experienced winning. I like the addition of Richard Jefferson, and Andrew Bogut has continued to improve. Scott Skiles is the guy who can make them believe they can win.
Chris
Broussard
ESPN Mag

CENTRAL: 3 | EAST: 11 Scott Skiles is one of those "Mr. Fix-It'' coaches, and his new cupboard's not completely bare. Redd and Jefferson are proven stars, and Bogut has improved every year. That's the good news. Everywhere else, the Bucks are plagued by inconsistency and mediocrity.
Ric
Bucher
ESPN Mag

CENTRAL: 3 | EAST: 7 Maybe I'm putting too much stock in Scott Skiles' ability to squeeze whatever a team has out of it, at least in the short term. And maybe I'm overestimating that Richard Jefferson-Michael Redd will be better than RJ-Vince.
Chad
Ford
ESPN.com

CENTRAL: 5 | EAST: 13 I was thinking the Bucks were a likely playoff team until they traded Mo Williams for Luke Ridnour. Scott Skiles will likely slow a potent offensive team and try to get a bunch of poor defenders to play defense. Good luck with that.
Jemele
Hill
ESPN.com

CENTRAL: 4 | EAST: 12 Bogut needs to take another step and solidify himself as one of the league's top big men. Richard Jefferson is a terrific addition, and although Scott Skiles tends to wear on players, the Bucks will be significantly better defensively.
John
Hollinger
ESPN.com

CENTRAL: 5 | EAST: 12 What's more depressing than watching a team go all-in to make an assault on the No. 8 seed? How about watching them fall short? The Bucks will defend better under Skiles but have too many holes, especially up front, to avoid a return to lottery.
Jalen
Rose
ESPN.com

CENTRAL: 3 | EAST: 9 Michael Redd will be an All-Star. Richard Jefferson will be a welcome addition with his scoring and defense. Bogut keeps improving, and Coach Skiles will create a working attitude. Bench is suspect.
Chris
Sheridan
ESPN.com

CENTRAL: 3 | EAST: 9 Loved the Richard Jefferson trade; hated the Mo Williams deal; eager to see who emerges standing from the Ramon Sessions-Luke Ridnour point-guard battle. For what it's worth, we heard over the summer that Isiah Thomas thinks they're a sleeper team.
Marc
Stein ESPN.com

CENTRAL: 4 | EAST: 9 The arrivals of Skiles and Jefferson make the Bucks a lot tougher than they were. On the flip side, getting good defense out of this group might be the toughest coaching challenge Skiles has ever faced.


TOTAL CENTRAL: 3.8 | Standings EAST: 10.4 | Standings
Team Strength: Wing scoring
The Bucks don't have a whole lot going for them, but the Michael Redd-Richard Jefferson combo on the wings will put pressure on opponents who don't have two quality wing defenders to match up against them.
Redd is still the main man in Milwaukee, with his soft lefty shot complemented by a greatly improved ability to go one-on-one. And since there are more offensive weapons around him than last season, he may get more opportunities to show off his sweet catch-and-shoot game. Jefferson, meanwhile, is more the slasher of the two, with a knack for scoring in transition and a good midrange touch. Behind those two, Joe Alexander is another strong one-on-one player, while long-time bench ace Charlie Bell can hit shots, too, though he's coming off a horrid season.
The question is whether any of those players can create shots for others. Milwaukee's offense degenerated into too much one-on-one last season; if Redd and Jefferson are creating only for themselves, it will fall upon Luke Ridnour and Ramon Sessions to involve the others.
Sleeper: Charlie Villanueva
With Yi in his way last season, Cholly averaged just 24 minutes per game and started in 31 contests. Those numbers are sure to improve this season. He could flirt with a steal, a block and a 3-pointer. He also should see increased scoring, because defenses will focus on Michael Redd and Richard Jefferson while Andrew Bogut clogs up space in the paint.
Bust: Ramon Sessions
Luke Ridnour has his deficiencies, but he can facilitate and earn steals despite his allergy to defense. He will challenge Sessions for playing time along with Tyronn Lue and Charlie Bell, another reason I'm skeptical of Sessions' performance. Plus, Sessions attempted just seven 3-pointers all last season, and it's almost a fantasy necessity that point guards shoot 3s.
•
Central Preview | ESPN Fantasy Hoops | Sign up today
ESPN The Magazine: How Do You Know ...
... this won't be one of the worst defensive teams in history?

It's true that Redd, Villanueva and Ridnour couldn't lock down a prep school squad, but Coach Skiles won't tolerate sorry D. In his three full seasons in Chicago, the Bulls were first or second in opponents' FG%. Heck, he got the Suns into the top three once. So the Bucks will protect the rim well enough. Problem is, the more capable the D gets, the more the focus will shift to the offense, and only Redd and RJ can withstand those stares.
ESPN The Magazine's NBA Preview hits stands October 22. For more, go to espnthemag.com.
Bucks down one, 9.2 seconds to play, must-win game. What's the play?
Andrew Bogut inbounds, but Mike Redd intercepts the pass intended for Adrian Griffin. 7.1 seconds. Iso time. A double-team flashes, freeing a wide-open Richard Jefferson. Recognizing the double, Redd dribbles, but trips on his own feet.
"Oh, and one!!!" Redd bellows as the ball skips toward the top of the key, where Malik Allen hoists an 18-footer that hits the bottom of the net. But the ball doesn't go through the rim. The scraptastic, sticktuitive and heartacular Griffin expertly reads the air ball and Lorenzo Charles-izes it up and over the front of the rim. Just another Bucks win.
---
Chad Ford's NBA Dish: '08-09 Preview
Charlie V For Versatility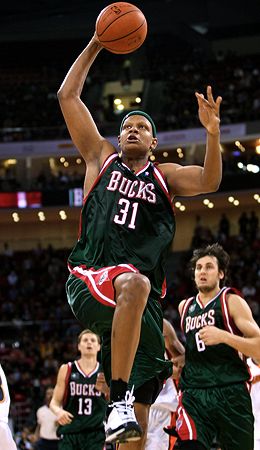 Gary Dineen/NBAE/Getty Images
With Yi Jianlian out of his way, Charlie Villanueva now should have much more freedom on the court this season.

Scott Skiles
Experience: 8 years
Record: 290-269
Playoffs: 15-20
NBA titles: 0
Coach's profile
Scott Skiles is a defense-first coach. The Bucks were the worst defensive team in the league last season. So it's clear what the thinking is there.
Skiles can charge Richard Jefferson with being a defensive stopper, and must get his perimeter defenders to stop ball penetration, thanks to a lack of shot-blocking and overall depth inside. He must also continue to tweak their offense, which struggled last season as well, otherwise they'd just be treading water and heading back to the lottery.