John Gichigi/Getty Images
ANALYST
PREDICTION
J.A. Adande
ESPN.com

NORTHWEST: 5 | WEST: 15 Trading Ricky Davis for Antoine Walker actually helps the post-KG rebuilding process. When you're jockeying for Ping-Pong balls it's better to get worse; and no team did more to get worse than Minnesota.
Greg Anthony
ESPN.com
NORTHWEST: 5 | WEST: 14 This is going to take some time. Adjusting to the loss of KG won't happen overnight. This team has good young talent with Randy Foye, Corey Brewer and Al Jefferson, but needs veteran leadership.
Jon
Barry
ESPN.com

NORTHWEST: 3 | WEST: 13 After losing a guy like KG, obviously a difficult road lies ahead. And they lost vets Ricky Davis and Mark Blount. Randy Foye did a nice job. A youth movement led by Al Jefferson will take its lumps.
Chris
Broussard
ESPN Mag

NORTHWEST: 5 | WEST: 15 Arguably the worst team in the league. Loads of young talent. How do you possibly differentiate between and work in all these guys? Al Jefferson's not ready to carry a franchise, and the fact that he was the centerpiece of the KG trade will lead to intense and unfair scrutiny.
Ric
Bucher
ESPN Mag

NORTHWEST: 5 | WEST: 15 They clearly want to make the most of getting back their '08 first-round pick from Boston in the KG deal -- by doing all they can to see that it's the No. 1 pick. I knew the Wolves didn't want Davis mentoring a young group, but I'm not sure an out-of-shape Walker is an improvement.
Chad
Ford
ESPN.com

NORTHWEST: 5 | WEST: 15 The Celtics had Paul Pierce and couldn't do anything with this roster in the East. What makes you think the Wolves will do better? Al Jefferson and Randy Foye are the cornerstones. They hope Corey Brewer, Gerald Green and Rashad McCants come around.
Jemele
Hill
ESPN.com

NORTHWEST: 5 | WEST: 14 The no-KG era begins and it will be a mess. The only reason to watch is Al Jefferson, who is an All-Star waiting to happen.
John
Hollinger
ESPN.com

NORTHWEST: 5 | WEST: 14 Um, any time you want to change general managers, it's OK with us. Really, any day now. Go ahead. We're not stopping you. I swear we won't complain.
Chris
Sheridan
ESPN.com

NORTHWEST: 5 | WEST: 15 Are there any more ex-Celtics being dangled in Kevin McHale's face? It was hard to see them winning 30 games before the Ricky Davis trade, and now I'm prepared to pencil them in for 15 wins. OK, 17.
Marc
Stein ESPN.com

NORTHWEST: 5 | WEST: 15 Life After KG began for the Wolves with a training camp trip to Turkey, which turned out to be rather fitting when you look at the roster and realize how far away they are from being good again.


TOTAL NORTHWEST: 4.8 | Standings West: 14.5 | Standings
Team Strength: Frontcourt Scoring
Pardon me while I reach for some straws ... OK, got a couple. Minnesota is going to be an easy "W" on most nights, but teams who struggle defending post players might have some serious problems against the Wolves. They figure to be a serious inside-out team with Al Jefferson leading the way, but you might be surprised to learn that he's not the only interior scoring threat. Smith is another wide-body with a knack for scoring around the basket, and may have some new tricks to bust out in his second season. Juwan Howard is a canny pro who can hit midrange J's or score down low against smaller 4s, and will add some punch to the second unit. And Mark Blount is one of the best jump-shooting big men in basketball, requiring opposing centers to chase him out to the 3-point line. •
John Hollinger's complete Timberwolves forecast


STARTERS
ANALYSIS
Randy Foye
Point Guard
6-4 | 213
He's not really a point, which is perfect, because this isn't really a team.
Corey Brewer
Shooting Guard
6-9 |185
Easily could end up as third-best player from June's draft.
Ryan Gomes
Small Forward
6-7 | 250
A surprisingly solid pro, but Gerald Green is a kid in a hurry.
Antoine Walker
Power Forward
6-9 | 245
At least that bulk will be useful in Minnesota's climate.
Al Jefferson
Center
6-10 | 256
Low-post monster, but he's replacing Godzilla.
ESPN The Magazine's NBA Preview hits newsstands October 24.
Scouting report: Smith is two inches too short for his position, appears somewhat overweight, can't jump, and can't shoot. Based on that information, you would think he'd stink, but actually, he really can play. He has incredible hands around the basket and a sixth sense that finds him constantly open around the basket. He also seems to run the floor well.
Long-term, he'll have to improve his conditioning. His height is also an issue on defense, where opponents can shoot right over him -- especially when he's pressed into service as a center, which the Wolves did on occasion last season. And while adding a jumper isn't a necessity, improving his foul shooting is more urgent considering how often he gets to the line.
2007-08 outlook: In one sense, the Kevin Garnett trade doesn't really help Smith, because Al Jefferson plays the same position and will carve into his minutes just as much as Garnett did. On the other hand, the Minnesota youth movement should run much deeper, and that's likely to see players like Smith gain minutes at the expense of Mark Blount and Juwan Howard.
He should be able to repeat his rookie season performance at the very least, but longer term his progress might be much like that of another former Wolf, Gary Trent -- who is Smith's most similar player. He can be very effective in his current role, but it's hard to see how he'll move up in the world from here.
If you got some quality time with your team's GM (like those lucky dudes from 3 Shades of Blue), what would you ask?
Liston, Introducing Liston:
Questions I would ask Jim Stack: Oh, man. If I could rock out with Jim Stack I'd only ask him these three questions: 1. Where does Kevin McHale buy all of those really stylish sweaters (because my guess is it's the same place that he buys his business savvy)? 2. Sebastian Telfair, Mark Madsen, Theo Ratliff and Marko Jaric. Seriously? Like, seriously? 3. Everyone heard about Rajon Rondo losing a shooting contest to an eighth grader, but can you confirm the rumor that Gerald Green lost a basketball IQ contest to a rock with a duck painted on it? •
TrueHoop, ESPN's NBA blog
Chad Ford's NBA Dish: '07-08 Preview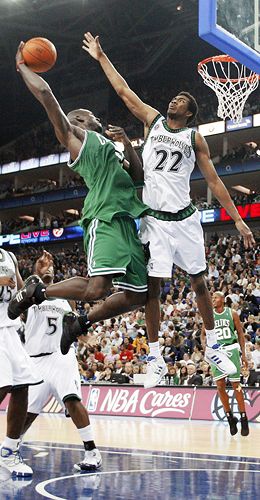 Adrian Dennis/AFP/Getty Images
Rookie Corey Brewer has some serious skills at the defensive end, but he needs to develop a more professional offensive game.

Randy Wittman
Experience: 3 years
Record: 74-132
Playoffs: 0-0
NBA titles: 0
Coach's profile
Randy Wittman has a clear plan for what he needs to do in this new era: get his team to defend better. They finished last in the NBA in defensive efficiency with KG, so the Timberwolves have their work cut out for them. But he also has a number of young and talented players, including six recent first-round picks, to start the rebuilding process. Developing one as a scorer, alongside Al Jefferson, seems a must.
• David Thorpe, Scouts Inc.
Sleeper: Gerald Green
Green showed a drastic improvement from his rookie to sophomore season with Boston, and managed to put up effective fantasy numbers (10.4 points, 95 3-pointers made, 80.5 percent on free throws) despite receiving only 22 minutes per game. He's just 21 years old and now will be given the opportunity to start and be a featured piece of a team, a fact that should be a godsend to his fantasy value. He can shoot the lights out and the Wolves will be shooting more 3-pointers this season, likely looking to Green to play a key role in that facet of the game.
Bust: Sebastian Telfair
Entering his fourth season in the league, Telfair still seems to be lacking some of the things that established point guards possess. He doesn't play defense, his court vision is average at best and he's enjoyed little success when given opportunities to start in the past. I still believe Telfair will be good some day, but this season still doesn't feel right.
• Northwest Preview | Fantasy Hoops