AP Photo/David Zalubowski
ANALYST
PREDICTION
J.A.
Adande
ESPN.com

NORTHWEST: 4 | WEST: 12 So far, Al Jefferson has been the new Shareef Abdur-Rahim: good stats on bad teams. Kevin Love and Mike Miller help the offense, but this is still a slow defensive team.
Jon
Barry
ESPN.com

NORTHWEST: 4 | WEST: 12 Great young talent. I like the additions now that Miller has come over and Love has joined the front line with Jefferson. They don't have enough talent overall, but they'll show marked improvement.
Chris
Broussard
ESPN Mag

NORTHWEST: 5 | WEST: 15 It'd be nice to see Al Jefferson post his numbers in meaningful games, but for that to happen, he'll have to be traded.
Ric
Bucher
ESPN Mag

NORTHWEST: 4 | WEST: 14 I'm sure GM Kevin McHale has a plan ... OK, I'm not so sure these days. Which is why I'd love to hear the architect explain the blueprint. Example: don't see KLove as a 3 or 5 and Al Jefferson has the 4 anchored.
Chad
Ford
ESPN.com

NORTHWEST: 4 | WEST: 12 The Wolves made some major strides this past summer to put the team in a position to be competitive. The additions of Mike Miller and Kevin Love and a healthy Randy Foye should finally give Al Jefferson some much-needed help.
Jemele
Hill
ESPN.com

NORTHWEST: 4 | WEST: 13 Al Jefferson has the potential to be great, but I don't see how this team won't finish with the worst record in the NBA. Lottery pick Corey Brewer needs to develop an offense.
John
Hollinger
ESPN.com

NORTHWEST: 4 | WEST: 11 Add Mike Miller, Kevin Love and a full season of Randy Foye to the mix, and this team could be sneaky good if it can stop anybody because it's surrounding Al Jefferson with four 40 percent 3-point shooters. Alas, it appears it can't stop anybody.
Jalen
Rose
ESPN.com

NORTHWEST: 4 | WEST: 12 Jefferson is a force and Kevin Love will surprise many. Mike Miller can shoot with the best of them although the team is lottery bound.
Chris
Sheridan
ESPN.com

NORTHWEST: 5 | WEST: 15 Nice job by Kevin McHale in getting the Grizzlies to throw Mike Miller into the Love-Mayo deal, and I'm eager to see whether Al Jefferson can put up bigger numbers in Minny than KG will in Boston. Still, 20 wins is where we're setting the bar.
Marc
Stein ESPN.com

NORTHWEST: 4 | WEST: 13 Optimistic as the Wolves might be after quietly playing decent ball for half a season (17-26) and then adding Love and Miller, it's still tough to see them topping 30 wins in their second season post-KG.


TOTAL NORTHWEST: 4.2 | Standings WEST: 12.9 | Standings
Team Strength: Outside shooting
Minnesota was 21st in 3-point shooting last year at 35.0 percent, but I'd expect that to greatly improve this year thanks to the changes it's made since then. The most obvious one is the addition of Mike Miller, a 40.3 percent career 3-point shooter who should provide a strong deterrent to opponents seeking to double-team Al Jefferson.
He won't be the only one, though. Rashad McCants shot 40.7 percent on 3-pointers last year and is at 37.9 percent for his career, while Randy Foye hit 41.2 percent in half a season a year ago and replaces one of the team's worst outside shooters in Sebastian Telfair.
Plus, they added Kevin Love to the mix. He's a deadly outside shooter from the power forward spot, and allows the T'wolves to space four shooters around Jefferson on the block. All four should benefit from all the attention he's likely to get down low, especially as he gets more familiar with attacking double-teams and finding open shooters.
The only drawback is nobody on Minnesota's bench can shoot anywhere near as well as the four players above. It's possible McCants will be a sixth man and allow a better defender to start on the wing, but there still are going to be times when Jefferson is sharing the court with bad shooters.
Sleepers: Randy Foye
Can Foye make your fantasy team better this season? If last March and April are any indication, the answer is yes. Foye averaged around 15 points, 5 assists and 1.7 3s while shooting in the 45 percent range over the final six weeks. With Miller sliding in to complement Jefferson as a scoring threat, Foye is being asked to refine his distribution skills this season. So perhaps those assist totals climb to six or seven per game.
Bust: Ryan Gomes
I like Gomes as a late-round fill-in forward as much as you do, but don't be surprised if he shares time with 2007 draft bust Corey Brewer. Improving the defense is clearly a priority for Minnesota (the Wolves allowed opponents to shoot 47.2 percent from the floor in 2007-08), and while Gomes is a solid defender, defense is supposed to be Brewer's forte. And teams tend to give their first-rounders a second chance or more. •
Northwest Preview | ESPN Fantasy Hoops | Sign up today
ESPN The Magazine: How Do You Know ...
... Kevin McHale isn't building a bridge to nowhere?

Not nowhere, just nowhere new. For all the post-KG roster upheaval, Minny is still a lone star (Jefferson) backed by a bunch of whatever. Miller is the next best thing here -- ask the Grizzlies how many wins that got them. Yes, the Wolves could have four first-round picks in '09, but that will just mean more torture. McHale has drafted fine talent before (Brandon Roy, O.J. Mayo) only to deal it -- not years, but minutes -- later.
ESPN The Magazine's NBA Preview hits stands October 22. For more, go to espnthemag.com.
Timberwolves down one, 9.2 seconds to play, must-win game. What's the play?
Oh, we know exactly what play the Wolves will run -- we saw it twice against Boston last year.
Step 1: Get the ball to someone who looks completely overmatched. Sebastian Telfair's great for this; Al Jefferson works, too, especially after he's inevitably swarmed by eight defenders.
Step 2: Either take a wild, low-percentage shot (that used to be Marko Jaric's job), or commit an egregious turnover (Telfair or Corey Brewer is in charge here).
Step 3: Lose game.
This year, though, things will be different. Specifically: Mike Miller will now take all of the Step 2 wild shots!
---
Chad Ford's NBA Dish: '08-09 Preview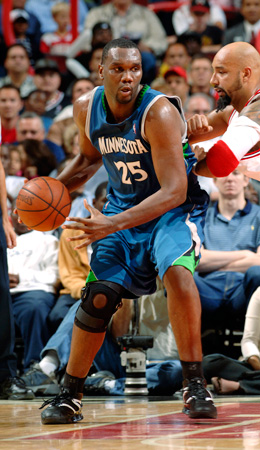 Joe Murphy/NBAE/Getty Images
Can Al Jefferson put the Wolves on his back and make a playoff push?

Randy Wittman
Experience: 4 years
Record: 96-192
Playoffs: 0-0
NBA titles: 0
Coach's profile
The Timberwolves were a very bad team on offense last season. But they were worse on defense. Randy Wittman has some new guys who really know how to play. This can help Wittman get his team to play smarter, which helps to take advantage of matchups on the floor or cover them up.
Carving out an identity for a team with legit playoff aspirations in a year or two makes sense. Smarts, skills and interior toughness all seem to be within Wittman's range of developing, yet chemistry may be what defines success.