RV Tour Locations
| | | | | |
| --- | --- | --- | --- | --- |
| Date | Game/Event | Time (ET) | Location | Network |
| Dec. 1 | Michigan State at North Carolina | TBD | Chapel Hill, N.C. | |
| Dec. 3 | Dick's Sporting Goods | 3-5 p.m. | Lyndhurst, Ohio | |
| Dec. 4 | Bulls at Cavaliers | 8 p.m. | Cleveland | |
| Dec. 11 | Magic at Suns | 10:30 p.m. | Phoenix | |
| Dec. 16 | Spurs at Warriors | 10:30 p.m. | Oakland, Calif. | |
| Dec. 18 | Wizards at Warriors | 4:30-7:30 p.m. | Oakland, Calif. | |
| Dec. 20 | ESPN Zone, Disney | TBD | Anaheim, Calif. | |
| Dec. 22 | Boys and Girls Club | 1-4 p.m. | Los Angeles | |
| Dec. 23 | TBD | TBD | Los Angeles | |
| Dec. 25 | Cavaliers at Lakers | 11 a.m.-2 p.m. | Los Angeles | |
| Feb. 10 | Verizon Center | TBD | Dallas | |
| Feb. 16 | Veteran's Center | 10 a.m.-noon | Dallas | |
| Feb. 16 | Boys and Girls Club | 5 p.m.-7 p.m. | Arlington, Texas | |
| Feb. 17 | Suns at Mavericks | 5-8 p.m. | Dallas | |
| Feb. 19 | Mavericks at Magic | 5-8 p.m. | Orlando, Fla. | |
| Feb. 21 | Cavaliers at Magic | 10 a.m.-1 p.m. | Orlando, Fla. | |
| Feb. 23 | Veteran's Center | 10 a.m.-noon | Orlando, Fla. | |
| March 2 | TBD | TBD | Gainsville, Fla. | |
| March 5 | Hornets at Spurs | 5:30-8:30 p.m. | San Antonio | |
| March 7 | Lakers at Magic | 11:30 a.m. | Orlando, Fla. | |
| March 11 | Big Ten Tournament | TBD | Indianapolis | |
| March 14 | Celtics at Cavaliers | 12:30-3:30 p.m. | Cleveland | |
| March 18 | NCAA Tournament | TBD | Oklahoma City | |
| March 21 | Trail Blazers at Suns | 5:30-8:30 p.m. | Phoenix | |
Your NBA Destination

ESPN is your NBA destination and the NBA on ESPN RV takes you there. For the third consecutive season, the NBA on ESPN RV Tour will be on the road, crisscrossing its way across the country, making stops at more than 20 '09-'10 NBA regular season games, plus the All-Star Game, the Eastern Conference Finals, and the NBA Finals.
The NBA on ESPN RV Tour is not your annual family road trip ... this is an NBA fan's dream come true. A completely decked out RV with multiple flat screens, full-size basketball hoops, video games, tons of ESPN and NBA memorabilia and giveaways. Plus, you even get a chance to sit behind a replica SportsCenter desk.
Come be a part of the action at our next destination, and you can follow all the action from the NBA on ESPN RV Tour right here throughout the NBA season. If you see the RV on the road, give us a honk. We look forward to seeing you on tour.
---
Retrieve Your Photos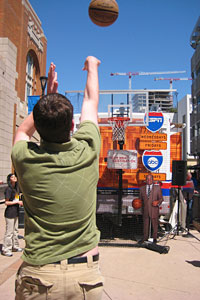 Had your photo taken at one of our recent stops? Click here to retrieve it.
---
NBAonESPN Video Channel
---
Follow The RV
Follow us on our NBA journey! For the latest RV info, updates, photos and much more from our latest trips, follow us on Twitter, Facebook or YouTube. •
Friend the RV on Facebook
•
Follow the RV tour on Twitter
•
Check out the latest RV videos