Kevin C. Cox/Getty Images
ANALYST
PREDICTION
J.A. Adande
ESPN.com

ATLANTIC: 3 | EAST: 7 Stuck in purgatory as in fellow Jerseyite Tony Soprano's hallucination episode, waiting to move to Brooklyn, not capable of advancing past the second round. Just re-signed Vince Carter for $62 million even though team's best run came before he got there.
Greg Anthony
ESPN.com
ATLANTIC: 3 | EAST: 8 A healthy Nenad Krstic (along with Jason Kidd, Vince Carter and Richard Jefferson) makes the Nets playoff caliber, even in a division that has gotten better. Loss of Mikki Moore will hurt their bench.
Jon
Barry
ESPN.com

ATLANTIC: 3 | EAST: 7 A solid playoff lock. They battled a lot of injuries last year, but Nenad Krstic should be back with 18 ppg. Anytime you have Jason Kidd and Vince Carter, you have a chance.
Chris
Broussard
ESPN Mag

ATLANTIC: 3 | EAST: 7 The return of Nenad Krstic and the addition of Jamaal Magloire will help, but the Nets still don't have enough to scare the top dawgs. If Kidd can turn rookie Sean Williams into Mikki Moore, the Nets will be scary for a round or two of the postseason.
Ric
Bucher
ESPN Mag

ATLANTIC: 3 | EAST: 7 Vince Carter and Richard Jefferson are back, despite incontrovertible proof they're too similar to be effective together. Jason Kidd made last season a treat by defying his age, but all he did was dissuade the Nets from delaying the major overhaul that is in order.
Chad
Ford
ESPN.com

ATLANTIC: 3 | EAST: 7 I'm not ready to write off the Nets yet. They are getting old, but if they can stay healthy and get Nenad Krstic back at full strength I think they have one or maybe two .500 seasons left in them.
Jemele
Hill
ESPN.com

ATLANTIC: 3 | EAST: 8 If you're pinning the season on Jamaal Magloire, something is wrong. Nothing suggests the Nets will be anything more than they were last year -- a .500 team setting itself up for a second-round loss. This time, it comes in the first round.
John
Hollinger
ESPN.com

ATLANTIC: 3 | EAST: 9 Sorry, but their recent performance falls far short of their reputation. Truth is, this is an average team with its two best players in their 30s, and I don't see how adding Jamaal Magloire changes that.
Chris
Sheridan
ESPN.com

ATLANTIC: 3 | EAST: 7 They remain deficient in the low post despite the return of Nenad Krstic, and it'd be no surprise to see their veterans once again coast through the regular season. At some point, they're going to have to decide whether to move Richard Jefferson for an upgrade at power forward.
Marc
Stein ESPN.com

ATLANTIC: 2 | EAST: 7 With Krstic and Jefferson on the comeback trail and Kidd banged up now after a brilliant Team USA summer, you have to ask if the Nets will be healthy enough before you can ask if they'll be good enough to return to the East's elite.


TOTAL ATLANTIC: 2.9 | Standings EAST: 7.4 | Standings
Team Strength:Transition Offense
Despite the fact that they employ three of the slowest frontcourt players in captivity, the Nets are a terrifying team in transition. Jason Kidd alone makes New Jersey a threat, as his ability to rebound the ball and push it immediately upcourt often catches defenses on their heels; once started, his ability to deliver the ball to the correct wing for an easy score is second to none. Vince Carter and Richard Jefferson make the threat more acute. Carter, of course, is a human highlight film, and even at 30 can use his incredible hops to throw down jaw-dropping dunks. Jefferson's ankle problems didn't have an impact on his straight-line speed last season and he still got plenty of transition opportunities, just as he will this season. Few are better at running the right wing (he almost never comes down the left side) and he's good enough with the bounce to start the action himself when he has to. But those aren't the only threats. Bostjan Nachbar is surprisingly effective running the court, especially when he can play power forward and outrun bigger players, and Sean Williams should be able to get out in transition for easy baskets too. •
John Hollinger's complete Nets forecast


STARTERS
ANALYSIS
Jason Kidd
Point Guard
6-4 | 210
He couldn't still be getting better at 34, could he?
Vince Carter
Shooting Guard
6-6 | 220
Dominique Wilkins redux. And Nique never got past second round either.
Richard Jefferson
Small Forward
6-7 | 230
Health issues have cost him 80 games over the past three seasons.
Nenad Krstic
Power Forward
7-0 | 260
The wild card. How well does he return from ACL surgery?
Jason Collins
Center
7-0 | 260
It's his spot for now, but the Nets added Jamaal Magloire for a reason.
ESPN The Magazine's NBA Preview hits newsstands October 24.
Jason Kidd
Player efficiency rating
projection: 17.41
vs. NBA avg.:

+2.41


Nets profiles

Scouting report: Kidd remains as dangerous in transition as any guard in the game, throwing quick passes ahead for easy scores and using this own rebounding skill to ignite many of the breaks. He's not as dangerous in the half court, where he's a mediocre outside shooter thanks to his line-drive flick shot and doesn't have the devastating first step of some of his contemporaries. He can overpower smaller guards in the low post, however, and his ability to see the court makes him particularly dangerous from that spot.
The coaches apparently intend to keep voting Kidd first-team All-Defense until he's 90, but he struggles to keep quicker guards in front of him. Where he excels is when he can switch onto a shooting guard and chase him through screens. He's also as good as you'll see at bothering low-post players without committing to a double-team, enabling him to get back to his man quickly. And of course, his rebounding makes up for the glaring deficiencies of the Nets' frontcourt in this department.
2007-08 outlook:
Kidd is 34 but doesn't seem any worse for the wear, and big point guards who don't depend on their penetration skills historically have aged very well. So while the Nets have to be slightly concerned just based on Kidd's age, there's no reason he can't continue to compete at or near this level for a couple more years. The bigger question at this point is whether he'll keep doing that in New Jersey, or someplace else. The Nets nearly pulled the rigger on a deal to send him to the Lakers at midseason, and should they struggle this year would have to consider rerouting him to a contender in order to start rebuilding.
If you got some quality time with your team's GM (like those lucky dudes from 3 Shades of Blue), what would you ask?
Dumpy, NetsDaily:
Questions I would ask Ed Stefanski: Q: Mr. Thorn: J-Kidd and Vince are both great, but do they belong together? Kidd's a dynamo, while Vince -- well, I'm 10 years older, and I could out-run him.
A: I'm Ed Stefanski. Q: Who?
A: I'm the GM of the Nets. Rod's the team president. Q: Doesn't he make the decisions, like drafting Wright over Granger?
A: You'd have to ask him that. I can pass him a message for you. Q: Let's move on. Why do players lose their hair when they join the Nets?
A: It's the swamp air. It'll grow back in Brooklyn. Q: Any chance we'll acquire a power forward?
A: You never know. •
TrueHoop, ESPN's NBA blog
---
---
Chad Ford's NBA Dish: '07-08 Preview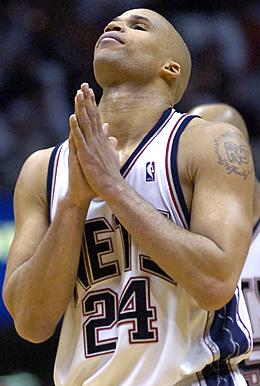 AP Photo/Bill Kostroun
For the Nets to have a prayer, Richard Jefferson must stay healthy for a change.

Lawrence Frank
Experience: 4 years
Record: 157-129
Playoffs: 18-20
NBA titles: 0
Coach's profile
Lawrence Frank will have to be a salesman this year, persuading the Nets that they are close to returning to the Finals (for the first time in five years). With Nenad Krstic back, Frank will adjust the offense, which last season led the East in 3-pointers attempted and made. He'll also hope to keep Jason Kidd's minutes down while trying to compete with the Celtics and Raptors in the Atlantic.
• David Thorpe, Scouts Inc.
Sleeper: Sean Williams
By the end of the season, the rookie big man will be getting big minutes for the Nets. Last season at Boston College, when he wasn't suspended, Williams blocked 75 shots in 15 games and seemed to improve a bit on the offensive end.
Bust: Richard Jefferson
Jefferson is a good player when he's on the floor, but he's always hurt. On top of that, when he plays hurt, his shooting percentages go down and he stops rebounding. You need more than just scoring out of your small forward, and there are far safer options out there than RJ.
• Atlantic Preview | Fantasy Hoops