Michel Euler/Associated Press
ANALYST
PREDICTION
J.A.
Adande
ESPN.com

ATLANTIC: 5 | EAST: 14 A team going nowhere. Too many pieces to sort through, no true leader to pull it all together. Maybe they'll have it figured out when they get to their new building. Whenever that is. Too many years on Vince's contract to make a trade likely.
Jon
Barry
ESPN.com

ATLANTIC: 4 | EAST: 7 A total makeover, with a ton of new guys. Though they were disappointing last season, I like the new pieces of Najera and Yi. And Vince is still pretty darn good.
Chris
Broussard
ESPN Mag

ATLANTIC: 5 | EAST: 14 The good news is Vince Carter's happy and bent on leading rather than leaving. The bad news is that this club is no better than the Toronto team he found intolerable in '04.
Ric
Bucher
ESPN Mag

ATLANTIC: 5 | EAST: 15 They are halfway through the Denver rebuilding plan, which consists of changing out the players, paring down the players ... and then replacing the coach.
Chad
Ford
ESPN.com

ATLANTIC: 5 | EAST: 15 Right now the Nets' biggest competition is the Knicks -- for the services of LeBron James in the summer of 2010. Neither team has to look too appetizing to Bron right now. Let's hope Yi can play.
Jemele
Hill
ESPN.com

ATLANTIC: 5 | EAST: 13 The Nets have only three holdovers from last season, which is a good thing. Lots of young talent, but they've still got a long way to go. Plus, you can count on Vince Carter mailing in his share of games.
John
Hollinger
ESPN.com

ATLANTIC: 5 | EAST: 15 The Nets delayed rebuilding to squeeze another year or two from the Kidd years; now they're paying the price. Devin Harris and some enticing young bigs make the long-term brighter, but basically these guys are waiting for LeBron to come to the rescue in 2010.
Jalen
Rose
ESPN.com

ATLANTIC: 4 | EAST: 14 Devin Harris and Vince Carter will make plays but the young fellas will need time to learn and grow.
Chris
Sheridan
ESPN.com

ATLANTIC: 4 | EAST: 13 The longer we all wait for the first shovel to hit the ground in Brooklyn, the slimmer the Nets' chances get of landing LeBron James as a free agent in 2010 or 2011. The over-under is 28 wins.
Marc
Stein ESPN.com

ATLANTIC: 5 | EAST: 15 Having a better season than the Knicks would probably be enough to make their season. But even that might not be possible for what's left of the Nets you remember. Not with Vinsanity surrounded by so much youth and so many question marks.


TOTAL ATLANTIC: 4.7 | Standings EAST: 13.5 | Standings
Team Strength: Frontcourt depth
The Nets don't have any stars in the frontcourt, but they've amassed a lot of young talent at the two spots and in a couple of years could have a very strong rotation here. The surprise availability of Brook Lopez on draft day gives them a strong building block at the center spot, as he can score in the post and hit midrange jumpers -- the two things Nenad Krstic provided before he wrecked his knee.
He'll have to beat out Josh Boone first, though. The third-year big man can't shoot, especially if it's a free throw, but he's great at rolling to the rim on pick-and-rolls and converting short shots around the basket, and he rebounds.
Lopez and Boone could start together, too, but Yi Jianlian may scupper those plans. While cynics wonder if he was imported to capitalize on the New York area's large Asian population, he also showed a lot of skill in his rookie year before hitting the wall at midseason. The 7-footer has good quickness and can shoot, but he's still learning where his shots are coming from and how to defend NBA post players.
Sean Williams, a 2007 first-rounder, also has some serious promise. He had one of the league's top shot-blocking rates and proved to be a force in transition. He only needs to improve his understanding in half-court situations on both ends of the floor to be a productive high-energy type off the pine.
Somewhere in all this lies Eduardo Najera, whose defense, toughness and midrange shooting are likely to be highly prized by coach Lawrence Frank -- witness his previous heavy use of the likes of Malik Allen and Clifford Robinson. The key will be spotting him minutes without impinging on the growth of the four kids.
And don't sleep on Stromile Swift, who despite his multitudinous mental errors remains a fairly productive NBA power forward. As a sixth quality big man he's a major luxury, and one wonders if he'll be traded for some more help on the wings.
Sleeper: Bobby Simmons
Playing for the Clippers in 2004-05, Simmons was productive across the board. His overall numbers weren't astonishing -- 16.4 points, 5.9 boards, 2.7 dimes, 1.4 steals, 85 percent shooting from the line -- but the aggregate of them made for a very intriguing fantasy player, a poor man's Caron Butler, perhaps.
Bust: Vince Carter
Here's where it starts to get ugly for VC. He's still an extremely productive player, but he's now on the wrong side of 30 and there are some signs that he may be coming back down to earth. Even though he played more minutes per game last season, he scored nearly four fewer points per game.
ESPN The Magazine: How Do You Know ...
... Vince Carter has the patience to wait out the rebuilding?

So far, VC is acting every bit the statesman, organizing weeklong, players-only summer workouts. (Even he was stunned that every Net -- save for Yi's Olympic run -- showed.) Now 31, he's not the restless prodigy he was in Toronto. Besides, J-Kidd's dismal time in Dallas and Richard Jefferson's exile to Milwaukee have shown him how fortunate he is. But losing can bring out the worst in anyone; Jersey will lose lots, and VC's worst is ugly.
ESPN The Magazine's NBA Preview hits stands October 22. For more, go to espnthemag.com.
Nets down one, 9.2 seconds to play, must-win game. What's the play?
Vince Carter needs to get the ball within 17 feet of the hoop. If he's beyond the arc when he catches it, he's got too far to go to get to the basket and he'll pull up for a fadeaway. So run him off a screen or two in order to receive the ball around the elbow.
Now, he either has a short jumper or is one dribble from the basket. Yi should be the screener so he can pop out for one of his feathery jumpers should his man stick with VC.
---
Chad Ford's NBA Dish: '08-09 Preview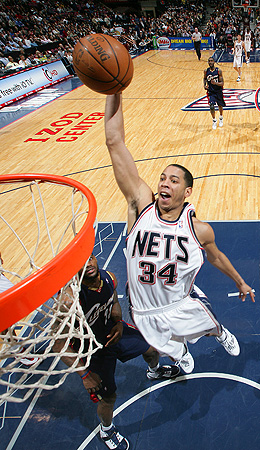 Jesse D. Garrabrant/NBAE via Getty Images
The Nets need his attacking ability, so expect Devin Harris to enjoy the kind of freedom he never felt while with the Mavericks.

Lawrence Frank
Experience: 5 years
Record: 191-177
Playoffs: 18-20
NBA titles: 0
Coach's profile
No team has a bigger adjustment on the "expectations" factor from last season than the Nets. Lawrence Frank has the freedom to install some new looks, systemic and strategic, in hopes of building the foundation for a better future.
Doing that, though, sometimes means sacrificing wins, which could put Frank's job in jeopardy. Either way, expect Frank to get his team to defend with much more passion, looking to improve upon their bottom-third finish on the defensive end last season.