Barry Gossage/NBAE via Getty Images
ANALYST
PREDICTION
J.A. Adande
ESPN.com

SOUTHWEST: 4 | WEST: 8 A full-time home base and a healthy roster will allow this team to enter the playoffs after knocking on the door the past couple of seasons. Peja and his jump shot are the key.
Greg Anthony
ESPN.com
SOUTHWEST: 4 | WEST: 10 Winning 39 games with all those injuries was impressive. Problem is, the rest of the division got better this year. A healthy Peja Stojakovic will be a key -- they hope to get 70 games out of him.
Jon
Barry
ESPN.com

SOUTHWEST: 5 | WEST: 9 Expect them to make a playoff push after last season, when a ton of injuries caused a club most everybody thought was a playoff team fall short.
Chris
Broussard
ESPN Mag

SOUTHWEST: 4 | WEST: 7 They will finally get over the hump. If healthy, of course. Chandler's game and confidence are soaring after strong showings with Team USA. With improvement from Armstrong and return of Peja, don't be surprised if the Hornets fight for the 5 or 6 seed.
Ric
Bucher
ESPN Mag

SOUTHWEST: 4 | WEST: 9 Will they have the emotional support in Nawluns they had in OK City? Not likely, and don't underestimate how much that got this team to overachieve the past two seasons.
Chad
Ford
ESPN.com

SOUTHWEST: 5 | WEST: 8 All five Southwest teams in the playoffs? I know. But with a rising Paul and Chandler joined by veteran Morris Peterson and underrated rookie Julian Wright, they can be a .500 team. That should be enough.
Jemele
Hill
ESPN.com

SOUTHWEST: 4 | WEST: 8 Got to get Chris Paul in the playoffs so he can be this season's Deron Williams. Tyson Chandler should pick up where he left off and adding Morris Peterson gives them added shooting punch. The Hornets are ready to take a step.
John
Hollinger
ESPN.com

SOUTHWEST: 4 | WEST: 8 Return to the Big Easy won't be, um, easy, but getting some of last year's walking wounded back helps. If they stay in one piece, Hornets should host first playoff game since changing conferences.
Chris
Sheridan
ESPN.com

SOUTHWEST: 5 | WEST: 12 Gonna be a tough year, both in the stands and on the court as the Hornets take another shot at making it work in what was already one of the NBA's smallest markets before Hurricane Katrina. One question: Even if his back is OK, can Peja Stojakovic's knees hold up?
Marc
Stein ESPN.com

SOUTHWEST: 4 | WEST: 9 Does a full-time return to New Orleans mean a full-time return to decent health? If so, that would probably mean a return to the playoffs for the Hornets in a West that isn't as deep as we've come to expect.


TOTAL SOUTHWEST: 4.3 | Standings WEST: 8.8 | Standings
Team Strength: Rebounding
The Hornets were extremely good on the boards last season and figure to be one of the best again. While they don't give the impression of a big, physical team, they ranked fourth in the league in combined rebound rate -- the average of their offensive and defensive numbers -- at 51.9. Obviously Tyson Chandler is a huge reason, but he's far from the only one. The guards are unusually helpful on the glass, with Chris Paul and Bobby Jackson ranking in the top 15 in rebound rate at point guard and shooting guard, respectively, despite both being undersized. Though not a physical player, David West also did a solid job from the power forward spot. Additionally, the newcomers figure to improve things. Desmond Mason and Rasual Butler were both below-average rebounders last season; Morris Peterson had a better rebound rate than both and Wright should be worlds better based on his college stats. Peja Stojakovic should also make a contribution too -- he's one of the league's biggest small forwards at 6-10 and ought to be a major improvement on the Butler-Mason combo. •
John Hollinger's complete Hornets forecast


STARTERS
ANALYSIS
Chris Paul
Point Guard
6-0 | 175
Pace-shifter will zoom into hometown All-Star lineup.
Morris Peterson
Shooting Guard
6-7 | 220
Wing is NBA's Tony Stark: He's missed only 11 games in four seasons.
Peja Stojakovic
Small Forward
6-10 | 229
Can hit 30-footers in his sleep … but not in traction.
David West
Power Forward
6-9 | 240
Best undersized opportunist this side of Nicole Richie.
Tyson Chandler
Center
7-1 | 235
Facing up, instead of backing down, to renewed, rookie-level buzz.
ESPN The Magazine's NBA Preview hits newsstands October 24.
David West
Player efficiency rating
projection: 18.57
vs. NBA avg.:

+3.57


Hornets profiles

Scouting report: West is unusual for a scorer in that he hardly ever attacks his man 1-on-1. His game is played without the ball, either scooting free on a screen-and-roll or finding a seam around the basket when a guard penetrates. His ability to create shots this way is fairly amazing -- he had the seventh-highest usage rate among power forwards. Plus, because he usually catches and shoots instead of dribbling to get himself free, he had the eighth-best turnover ratio at his position.
Defensively, West is below average and does little from the weak side. The Hornets have defended substantially better with him off the court the past two seasons (plus-3.4 per 48 minutes in 2005-06, plus-4.4 last season), and opposing power forwards have put up strong PERs against him in both seasons. At least he avoids whistles -- only five power forwards fouled less frequently.
2007-08 outlook: In spite of how rarely he goes 1-on-1, West has led the Hornets in scoring the past two seasons. There seems no reason he can't make it a threepeat. West is hitting his prime years as a scorer, and given his torrid finish to last season his numbers still might be on the way up. Chris Paul might start most of the plays, but watch West away from the ball -- he's the guy who'll be finishing them.
If you got some quality time with your team's GM (like those lucky dudes from 3 Shades of Blue), what would you ask?
Ron Hitley, Hornets247:
What I would ask Jeff Bower, GM of the Hornets: Here I am wondering about Kobe Bryant. Why don't you go after him, offering up anyone not named Chris Paul to the Lakers? Chandler and West would make good bait, no? You see, Kobe in teal pretty much guarantees that the Hornets succeed back in New Orleans. We won't be winning 50 and going deep in the playoffs right away, but you know folks in N'Awlins will pack the house 41 times a season to see CP and Kobe bring the funk. How 'bout it?
• TrueHoop, ESPN's NBA blog
• NBA.com Hornets camp video

Chad Ford's NBA Dish: '07-08 Preview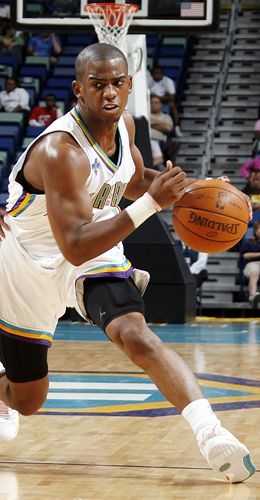 Layne Murdoch/NBAE via Getty Images
By at least one measure, CP3 looks like the best 1 in the NBA. Doubtless he'd like a full season of health to prove the point.

Byron Scott
Experience: 7 years
Record: 244-290
Playoffs: 25-15
NBA titles: 0
Coach's Profile
Byron Scott needs to get his team sharp from the beginning. A relatively easy November, with just one of last year's final four on the docket, will give his team a chance to build momentum before a nasty December. So getting Peja Stojakovic and Chris Paul back to form will be Priority One; those two alone can carry what was one of the league's worst offenses last season.
• David Thorpe, Scouts Inc.
Sleeper: Peja Stojakovic
At his best, Peja is a beast in four scoring categories, and unlike other one-dimensional players, he at least doesn't kill you in the other categories, either. Peja will likely never be the Peja of old, but that's the beauty -- for the discount you can get him at, he can be 70 or 80 percent of his prime and still add a lot to your team.
Bust: Morris Peterson
Peterson is a decent, versatile swingman to have around as a sixth man for about 28 minutes per game, but as a starter he is overextended and limited. Fantasy-wise, all he essentially does is hit 3's, needing heavy amounts of minutes to make up for his deficiencies in every other category.
• Southwest Preview | Fantasy Hoops