Jesse D. Garrabrant/NBAE/Getty Images
ANALYST
PREDICTION
J.A.
Adande
ESPN.com

SOUTHWEST: 1 | WEST: 2 Before we put them in the NBA Finals, let's remember that this group hasn't yet made it past the second round of the playoffs. And it took good health and a David West breakout to get that far last season. But they do have Chris Paul.
Jon
Barry
ESPN.com

SOUTHWEST: 1 | WEST: 2 Adding James Posey helps. CP3 is my favorite in the league to watch. Combined with West and the emergence of Chandler, I think this team will be right there at the end.
Chris
Broussard
ESPN Mag

SOUTHWEST: 2 | WEST: 3 The inexperience that caught up to the Hornets last season won't be a factor this year, especially with the addition of James Posey. But that gaping hole at shooting guard could be. I never thought I'd utter these words, but "Jannero Pargo may be missed."
Ric
Bucher
ESPN Mag

SOUTHWEST: 1 | WEST: 1 The two-point guard lineup has been part of their success, so not having Jannero Pargo will hurt -- but not more than James Posey will help.
Chad
Ford
ESPN.com

SOUTHWEST: 1 | WEST: 3 Chris Paul should've won the MVP award last year. He has a chance to be one of the greatest point guards ever to play the game. Surround him with all the terrific role players they have in New Orleans, and the Hornets are for real.
Jemele
Hill
ESPN.com

SOUTHWEST: 1 | WEST: 2 Although I expect LeBron to win his first MVP award, Chris Paul will be King James' most serious challenger for that honor. This team is such a perfect blend of youth and experience. Adding Robert Horry 2.0 (James Posey) was both brilliant and necessary.
John
Hollinger
ESPN.com

SOUTHWEST: 2 | WEST: 4 The Hornets hope James Posey's magic dust will rub off on them, but unless he can turn Mike James and Hilton Armstrong into competent backups, I think their money would have been better spent in other areas. In particular, the health of West and Chandler is now a must.
Jalen
Rose
ESPN.com

SOUTHWEST: 1 | WEST: 2 Sad note to opponents: Chris Paul is nowhere near as good as he will be. Scary! West and Chandler are legit. Peja and Peterson shoot the threes. Posey will do the intangibles.
Chris
Sheridan
ESPN.com

SOUTHWEST: 2 | WEST: 4 Last season, they were the team you didn't want to miss while spending all those cold winter nights bundled up in front of the TV. This year, the Trail Blazers might encroach on that status, but we'll never tire of watching Chris Paul work his magic.
Marc
Stein ESPN.com

SOUTHWEST: 1 | WEST: 2 Winning the mighty West, even with all the championship mojo Posey brings, is probably too much to ask of the Hornets this soon. Winning the Southwest Division, by contrast, seems to be a reasonable expectation.


TOTAL SOUTHWEST: 1.3 | Standings WEST: 2.5 | Standings
Team Strength: Perimeter shooting
Having Chris Paul is great, but having Chris Paul with a bunch of 3-point shooters surrounding him? That's even better. New Orleans' offense succeeds because when Paul gets into the paint he has so many options scattered around the floor to deliver the ball to.
Starters Peja Stojakovic and Morris Peterson are the main long-range weapons, but they aren't the only ones. At power forward, David West is an excellent midrange shooter who spaces the floor when he isn't scoring on the blocks, leaving Tyson Chandler as the only starter who needn't be defended away from the rim.
And one can see a conscious approach by the Hornets' management to add to this arsenal. James Posey (38.0 percent last season) provides another deep threat, and there's a good chance he'll be finishing a lot of games in Peterson's place. Up front, Sean Marks can also stroke it from outside and could earn minutes with that ability. Devin Brown, who played here two seasons ago, is also decent from outside.
Deeper on the bench lie a few other good shooters. Rasual Butler struggled badly last season but is a 36.5 percent career marksman from downtown; it's possible he could get back in the mix if Peterson struggles. The same goes for Mike James (37.8 percent), who might be able to steal minutes in a small backcourt with Paul if he knocks down shots.
Sleeper: David West
OK, so he's not much of a sleeper in the traditional sense, but West is better than you think he is. Here's a guy who averaged 20.6 points, 8.9 rebounds, 0.8 steals and 1.3 blocks while shooting 48.2 percent from the floor and 85.0 percent from the line last year, but is still being found in the fourth round in fantasy drafts this season.
Bust: Peja Stojakovic
In a show of hands, how many of you thought Peja could stay relatively healthy last season? And don't lie. Peja surprised everyone in his ability to play in 77 games after missing 69 games because of back surgery in 2006-07. Peja also enjoyed a career-high shooting percentage from downtown at 44.1 percent. Some of that has to do with the greatness of Chris Paul, but we still can't realistically expect Peja to duplicate that number this season. •
Southwest Preview | ESPN Fantasy Hoops | Sign up today
ESPN The Magazine: How Do You Know ...
... James Posey can be to the Hornets what he was to the Celtics?

Hey, don't forget his ring in Miami, too. Here's the thing: Replace the gumbo with clam chowder, and Posey might not even realize he's left Boston. The Hornets are a close copy of the champs, with their lickety-split 1, deep-scoring 3, jump-shooting 4 and shot-swatting 5. There's a nice hole just waiting for a 2 like him. Clutch J's and tight D are exactly what New Orleans didn't have in its Game 7 West semis loss to the Spurs. Who's hungry?
ESPN The Magazine's NBA Preview hits stands October 22. For more, go to espnthemag.com.
Hornets down one, 9.2 seconds to play, must-win game. What's the play?
Chris Paul receives the inbounds pass on the left wing. Tyson Chandler sets a high screen and with 6 seconds left, Paul takes the pick and explodes into the lane, looking for his floater. Tyson blitzes for the alley-oop.
If Paul is cut off and Tyson defended, Paul spins and finds David West, wide open at the top of the key. (Opposing coaches still think a 20-foot West shot is a good option. Never mind he shoots 52 percent from that spot.) Peja and Peterson watch from the wings as the ball goes in, and it's over.
---
Chad Ford's NBA Dish: '08-09 Preview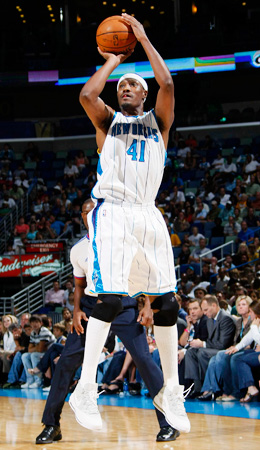 Layne Murdoch/NBAE/Getty Images
After winning rings in Miami (2006) and Boston (2008), James Posey has brought his sharpshooting and defense to the Big Easy.

Byron Scott
Experience: 8 years
Record: 300-316
Playoffs: 32-20
NBA titles: 0
Coach's Profile
The Hornets caught teams by surprise early last season, but Byron Scott knows that his team will have to be sharp from the beginning this season. Teams will gang up on Chris Paul coming off ball screens, so Scott has to work on his weakside actions and ensure that those players are ready to shoot and score all game long.
Developing energy and production from the bench is important too, after losing Jannero Pargo to Russia this summer. Look for Scott to give some of the Hornets' interior reserves some increased playing time. Shoring up depth there is key to any playoff success New Orleans may realize.