AP Photo/Mary Ann Chastain
ANALYST
PREDICTION
J.A. Adande
ESPN.com

ATLANTIC: 4 | EAST: 10 Arrival of Zach Randolph makes them bigger, not that much better. They added a selfish player to a team that was third-worst in assists last season.
Greg Anthony
ESPN.com
ATLANTIC: 4 | EAST: 13 How do Zach Randolph and Eddy Curry play together? It'll take time for them to learn what to do when the other is the focal point. Still, a team with talent.
Jon
Barry
ESPN.com

ATLANTIC: 4 | EAST: 11 Hello, Zach. Hello, same results. Many of the same issues this season in New York -- a lot of talent, but not cohesiveness. Up-and-down team, capable of beating a top team on a given night.
Chris
Broussard
ESPN Mag

ATLANTIC: 4 | EAST: 13 The Knicks have plenty of talent, street cred and swagger, but just as much (if not more) baggage. Chemistry and character are huge concerns, but there are other question marks as well. Like, uhh, who's gonna D-up?
Ric
Bucher
ESPN Mag

ATLANTIC: 5 | EAST: 11 Only in the Big Apple is the addition of Zach Randolph viewed as a step toward title contention. People, do you know how much trouble he found in sleepy ol' Portland? Can you imagine what the playground of Manhattan will do for him? I can.
Chad
Ford
ESPN.com

ATLANTIC: 4 | EAST: 12 Zach Randolph is good, but he plays the same position as the Knicks' most coveted player (David Lee) and the same position as New York's other shot-happy low-post player (Eddy Curry). Isiah Thomas knows talent, but the talent doesn't fit. I see 30-35 wins.
Jemele
Hill
ESPN.com

ATLANTIC: 4 | EAST: 10 Same old, same old: Suspect chemistry and leadership. Now you have to factor in the impact of their tumultuous offseason. With Zach Randolph it's hard not to entertain the Knicks sneaking into the playoffs, but it's still an iffy call.
John
Hollinger
ESPN.com

ATLANTIC: 4 | EAST: 10 Z-Bo deal adds talent, but it's tough to see how the Randolph-Curry combo will stop anybody from scoring at the other end … and this was already a pretty bad defensive team. Expect more embarrassment.
Chris
Sheridan
ESPN.com

ATLANTIC: 4 | EAST: 9 Having a hard time believing Eddy Curry can play an entire season with a torn labrum, and was skeptical anyway whether he could coexist with another dominant low-post scorer, Zach Randolph. They'll be better offensively, but defense will remain their weak suit.
Marc
Stein ESPN.com

ATLANTIC: 4 | EAST: 11 I'm trying to look at this optimistically, because it's depressing for the mood at a hoops temple like MSG to be so sad, but the best thing you can say about this circus is that the Knicks' season cannot be worse than the offseason (plus October) was.


TOTAL ATLANTIC: 4.1 | Standings EAST: 11.1 | Standings
Team Strength: Low-Post Scoring
New York was an extreme low-post team last season, so one can only imagine how extreme the Knicks will play now that Zach Randolph is around. Both he and Eddy Curry are overwhelming forces on the blocks who crush smaller defenders and require constant double-teams to keep them in check. Some wonder how they'll mesh offensively since only one of them can play the block at any given time, but this pairing might actually work. Randolph has a feathery touch from 20 feet and can play high while Curry is down low. Theoretically he could also enter the ball to Curry from up high, but Randolph is a notoriously unwilling passer -- another weakness that's replicated up and down the roster. Behind Randolph and Curry are several other post options. Quentin Richardson kills smaller wing players on the blocks, and though he hasn't been asked to do it much in New York it's an option that can be exploited when matchups allow. Randolph Morris is another potential post threat; many scouts thought he had first-round talent and developed nicely in his final year at Kentucky. And while Lee hasn't showcased much game on the blocks as of yet, one can envision him being very effective when he catches on the move. •
John Hollinger's complete Knicks forecast


STARTERS
ANALYSIS
Stephon Marbury
Point Guard
6-2 | 205
Stuck his $15 shoes in mouth all summer; should stick some J's instead.
Jamal Crawford
Shooting Guard
6-5 | 190
They want to pound it inside, yet he led them in FGA (15.0 per game).
Quentin Richardson
Small Forward
6-6 | 230
Skills aren't an issue, but when was last time health (back) wasn't?
Zach Randolph
Power Forward
6-9 | 251
Sweet pickup, unless he bites into Apple nightlife.
Eddy Curry
Center
6-11 | 285
Even pals doubt he has focus to reach potential.
ESPN The Magazine's NBA Preview hits newsstands October 24.
Nate Robinson
Player efficiency rating
projection: 16.59
vs. NBA avg.:

+1.59


Knicks profiles

Scouting report: Robinson is only 5-9 but is a spectacular leaper who ranked 14th among point guards in rebound rate and, in one particularly impressive display, rejected a shot by 7-6 Yao Ming. His hyperactivity carries over to the defensive end, as he ranked fourth among point guards in fouls per minute -- most of them coming 40 feet from the basket.
And while his quickness is an asset on defense, he seems to have an innate ability to run into the screener on pick-and-roll plays. When he didn't run smack into it, Robinson usually went under the screen and conceded the jumper -- another no-no.
Robinson's height is obviously a major disadvantage because it requires him to defend point guards, but because of his scoring instincts he's better off at shooting guard offensively. The Knicks worked around this by pairing him with Jamal Crawford and letting Crawford run the point, but it greatly limits his usefulness if there's only one other guard he can play with.
Thus, at some point he needs to get a clue how to play the point or his role will never expand beyond its current 20-25 minutes a game. This is in part a maturity issue -- Robinson is only 23 and his childish antics have become well known. Most obvious among them was his reaction in the fight with the Nuggets -- his shot at J.R. Smith greatly helped things get out of hand, and he richly deserved his 10-game suspension.
2007-08 outlook: Robinson won't be taking Stephon Marbury's gig, so look for him to spend another 20-25 minutes as a combo guard off the bench. He'll finish some games when he's running hot, but for the most part the Knicks will let him fire away with the second unit and then yank him out when the grownups return. in.
He'll really help in the "microwave" role, but he has no chance of moving up unless he tones down his act and shows more awareness of the team concept. One senses that day still might be a year or two away.
If you got some quality time with your team's GM (like those lucky dudes from 3 Shades of Blue), what would you ask?
Joey, StraightBangin:
Questions I would ask Isiah Thomas: Are you concerned that the Bricks lost by at least 10 points 23 times last year? By 15 or more 14 times? Surrendered 100-plus points in 44 games? The Spurs only did that 14 times. Why can't the Knicks play defense? I'll assume that you don't think it's the roster, as you added no shot-blockers and made no defensive upgrades along the perimeter. So then, maybe it's the coaching? Does the coach know how to teach defense? How to motivate? Maybe you should get a new … wait. Never mind. Might the players have any reason to not respect you?
• TrueHoop, ESPN's NBA blog
---
Chad Ford's NBA Dish: '07-08 Preview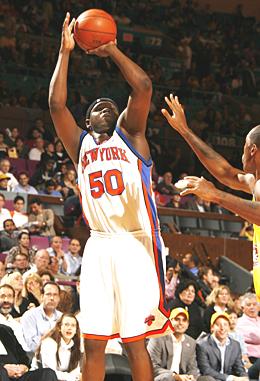 Nathaniel S. Butler/NBAE via Getty Images
Zach Randolph's got game ... and baggage. But if the Knicks can keep him on track, he can carry them on the offensive end with his sweet mix of inside hooks and outside touch.

Isiah Thomas
Experience: 4 years
Record: 164-164
Playoffs: 5-10
NBA titles: 0
Coach's profile
Challenges abound for Isiah Thomas. First, he'll try to keep the Knicks' focus on the court. Second, he'll try to figure out how to play Eddy Curry and Zach Randolph together without having the defense collapse entirely. Third, he'll try to find enough minutes for dynamic forward David Lee. Fourth, he'll try to mentor Stephon Marbury after an erratic year on and off the court. No coach has a tougher set of tasks.
• David Thorpe, Scouts Inc.
Sleeper: Renaldo Balkman
Usually we don't talk about defense (unless it's steals and blocks) in fantasy basketball, but Balkman will get minutes because someone has to play D on this team. In his final 11 games, Balkman averaged 10 points, 8 rebounds and 1.5 steals in just over 27 minutes per night.
Bust: David Lee
Lee averaged 10 points and 10 boards on 60 percent shooting last season. Those are good fantasy numbers for a backup forward. Unfortunately, he played in only about two-thirds of his team's games. With Z-Bo in the fold as the starter at power forward, it looks as though Lee's minutes will be squeezed well below the 30 he averaged last season.
• Atlantic Preview | Fantasy Hoops