Mike Stobe/Getty Images
ANALYST
PREDICTION
J.A.
Adande
ESPN.com

ATLANTIC: 4 | EAST: 13 After all the Thomas Tales and Stephon Chronicles, at least the focus will be back on basketball. But with this group that might be less interesting than the lawsuit follies from the summer of '07. Maybe Mike D'Antoni's arrival will resuscitate Quentin Richardson.
Jon
Barry
ESPN.com

ATLANTIC: 5 | EAST: 15 Mike D'Antoni will find out that taking charge of this dysfunctional group was not worth the $6 million per year. He's going from penthouse to outhouse. So Duhon is the starter at point -- how do Robinson and Marbury deal with that?
Chris
Broussard
ESPN Mag

ATLANTIC: 4 | EAST: 10 For years, we've saluted the Knicks' "talent'' and wished they could find the chemistry to go with it. D'Antoni's up-tempo philosophy might be the cure. I like what I've seen, and while I'm not predicting the playoffs, I wouldn't be stunned if it happened.
Ric
Bucher
ESPN Mag

ATLANTIC: 4 | EAST: 13 Eddy Curry sat on an exercise ball and it exploded. No one saw it coming, and yet, when you think about it, that should've been expected. Sort of like the Knicks struggling to break the 30-win plateau. Again.
Chad
Ford
ESPN.com

ATLANTIC: 4 | EAST: 14 I like that Mike D'Antoni has turned the Knicks loose. Even Zach Randolph is launching 3s now. If nothing else it will be fun to see them lose 130-120 every night.
Jemele
Hill
ESPN.com

ATLANTIC: 4 | EAST: 14 Even with Mike D'Antoni, it's hard to convince me the Knicks' woeful chemistry won't lead to brutal results. It's not a talent issue, but Marbury's issue. If they don't cut him loose, this will be the fifth straight season they don't make the playoffs.
John
Hollinger
ESPN.com

ATLANTIC: 4 | EAST: 14 Sorry, there are no overnight fixes for this mess. The Knicks will be relieved to see Isiah Thomas no longer patrolling the sidelines, but horrified to see all his terrible contracts still manning the roster. Any takers out there for Zach Randolph? Anyone? Hello?
Jalen
Rose
ESPN.com

ATLANTIC: 5 | EAST: 15 Who are the free agents in the summer of 2009?
Chris
Sheridan
ESPN.com

ATLANTIC: 5 | EAST: 15 A new twist on seven seconds or less: That's how long it'll take Mike D'Antoni's defensively inept team to allow an uncontested layup. I expect Eddy Curry to be traded before midseason.
Marc
Stein ESPN.com

ATLANTIC: 4 | EAST: 14 How long will it take the man synonymous with :07 Seconds Or Less to coach the Knicks back to the playoffs? Another pertinent question: Don't you, like me, wish we were talking more about D'Antoni and less about Marbury?


TOTAL ATLANTIC: 4.3 | Standings EAST: 13.7 | Standings
Team Strength: Interior scoring
When the Knicks have been successful over the past two years, it's been because their big guys are wearing out opponents in the paint. While Eddy Curry and Zach Randolph have their shortcomings, each is a beast on the low post who can finish and draw fouls.
Randolph, in particular, could be a much more potent force than he showed last season. The southpaw had a huge year for Portland two seasons ago, and he's both much less mistake-prone than Curry and far less dependent on catching close to the basket. Additionally, his skills seem a better fit for coach Mike D'Antoni's open-court, free-flowing system than Curry's. Of course, all that presumes he's still on the roster by opening day.
Then there's David Lee, who is a perfect complement to either Randolph or Curry because he's so good at roaming the weak side for offensive boards. In fact, there's a decent chance that Lee starts ahead of Curry, allowing Randolph to work his magic on the block without another teammate occupying his preferred space.
And while we're talking about post scoring, don't sleep on Quentin Richardson. Yes, he was an absolute dog last season, but he can pummel smaller guards on the blocks, and the Knicks have been strangely reluctant to make use of this skill. He also had his best season under D'Antoni in Phoenix four years ago.
Sleeper: Jamal Crawford
Crawford does a lot of things well. On a terrible defensive team, he'll get you a steal per game. Last season, he shot over 86 percent from the line and was one of only nine players to average 20 points and 5 assists. He tied Raja Bell for seventh in the league with 176 3-pointers made for the season.
Bust: David Lee
In our ESPN.com Draft Kit, we've got Lee ranked just three spots behind embattled teammate Zach Randolph. I think the impression is that if Lee got the same minutes as Z-Bo he'd be just as productive, but it's simply not the case. Last year, Randolph played 32.6 minutes per game to Lee's 29.1. When you consider that Randolph outperformed Lee by around 6.8 points and 1.4 rebounds per game, Randolph seems like a much better option.
ESPN The Magazine: How Do You Know ...
... Mike D'Antoni can run (or win) without Steve Nash?

NYC's latest sideline savior is a Knickish 39-89 without his alter ego. Worse, just months ago his new crew looked like the least likely fit for his up-tempo style. Funny -- now they seem made for it. D'Antoni is giddy with the knowledge that the Knicks are more skilled than anyone suspects. In particular, if the preseason is an indication (sometimes it is -- really), Lee is set to pop. Success is relative; if the new guy has New York in the hunt, he may be Coach of the Year.
ESPN The Magazine's NBA Preview hits stands October 22. For more, go to espnthemag.com.
Knicks down one, 9.2 seconds to play, must-win game. What's the play?
Trick question; the Knicks no longer call plays. The Brickers run it and gun it, baby! Z-Bo gets more assists than Starchild, David Lee leads the team in scoring, and Chris Duhon is anointed as the responsible team leader. Also, up is now down.
We do know this: Eddy Curry and Stephon need not worry about the play because they won't be in the game. Instead, we'll have Christopher pick and roll with Mr. Lee, hoping that David can slash to the hoop as Amare would. Should that fail, the ball swings around the outside. Q, Jamal -- don't choke. Uh ...
---
Chad Ford's NBA Dish: '08-09 Preview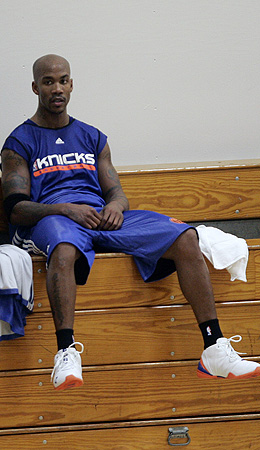 Mike Groll/Associated Press
Stephon Marbury's on his own island, but $20.8 million says the Knicks might be stuck with him, for a few more months anyway.

Mike D'Antoni
Experience: 6 years
Record: 267-172
Playoffs: 26-25
NBA titles: 0
Coach's profile
Mike D'Antoni has the enviable task of creating a much more enjoyable style of play, and a more hospitable basketball environment as well. But his system demands certain things Knicks players have lacked recently: sprinting the floor instead of running it, and making the first easy pass rather than maintaining a dribble, to name two important things.
Coach D will work toward changing his players' habits as the season evolves, all while evaluating the roster with Donnie Walsh to see which players are best suited for this new style.
•
David Thorpe, Scouts Inc.