Garrett W. Ellwood/NBAE/Getty Images
ANALYST
PREDICTION
J.A.
Adande
ESPN.com

NORTHWEST: 5 | WEST: 15 No longer the Sonics and far from super. This season is all about establishing their new identity (Are they sure they want to go with Thunder?) and getting Kevin Durant to pick up where he left off in the past two months (23 ppg on 49 percent shooting).
Jon
Barry
ESPN.com

NORTHWEST: 5 | WEST: 15 Russell Westbrook and Durant will be a nice backcourt for many years, but don't expect them to scrape out many more wins than last season's 20.
Chris
Broussard
ESPN Mag

NORTHWEST: 4 | WEST:14 I'll be surprised if it's much different from last year: Tune in for "The Kevin Durant Show" because not much else is playing in OKC.
Ric
Bucher
ESPN Mag

NORTHWEST: 5 | WEST: 15 Some quality pieces are being s-s-s-slowly assembled. Is there collateral damage from losing to young players? But if Clay Bennett isn't in a hurry, who am I to get impatient?
Chad
Ford
ESPN.com

NORTHWEST: 5 | WEST: 15 Take solace, (former) Sonics fans -- the Thunder are off to a rocky start. Not only do they look like the worst team, their uniforms and logo are terrible. But if Kevin Durant blows up, none of that will matter.
Jemele
Hill
ESPN.com

NORTHWEST: 5 | WEST: 15 A change of scenery certainly doesn't make this roster any better. It again will be the Kevin Durant show, although adding Joe Smith should help. I'm also eager to see what Russell Westbrook can do.
John
Hollinger
ESPN.com

NORTHWEST: 5 | WEST: 15 Jeer the two-faced owner all you want, but don't blame the good people of Oklahoma for the mess in Seattle -- it's bad enough that they have to watch the Thunder this year. GM Sam Presti is building a solid future, but it'll take time.
Jalen
Rose
ESPN.com

NORTHWEST: 5 | WEST: 15 Congrats to OKC ... Durant is worth the price of admission.
Chris
Sheridan
ESPN.com

NORTHWEST: 4 | WEST: 14 I hate the nickname, am uninspired by the logo and am downright underwhelmed by what they have surrounding Kevin Durant. I hated to see the franchise leave a great city but believe Oklahoma City will embrace it.
Marc
Stein ESPN.com

NORTHWEST: 5 | WEST: 15 You can count on the locals to shower Durant with the same loud love that Chris Paul got. They'll have to be patient, though. Durant & Co. are a long way from the 38.5 wins that Paul's Hornets averaged in their two OKC seasons.


TOTAL NORTHWEST: 4.8 | Standings WEST: 14.8 | Standings
Team Strength: Can I get back to you on that?
It's hard to point to a single area where the Thunder (thwack) will be better than most of the other teams this season. They're raw and inexperienced at almost every spot, they don't have much in the way of quality size up front, and their guards don't scare anybody.
If pressed, however, I'll point out that they rebounded decently. Not great, but decently. Last year Seattle grabbed 73.7 percent of available defensive boards and 26.8 percent of available offensive boards; both figures were just slightly ahead of the league average.
Given that the Sonics were 28th in just about every other metric, this will have to pass as their big strength. And it should carry over to this season. Top rebounder Nick Collison and Johan Petro are still in the center rotation, Jeff Green and Kevin Durant should contribute more on the boards with an added year of experience and lifting, and newcomers Joe Smith and D.J. White should also help on the glass. They'll get help from the backcourt, too -- Earl Watson is a good rebounder from the point and Russell Westbrook also figures to do well in that regard.
Sleeper: Jeff Green
If anyone, it's Green, who averaged 13.6 and 5.3 rebounds after the break in his rookie season. While those numbers aren't overwhelming, post-break Green also averaged 0.6 3-pointers, 0.8 steals and 0.6 blocks. If he can reach 1.0 per game in one or more of those categories, Green gets a bit more interesting.
Bust: Russell Westbrook
Let's fall back on the rookie-point-guards-don't-produce meme and say Westbrook. The 19-year-old does seem to be in a good situation, with the veteran Watson as the starter/mentor. Coach P.J. Carlesimo has said both will play plenty, but that only increases the likelihood that neither gets enough minutes to really help fantasy owners. •
Northwest Preview | ESPN Fantasy Hoops | Sign up today
ESPN The Magazine: How Do You Know ...
... OKC can make the Sonics -- oops, Thunder -- forget Seattle?

Selling every season ticket in, like, two minutes has to make the transplants feel welcome. It helps that they come bearing an engaging star (Durant), but think about it: Until now, OKC has been a college town, and the Thunder are as close to being a college team as an NBA crew can be. They're even paid like college kids (joking, NCAA); Chris Wilcox's expiring $6.75M deal makes him their highest-paid. This could be the start of something beautiful.
ESPN The Magazine's NBA Preview hits stands October 22. For more, go to espnthemag.com.
Thunder down one, 9.2 seconds to play, must-win game. What's the play?
Putting the words "must-win game" and "Oklahoma City Thunder" together is like putting "breast feeding" and "Mike Ditka" together. But we can dream right?
There's no question where the ball goes. Everyone down to my 78-year-old grandma knows who's going to take OKC's last shot -- Johan Petro -- wait, I mean Kevin Durant. Give him the ball and run the 'ol "dribble, dribble, head-fake, SHOOT!" Because if we try and pass it more than once, it's getting picked and going the other way. Keep it simple and keep it sexy with a KD swish to win.
---
Chad Ford's NBA Dish: '08-09 Preview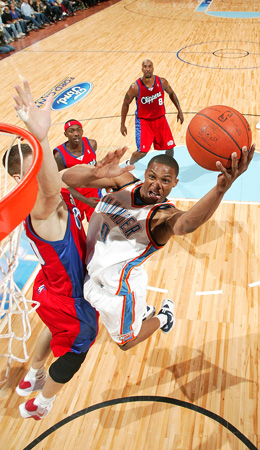 Garrett W. Ellwood/NBAE via Getty Images
Can Russell Westbrook prove critics wrong this season, showing he deserved to be taken as the No. 4 pick in the draft?

P.J. Carlesimo
Experience: 7 years
Record: 203-284
Playoffs: 3-9
NBA titles: 0
Coach's profile
Carlesimo was given a gift on draft night when his GM drafted Russell Westbrook, immediately sending a message to the team about the importance of defense. His team was the league's worst on offense last year, but developing a defensive culture seems to be the plan going forward.
This is one of the few teams that harbors almost no realistic playoff ambitions, so Carlesimo will use just one more season to help build a foundation for what should be a bright future.