Fernando Medina/NBAE/Getty Images
ANALYST
PREDICTION
J.A.
Adande
ESPN.com

SOUTHEAST: 1 | EAST: 4 They're really going to miss Keyon Dooling (did you ever think you'd read that sentence?). Dwight Howard and the frontcourt are nice, but man, that guard rotation.
Jon
Barry
ESPN.com

SOUTHEAST: 1 | EAST: 4 Time for Howard to take a major step. Everybody knows his talent, but it's time to be a dominant force offensively. If he becomes a better post-up player, he'll dominate on both ends of the floor.
Chris
Broussard
ESPN Mag

SOUTHEAST: 1 | EAST: 4 The key for the Magic will be backcourt improvement. Their frontline is perhaps the best in the East offensively, but they need Jameer Nelson and/or Mickael Pietrus to emerge as more than default starters who are better suited for coming off the bench.
Ric
Bucher
ESPN Mag

SOUTHEAST: 1 | EAST: 4 Stan Van Gundy will make them formidable in the regular season because that's what Stan does, but this team doesn't scare me in the least bit when it comes to the postseason. But then again, this is not a postseason survey.
Chad
Ford
ESPN.com

SOUTHEAST: 1 | EAST: 4 I'm not in love with this team, but they are the Southeast's best. Dwight Howard is dominant and Rashard Lewis is a great sidekick, but their lack of proven talent at the guard positions and their lack of depth in the frontcourt scares me.
Jemele
Hill
ESPN.com

SOUTHEAST: 1 | EAST: 4 Coming off a career year, Dwight Howard really needs to be Superman if the Magic hope to be more than a run-of-the-mill playoff team. It doesn't help that the roster did not improve significantly enough to make them a contender to win the East.
John
Hollinger
ESPN.com

SOUTHEAST: 1 | EAST: 4 The three stars are unlikely to be iron men again (they played 245 of 246 games last season), meaning Orlando will rely more on a bench that has less. Adding stopper Pietrus was risky, but he's the wild card. Regardless, Orlando might win the SouthLeast by default.
Jalen
Rose
ESPN.com

SOUTHEAST: 1 | EAST: 4 Dwight Howard should lead the league in rebounds and blocks (the next few years!). The 3-point shooting of Turkoglu and Lewis will be there, and having Battie will help a lot. Both backcourt spots will have to pull their weight.
Chris
Sheridan
ESPN.com

SOUTHEAST: 1 | EAST: 4 Their weakness is the backcourt -- even with the free-agent addition of Mickael Pietrus. The depth is improved with Anthony Johnson brought in at backup point and Tony Battie back from injury, and they could sneak into the No. 2 spot.
Marc
Stein ESPN.com

SOUTHEAST: 1 | EAST: 4 The team is one year older, but does that automatically make Orlando better? Impressed as we are by what Stan Van Gundy did in his first year in the Magic Kingdom, it's no given after a pretty quiet summer.


TOTAL SOUTHEAST: 1.0 | Standings EAST: 4.0 | Standings
Team Strength: Forward
Yes, Dwight Howard is a beast, but a big part of the Magic's success is the fact that they have surrounded him with two 6-10 forwards who can score from anywhere on the floor. Hedo Turkoglu and Rashard Lewis are a matchup nightmare for opponents who have to choose whether to sacrifice inches or get caught with a post player trying to defend the 3-point line; in turn, the threat of their outside shooting gave Howard plenty of space to operate in the paint.
Turkoglu was the big surprise last season, as his ability to operate as a point forward forced opponents into some unusual defensive arrangements against the pick-and-roll. The increased responsibility also snapped him out of the habit of disappearing for five minutes and then forcing a bad shot when he finally got the ball.
As for Lewis, his ability to defend the power forward spot was a major reason Orlando's defensive numbers were far better than expected. With Tony Battie missing all of last season with a torn rotator cuff, Orlando had to count on Lewis to defend the interior without fouling -- something he rarely did in Seattle.
At the offensive end, Lewis' reward was a series of tasty matchups against power forwards who were reluctant to chase him out to the 3-point line. Many opponents capitulated and just played small against Orlando to match up better defensively, bailing Lewis out of the defensive requirement of his job.
Sleeper: Mickael Pietrus
The ultra-athletic Pietrus has gobs of potential and is in line to receive the most consistent minutes of his career.
Bust: Jameer Nelson
Nelson is the clear-cut starter at point guard, but don't let the lack of competition fool you into thinking he's suddenly going to become anything more than a backup fantasy point guard.
•
Southeast Preview | ESPN Fantasy Hoops | Sign up today
ESPN The Magazine: How Do You Know ...
... the Magic can challenge with a backcourt full of backups?

No team has made the Finals this decade without a threat at one guard spot. And Nelson and Pietrus are not go-to guys, though each has had flashes. Jameer rallied from a so-so regular season with 16 ppg in two playoff rounds. Pietrus' length and hops have always intrigued; now he gets the PT to let loose. If neither guy jumps up, the first-rate bigs must dominate, which they'll do 50-plus times this season. The regular season, that is.
ESPN The Magazine's NBA Preview hits stands October 22. For more, go to espnthemag.com.
Magic down one, 9.2 seconds to play, must-win game. What's the play?
This year, the Orlando Magic need to get more creative in crunch time and use their opponents' assumptions about Hedo Turkoglu's role to their advantage.
This scenario calls for a high screen/roll with Turkoglu and Dwight Howard. After driving to his right around the pick, drawing defenders away from the weak side, Turk dishes to Jameer Nelson on the left wing. Nelson passes to Rashard Lewis in the left corner for a 3-pointer, where he shot a blistering 44.2 percent last season, according to NBA.com.
Even if Lewis misses, Howard, Turkoglu and Mickael Pietrus are waiting for the offensive board and stickback.
---
Chad Ford's NBA Dish: '08-09 Preview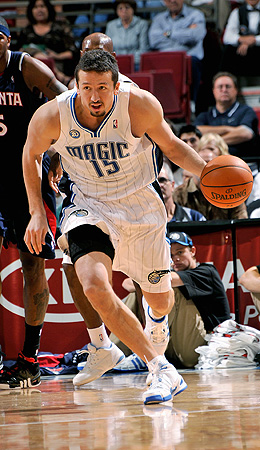 Fernando Medina/NBAE via Getty Images
Hedo Turkoglu, the league's reigning Most Improved Player, merely has to be even better this season for the Magic.

Stan Van Gundy
Experience: 4 years
Record: 164-103
Playoffs: 22-16
NBA titles: 0
Coach's profile
Stan Van Gundy last season did what he always does -- he helped his team focus on the details possession by possession -- and the Magic finished top six in the league in the three major aspects of basketball (offensive and defensive efficiency and defensive rebounding).
But for a team hoping to play in June, grinding things out in the early part of the season can lead to problems come springtime. SVG has to walk that fine line of pushing his guys but still ensuring they all still have energy left for the second season.