Jesse D. Garrabrant/NBAE via Getty Images
ANALYST
PREDICTION
J.A. Adande
ESPN.com

ATLANTIC: 5 | EAST: 15 Bad sign: when you're more impressed by the playing skills of the coaching staff (Maurice Cheeks, Henry Bibby, Moses Malone, Aaron McKie) than of the guys on the roster.
Greg Anthony
ESPN.com
ATLANTIC: 5 | EAST: 14 The emergence of Andre Iguodala is a positive, and it will help Kyle Korver and Samuel Dalembert. Still, this is a team that will struggle to win games.
Jon
Barry
ESPN.com

ATLANTIC: 5 | EAST: 15 Brutal, just brutal. Young team, trying to build. The main question is if Andre Iguodala is the man capable of building the future around.
Chris
Broussard
ESPN Mag

ATLANTIC: 5 | EAST: 15 Last season's late surge sans AI was fool's gold. The Sixers will be bad. Real bad. The only suspense will be waiting to see if Larry Brown replaces buddy and protégé Maurice Cheeks on the bench.
Ric
Bucher
ESPN Mag

ATLANTIC: 4 | EAST: 10 They're 4th only because I'm a believer in chemistry and I like theirs more than the Knicks'. Besides, if they falter, they can turn to a Larry Brown dying to prove he can still coach.
Chad
Ford
ESPN.com

ATLANTIC: 5 | EAST: 15 I can envision projections nine to 14 as potential playoff teams if everything goes right. Philly? I can't see the Sixers making a serious run at 30 wins, let alone the playoffs. Andre Iguodala is good. Everyone else? Decent at best.
Jemele
Hill
ESPN.com

ATLANTIC: 5 | EAST: 15 The split with AI was necessary, but this next couple of years will be painful to watch. Unless this team is running, they're stuck -- it'll be a miracle when they score in a half-court set.
John
Hollinger
ESPN.com

ATLANTIC: 5 | EAST: 15 Had a great run to end last season, but that will mean little when the new one starts. Sixers are working their way out of cap hell and have some nice young pieces, but don't have nearly enough talent.
Chris
Sheridan
ESPN.com

ATLANTIC: 5 | EAST: 14 The only person on the Sixers we expect to exceed expectations this season is Louis Williams. Billy King's No. 1 priority should be to try to move Samuel Dalembert by midseason. Hard to see them overachieving as much as they did at the end of last season.
Marc
Stein ESPN.com

ATLANTIC: 5 | EAST: 15 No one's calling it the Titanic Division any more, but the Sixers aren't exactly at the heart of the Atlantic's renaissance. The first full season AAI (After Allen Iverson) is going to be rough with no big changes, no real stars and seemingly everyone else moving and shaking.


TOTAL ATLANTIC: 4.9 | Standings EAST: 14.3 | Standings
Team Strength: Athleticism
They're young and raw, but the Sixers are building a track team here. Iguodala is clearly the centerpiece, one of the best athletes in the league and a highlight-film dunker when he gets space, but what makes the club intriguing are the other guys joining the scene. Louis Williams, for instance, is insanely quick and only needs to refine his skills to be a killer in the open court. Rodney Carney glides effortlessly for dunks and has outstanding speed as well. Andre Miller, chunky though he might seem, is a great transition point guard who can get opportunities for all these wing players. And Samuel Dalembert gets up and down the floor unusually well for a 6-11 center. The rookies should bring something to this department as well. Thaddeus Young isn't quite on Andre Iguodala's scale athletically, but he can get up and down, too, while Jason Smith is one of the more athletic 7-footers you'll see -- which is why he became a first-rounder despite less-than-dominating collegiate numbers. •
John Hollinger's complete 76ers forecast


STARTERS
ANALYSIS
Andre Miller
Point Guard
6-2 | 200
Has played 366 straight games, but running this unit will test his perseverance.
Andre Iguodala
Shooting Guard
6-6 | 207
Do-it-all wing has to start doing it better.
Rodney Carney
Small Forward
6-7 | 205
He can run and jump and … sit, once Kyle Korver rises off the bench.
Reggie Evans
Power Forward
6-8 | 245
Owns offensive glass, which is nice on a team that won't hit a thing.
Samuel Dalembert
Center
6-11 | 250
Slowed by stress fracture, stopped by total lack of post moves.
ESPN The Magazine's NBA Preview hits newsstands October 24.
Louis Williams
Player efficiency rating
projection: 14.29
vs. NBA avg.:

-0.71


76ers profiles

Scouting report: A thin guard with blazing quickness, Williams has a scorer's instincts and tends to get out of control, but was able to harness his worst instincts last season. He's tremendously fast in transition and is likely to be among the league's leaders in free-throw attempts as soon as he becomes a starter -- something that seems only a matter of time. He'll have to improve his work from the stripe, though, and still has plenty to learn about running the point.
Defensively, Williams' quickness allows him to apply great ball pressure, but he seems to have a magnetic attraction toward anyone setting a screen. At 175 pounds, he can't keep getting nailed like this, especially with all the hits he takes on drives to the basket, but one presumes a combination of experience and self-preservation instinct will cure the problem.
2007-08 outlook: Williams should see more action this season, taking over for Kevin Ollie as the backup point guard and probably also seeing some minutes in small backcourts with Andre Miller. The projections are cautious because his rookie year numbers were so poor, but I don't think anyone would be terribly shocked if he became this year's Monta Ellis.
If you got some quality time with your team's GM (like those lucky dudes from 3 Shades of Blue), what would you ask?
Enrico Campitelli Jr., The700Level.com:
Questions I would ask Billy King: Picture the summer of 2006, when you were, let's say, lounging at the Windrift in Avalon, sipping a Mai Tai and discussing the coming hoops season with your pal Larry. Some beautiful, omniscient Jersey girl walks up to you and whispers that someday, when you deal Allen Iverson, the guys you get in return will include Thaddeus Young, and Jason Smith. Would you even know who those guys were? Now, fast-forward to draft day 2007: Do you really think the pieces you got will be the cornerstone of a champion? •
TrueHoop, ESPN's NBA blog
---
Chad Ford's NBA Dish: '07-08 Preview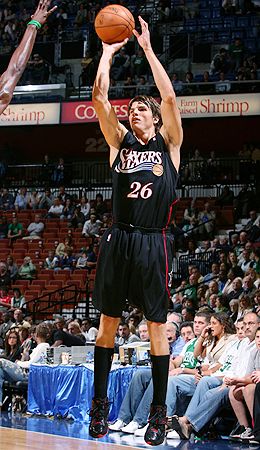 Rocky Widner/NBAE via Getty Images
Kyle Korver's game is limited, but his firing range is practically unlimited.

Maurice Cheeks
Experience: 6 years
Record: 235-229
Playoffs: 3-7
NBA titles: 0
Coach's profile
Will Maurice Cheeks look to go up-tempo to take advantage of point guard Andre Miller and an athletic set of wings? In any case, establishing an identity for a franchise lacking direction will be the challenge for Cheeks. In large part, it falls to the coach to create that identity, bringing his message to every practice and game no matter how many losses pile up.
• David Thorpe, Scouts Inc.
Sleeper: Jason Smith
I don't see a whole lot of points coming from Evans and Dalembert. Smith could be the answer to this problem. His speed will let him get up and down the floor, which should mean plenty of open looks from
Andre Miller
. He shot a high percentage in college, and can play with his back to the basket. It's risky to expect much from a rookie, but Smith could be a good fit in Philly.
Bust: Reggie Evans
Granted, Philly didn't give up much to get Reggie -- just
Steven Hunter
and
Bobby Jones
. But if the 76ers are expecting much out of Evans, they may be in trouble. Despite his tremendous rebounding (best per-minute rate in the NBA), he gives you absolutely nothing in any other category.
• Atlantic Preview | Fantasy Hoops