Jesse D. Garrabrant/NBAE/Getty Images
ANALYST
PREDICTION
J.A.
Adande
ESPN.com

ATLANTIC: 2 | EAST: 5 Brand addressed their biggest weakness (half-court offense), so now they're a lock for the 2nd round of the playoffs. Beyond that, it depends on how much they learned from Detroit in the playoffs last season.
Jon
Barry
ESPN.com

ATLANTIC: 3 | EAST: 6 Elton Brand claims to be as healthy as he's ever been. The Sixers came on late last season, but the team still lacks bench depth. Brand and Iggy are good enough to get them a spot in the playoffs.
Chris
Broussard
ESPN Mag

ATLANTIC:2 | EAST: 5 The Sixers seem to have everything except great outside shooting: an inside-outside tandem in Brand and Iguodala, a PG in Andre Miller, shot-blocker Samuel Dalembert and athleticism (Thaddeus Young, Louis Williams). Probably at least a year away from being real contenders.
Ric
Bucher
ESPN Mag

ATLANTIC: 3 | EAST: 5 I've always seen Elton Brand's stats as more impressive than his actual importance to his team winning. If he makes this Sixers' squad one of the four best in the East, I may have to reconsider.
Chad
Ford
ESPN.com

ATLANTIC: 2 | EAST: 3 With Elton Brand and Andre Miller as veteran anchors, young players like Andre Iguodala, Thaddeus Young and Louis Williams should thrive. They have enough firepower to represent the East in the Finals.
Jemele
Hill
ESPN.com

ATLANTIC: 2 | EAST: 5 Brand gives this young, athletic team stability and a half-court offense in the postseason. Still think they're a year away from serious contention, but I wouldn't be surprised if their success was accelerated.
John
Hollinger
ESPN.com

ATLANTIC: 2 | EAST: 3 It's a Brand new day in Philly thanks to last season's late resurgence and the free-agent heist of Elton. The Sixers remain desperate for outside shooting, but with rising stars like Andre Iguodala, Thaddeus Young and Louis Williams, get used to them being a factor.
Jalen
Rose
ESPN.com

ATLANTIC: 2 | EAST: 3 Elton Brand will be a huge problem for opponents and an All-Star. Andre Miller is the most underrated point guard in the game. Andre Iguodala has developed into a star, but they will need Samuel Dalembert to anchor the paint on defense.
Chris
Sheridan
ESPN.com

ATLANTIC: 2 | EAST: 5 Probably the most improved team in the conference, but outside shooting -- one of their two main weaknesses last season -- remains a question mark until we see whether Louis Williams can knock 'em down in the 40 percent range. Rotisserie players: Get Thaddeus Young.
Marc
Stein ESPN.com

ATLANTIC: 2 | EAST: 5 For all the concerns about their lack of outside shooting and dealing with high expectations, you have to believe that Elton and his new crew have a real shot at winning 50 games. I do, anyway.


TOTAL ATLANTIC: 2.2 | Standings EAST: 4.5 | Standings
Team Strength: Transition offense
The Sixers are a blur in transition, which is why it's so important to avoid live-ball turnovers against them. It all starts with Andre Miller. Yes, he's 32 and out of shape, but he's also one of the best transition players in basketball. He throws the alley-oop as well as any player in history, has an outstanding array of short bank shots that he can hit on pull-ups, and almost never makes the wrong decision.
He has plenty of teammates to run with him. Andre Iguodala is a fearsome dunker and a strong ball handler himself who can generate many of his own transition opportunities, while Louis Williams is among the league's fastest players and creates odd-man advantages with his speed, though he can get wildly out of control.
Up front, Thaddeus Young is a combo forward who is among the league's most promising young players. He went completely under the radar last year, but he's a good athlete who can handle the ball and finish with either hand around the rim, adding another transition threat. And up front, Samuel Dalembert is one of the league's speediest big men.
Sleeper: Thaddeus Young
Young came into the league with as much talent as anyone not named Durant or Oden last year. He seems comparable to Shawn Marion, another player who blew up after an impressive rookie season. We're predicting 14 points, six rebounds, 1.8 steals, and better than 50 percent shooting.
Bust: Louis Williams
I don't think his numbers will improve significantly from last season. Barring an injury, Andre Miller and Andre Iguodala are both going to play big minutes, and because this team should be winning a lot, there might be less opportunity to play guys who aren't the starters. Williams will play; I just don't think he'll play more than the 24.7 minutes per game he averaged after the All-Star break last season.
ESPN The Magazine: How Do You Know ...
... Elton Brand has some all-star left in him?

Ask the docs: Brand's injury wasn't the sort that detours careers. Besides, the dude is only 29. He'll stay younger longer now that he doesn't toil in the land of TD, Amaré and the rest. Elton and Andre give Philly what it thought it had with C-Webb and A.I.: an inside-outside 40-ppg duo. Throw in a PG who can keep both happy and a dose of frenetic youth (Young, Lou Williams) and these Sixers mirror Brand's '06 Clips. Recall how he played then?
ESPN The Magazine's NBA Preview hits stands October 22. For more, go to espnthemag.com.
76ers down one, 9.2 seconds to play, must-win game. What's the play?
Tom McGinnis: "With Sammy fouled out, the Sixers go with a lineup of Elton, Thaddeus, Iguodala and Williams with Miller inbounding."
Todd MacCulloch: "I think you look for Andre here, Tom."
Tom: "Miller does look for Iguodala, but LeBron is on him like glue; they get it to Elton at the top of the key. Brand is double-teamed and finds a streaking Williams driving to the bucket ... Louis elevates and throws it down! ARE YOU, KIDDING, ME! Sweet Louis willed his way to the basket and melted the Snowman in his tracks. Sixers win!"
Todd: "You betcha."
---
Chad Ford's NBA Dish: '08-09 Preview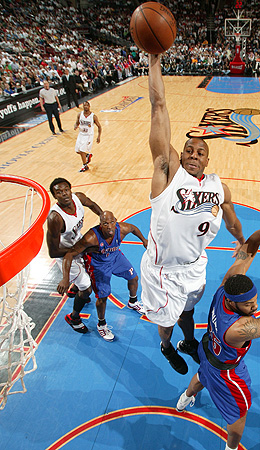 Jesse D. Garrabrant/NBAE via Getty Images
Andre Iguodala is getting paid like a franchise player. Now the 76ers need him to take the franchise to new heights.

Maurice Cheeks
Experience: 7 years
Record: 275-271
Playoffs: 5-11
NBA titles: 0
Coach's profile
Philadelphia made a strong run late last season based mostly on great teamwork and defensive intensity. Both often come as a result of an ego-less team. Maurice Cheeks now has to get even more from his team while managing both a bona-fide star in Elton Brand and a player with a star's new contract in Andre Iguodala.
The Sixers thrived under a "low expectations" banner, but now look like legit threats for a conference title. Cheeks will look to last season's champions for a blueprint on how to stick together and defend every night.