Garrett Ellwood/NBAE/Getty Images
ANALYST
PREDICTION
J.A.
Adande
ESPN.com

PACIFIC: 2 | WEST: 6 Plenty of weapons left with Amare Stoudemire, Steve Nash and Shaq. But if they're going to play like every other team in the league, that makes it much easier for opponents to prepare for them.
Jon
Barry
ESPN.com

PACIFIC: 2 | WEST: 5 The Suns are old but still have the talent to win a bunch of regular-season games. Shaq's looking good and entered camp in good shape. Playoff failures year after year loom. Success will come down to where they get slotted in the playoffs and whom they meet.
Chris
Broussard
ESPN Mag

PACIFIC: 2 | WEST: 7 I liked what I saw after the Shaq trade (up until the Spurs series), but the window is all but shut. How effective can Nash be in Terry Porter's system? Shaq's talk about getting more rings is starting to sound like Ali before the Larry Holmes fight.
Ric
Bucher
ESPN Mag

PACIFIC: 2 | WEST: 6 Ratcheting up the D is all well and good, but it works better with players who are young and athletic or old and experienced at playing tough D. I don't see many of either.
Chad
Ford
ESPN.com

PACIFIC: 2 | WEST: 7 Don't mess with a great thing. The Suns were great entertainment the past few years. But with the departure of Mike D'Antoni and the addition of Shaquille O'Neal, they could be very ordinary.
Jemele
Hill
ESPN.com

PACIFIC: 2 | WEST: 7 With all the young guns in the West, this is a bad time for the Suns to change their offensive philosophy. Nash may be a step slower. Shaq is more motivated than usual because his swan song nears, but that won't be enough.
John
Hollinger
ESPN.com

PACIFIC: 2 | WEST: 6 The Suns face serious age issues after last season's puzzling Shaq trade and apparently decided that leading the league in offensive efficiency every year isn't a good way to win. Thankfully, Nash appears immune to Father Time's effects, and Stoudemire's eye injury 'tis but a scratch.
Jalen
Rose
ESPN.com

PACIFIC: 2 | WEST: 5 Regular-season wins have never been a problem. Amare will be off the charts. Nash is still one of the top point guards and Shaq will fit in better under Terry Porter. Barnes will be a pleasant surprise.
Chris
Sheridan
ESPN.com

PACIFIC: 3 | WEST: 8 The window is closing, and to think how differently it all could have been with one less hip check from Robert Horry two postseasons ago. (Sorry, Suns fans, couldn't help but to bring that up.)
Marc
Stein ESPN.com

PACIFIC: 2 | WEST: 7 I'll just keep peeking in the window to see how Terry Porter's coaching Nash, Shaq and Amare will play out rather than prematurely proclaiming that the Suns' window has closed. You play it how you want.


TOTAL PACIFIC: 2.1 | Standings WEST: 6.4 | Standings
Team Strength: Shooting
Man, the Suns can let it rip. And while they may be playing a more traditional style this season, that won't stop them from raining in shots all over the court. It all starts with Nash -- no, not with his passing, but with the largely unrecognized fact that he's the best shooter in the league. Steve Nash hit 47 percent of his 3-pointers and has made over 50 percent from the field and 40 percent from 3 in each of his four seasons in Phoenix.
He has two fantastic shooters alternating at shooting guard in Raja Bell and Leandro Barbosa. Bell hit 40.1 percent from downtown last season; Barbosa "only" 38.9 percent, a big drop from his 43.4 percent a season earlier. Matt Barnes had an off year in Golden State himself but shot 36.6 percent on 3s in 2006-07.
Joining them in the mix are Amare Stoudemire and Grant Hill, who aren't 3-point shooters but are still outside threats. Stoudemire in particular has evolved into one of the best midrange shooters in the league, while Hill is also solid from that distance.
Sleeper: Matt Barnes
In a more secure environment, and one with a creative playmaker like Steve Nash at the helm, there are good reasons to suppose Barnes can rediscover the flavor of 2006-07, when he averaged 34.5 minutes, 14.3 points, 2.2 3-pointers, 6.5 rebounds, 2.2 assists, 1.4 steals and 0.8 blocks in 23 games as a starter. He likely won't see 34.5 minutes per game, but Barnes' ability to defend multiple positions will keep him on the floor longer than some suppose.
Bust: Raja Bell
For two seasons, from 2005-06 to 2006-07, Bell averaged 14.7 points per game and more than 2.5 3-pointers per game. Last season he slipped, scoring just 11.9 points, though he maintained his 3-point shooting. The decrease in scoring can't be tied just to playing time; Bell averaged just two minutes less per game last season (35.3) than the previous two. He simply became a smaller part of the offense. He is now almost purely a 3-point bomber. •
Pacific Preview | ESPN Fantasy Hoops | Sign up today
ESPN The Magazine: How Do You Know ...
... talk of a sunset isn't a bit premature?

Only the Big Eclipse knows for sure. There's no getting around him -- literally or figuratively. If he's on your team, he is your team. So is there a run left in Shaq? The rest of the crew is as deep as ever with the drafting of dream duo C Robin Lopez and PG Goran Dragic. But GM Steve Kerr is banking on one man's word. "I told Shaq when we got him I wasn't worried about his motivation last season," he says, "just the next two. He said he'd show me." Let's see.
ESPN The Magazine's NBA Preview hits stands October 22. For more, go to espnthemag.com.
Suns down one, 9.2 seconds to play, must-win game. What's the play?
Game 7 of the Western Conference finals versus The Spurs:
In the preseason Shaq called out the Spurs for their cowardly hack-a-Shaq tactics in last year's series. Shaq predicted he would make the Spurs pay.
Tonight, Shaq delivered by nailing two free throws after grabbing a rebound off a Nash miss. After putting the Suns up one with three seconds to go, Shaq switched off Duncan to stuff a driving Ginobili and win the game.
---
Chad Ford's NBA Dish: '08-09 Preview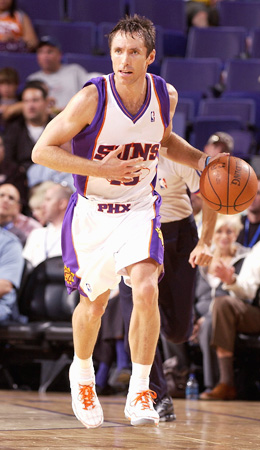 Barry Gossage/NBAE/Getty Images
Steve Nash will be 35 soon, but the All-Star guard seems as light on his feet as ever.

Terry Porter
Experience: 2 years
Record: 71-93
Playoffs: 1-4
NBA titles: 0
Coach's profile
It seems likely that new coach Terry Porter will work to improve Phoenix's middle-of-the-pack defense. He'll challenge his guys to invest more time in studying their defensive responsibilities and then hold them accountable. Weak-side alertness will be a primary teaching point.
But doing so at the expense of offensive execution could be pricey, forcing the team to change identities after being so incredible on offense for years. Coaxing Shaq to stay motivated, and slim, should help to keep him healthy and a force on the backboards, a major Suns weakness last season.