AP Photo/Rick Bowmer
ANALYST
PREDICTION
J.A. Adande
ESPN.com

NORTHWEST: 4 | WEST: 14 The bad news: With Oden out for the season, they're back in the lottery. The good news: GM Kevin Pritchard is the best choice to handle a draft.
Greg Anthony
ESPN.com
NORTHWEST: 3 | WEST: 9 This could be a breakout season for LaMarcus Aldridge. Nate McMillan has done a great job with this young team. Even though there's no G.O., I like the direction of this team.
Jon
Barry
ESPN.com

NORTHWEST: 4 | WEST: 14 The Oden injury could ultimately be a great thing. When David Robinson went out with an injury, it put the Spurs in position to draft Tim Duncan the following year. If Portland's worse, then we're talking about maybe another No. 1 pick.
Chris
Broussard
ESPN Mag

NORTHWEST: 3 | WEST: 11 Lots of young talent to get excited about, even without Mr. Oden. Nate McMillan is among the league's best coaches and will get the most out of what he has.
Ric
Bucher
ESPN Mag

NORTHWEST: 3 | WEST: 11 Maybe I'm being swayed by the character of the team's roster -- and when was the last time you heard that about the Blazers? -- but with Roy and Aldridge leading the charge, I expect them to surpass last year's 32 wins. The future is bright whether Oden returns as Oden or not.
Chad
Ford
ESPN.com

NORTHWEST: 4 | WEST: 12 The loss of Greg Oden and Zach Randolph keeps them out of the playoffs. But the team is still loaded with young talent. If Roy, Aldridge and Przybilla stay healthy, they'll again be one of those pesky teams that wins more than you think.
Jemele
Hill
ESPN.com

NORTHWEST: 4 | WEST: 13 No need for Portland fans to be totally depressed, because even without Greg Oden, this is a young team worth watching. LaMarcus Aldridge is poised for a breakout. People better beat them now because they'll be unbeatable in a couple of years.
John
Hollinger
ESPN.com

NORTHWEST: 4 | WEST: 13 Was looking like one of the great stories of this season until the part where Greg Oden went under the knife. They still have as much young talent as anyone, but they're gonna struggle without a center.
Chris
Sheridan
ESPN.com

NORTHWEST: 5 | WEST: 14 Wish I had something positive to say for Henry Abbott and all the other Blazers fans out there, but I'm coming up blank. Would a prediction that they'll be able to find a taker for Joel Przybilla suffice?
Marc
Stein ESPN.com

NORTHWEST: 3 | WEST: 13 Blazermaniacs have to be afraid to pick up the paper these days with Oden gone for the season and fresh fears about the durability of Roy and Aldridge. The future is still bright, but the present? Painful is an understatement.


TOTAL NORTHWEST: 3.7 | Standings East: 12.4 | Standings
Team Strength: Young Talent
Don't watch the Blazers and think about this season. Instead watch them and think two or three years down the road, because they are going to be insanely good. I can't remember a time when a single team owned the rights to this many quality players under the age of 25. By my count, there are 10, plus three maybes -- so I guess the roster for the next decade is full. Start with the three linchpins of last season's draft. Rookie of the Year Brandon Roy will be Portland's go-to guy with Greg Oden out, yet might rank third of the three in terms of long-term potential. LaMarcus Aldridge is what Blazer fans imagine Rasheed Wallace would have been like if he wasn't crazy. The 6-11 forward has a soft touch from outside and an emerging post game; once he masters the nuances of defense he should be an ace at that end too. Then there's Sergio Rodriguez, a crazy good passer who will be awesome if his shot comes around. But there's more where that came from. Travis Outlaw is only 23 and looks to be a quality small forward; Channing Frye was an afterthought in the Zach Randolph trade but is 24 and has the same sweet midrange stroke as Aldridge. Forgotten wingman Martell Webster is only 21 and still has a gorgeous outside shot, while old man Jarrett Jack (24 at the end of October) is a potential All-Defense guard. Josh McRoberts is still a pup at 20 and was massively underrated on draft day. And don't forget about Darius Miles -- he's recuperating from more knee problems but is still only 25, believe it or not. Meanwhile, the Blazers are building a veritable farm team in Europe. Rudy Fernandez, Petteri Koponen, and English 7-footer Joel Freeland all are competing overseas, but each could be making major contributions within the next couple years. Oh, and then there's that center. It's hard to remember with Oden on crutches, but this isn't necessarily a repeat of the Sam Bowie era. Yes, the injury pattern he's shown is a little worrisome, but his case reminds me more of Amare Stoudemire's two years ago than anyone else's, and Amare is looking pretty good these days. Don't get me wrong, it's a serious operation. But there's a decent chance that by opening day 2008 you won't be able to tell he'd had any work done -- just look at Randolph last season for a reminder. •
John Hollinger's complete Trailblazers forecast


STARTERS
ANALYSIS
Jarrett Jack
Point Guard
6-3 | 197
For now, but Steve Blake and surprising rook Taurean Green are nipping.
Brandon Roy
Shooting Guard
6-6 | 229
NBA's reigning top rook has recurring heel problem. That's just piling on.
Travis Outlaw
Small Forward
6-9 | 215
How open is competition for this spot? Even Darius Miles has a shot.
LaMarcus Aldridge
Power Forward
6-10 | 245
First priority: Make 'em forget about Zach Randolph.
Joel Przybilla
Center
7-1 | 255
Shadowboxing chops means he can defend himself against attackers.
ESPN The Magazine's NBA Preview hits newsstands October 24.
Scouting report: Roy's game is reminiscent of Ray Allen, though without Mr. Shuttlesworth's laser-accurate shooting. He's got a smooth shot off the dribble that he can shoot going either way and is a good enough ball handler to play point guard in a pinch. He also rebounds well for the position, ranking 14th among shooting guards, and has no particular weaknesses at the offensive end -- he was above the league average for his position in every offensive metric except 3-point frequency.
Defensively, Roy looked pretty ordinary. It was tough to get a good read on him because Ime Udoka and Jarrett Jack always got the tough assignments, but the Blazers gave up 4.0 points more per 48 minutes with him on the court and his block and steal rates were below average for his position. It's hardly unusual for rookies to underwhelm at the defensive end, so we'll see how he develops with some experience under his belt.
2007-08 outlook:
Roy will be the guy the Blazers turn to when it's late in the shot clock and somebody needs to create offense. He showed last season that he can succeed in that role, and if his long-range shooting comes along he could be significantly more productive this season. Though he ultimately might not become the best player from last season's rookie crop, he's a keeper who probably has an All-Star Game or two in his future.
If you got some quality time with your team's GM (like those lucky dudes from 3 Shades of Blue), what would you ask?
Dave Deckard, BlazersEdge:
Questions for Kevin Pritchard: Was it harder to walk on water or to feed the 5,000? Also why do you let bad things happen to good people? Seriously, the transformation of the Trail Blazers has been astonishing. They are stocked with young, motivated, talented players who practice hard, work together and know how to reach out to the community. All that's left is to wait out Greg Oden's recovery and the maturation of the team. You won't see instant results, but right down the line Kevin Pritchard's vision should speak for itself. •
TrueHoop, ESPN's NBA blog
Chad Ford's NBA Dish: '07-08 Preview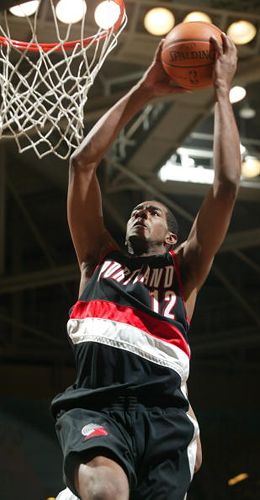 Garrett W. Ellwood/ NBAE via Getty Images
LaMarcus Aldridge will have plenty of opportunities to shine now that Zach Randolph is in New York and Greg Oden is on the bench.

Nate McMillan
Experience: 7 years
Record: 265-294
Playoffs: 8-8
NBA titles: 0
Coach's profile
"Wait until next year" is no way to think when development now is so key, so Nate McMillan will challenge his young players to focus on the present. He has six recent first-round picks (four lottery picks) not counting Greg Oden, and he needs to get them to be competitive every night. LaMarcus Aldridge seems poised for a breakout, as does Brandon Roy (if healthy), and if McMillan can help Channing Frye reach his potential, then this team won't care just about next year.
• David Thorpe, Scouts Inc.
Sleeper: Travis Outlaw
Six-foot-9, athletic and a blossoming talent, Outlaw put up April numbers (18.6 points per game, 92 percent from the line) that hinted at better things this season. Even if he doesn't start, he will still receive solid minutes.
Bust: LaMarcus Aldridge
I still like Aldridge a lot as a player, but this season he might be in trouble production-wise. He's going to have to show that he can score and rebound without that second presence down low (no
Zach Randolph
or
Greg Oden
this season), which is a burden he's not ready to take on just yet.
• Northwest Preview | Fantasy Hoops