Sam Forencich/NBAE/Getty Images
ANALYST
PREDICTION
J.A.
Adande
ESPN.com

NORTHWEST: 2 | WEST: 7 Injuries could reduce the Trail Blazers' depth from a luxury to a necessity. And they're so dependent on Greg Oden to shore up last year's weaknesses that if he goes down again …
Jon
Barry
ESPN.com

NORTHWEST: 2 | WEST: 8 They're still very young, but I see major progress with this team. LaMarcus Aldridge needs to learn the back-to-the-basket game. I see Oden as more of a defensive presence in his rookie year, while Aldridge will be that guy on offense.
Chris
Broussard
ESPN Mag

NORTHWEST: 2 | WEST: 6 Some would call them the Baby Bulls of the West. There's one major difference: Portland's talent isn't all on the perimeter. It's spread over five positions. Twice! I pray they'll stay healthy because it'll be fun to watch them grow and develop.
Ric
Bucher
ESPN Mag

NORTHWEST: 2 | WEST: 7 As much as there is to like, they're a frightfully young team, agewise and experience-wise. Right now I'm more excited about Rudy Fernandez than about Greg Oden, who looks as raw as he did the last time we saw him. Maybe that's to be expected.
Chad
Ford
ESPN.com

NORTHWEST: 2 | WEST: 6 A sixth seed might be wishful thinking, but I love this team. If they can stay healthy (which seems to be a big obstacle) I think you're looking at team that could win 48 games.
Jemele
Hill
ESPN.com

NORTHWEST: 2 | WEST: 6 Without Oden, Portland was a 41-win team that was, at times, brilliant. With Oden, they'll win 50 games and possibly imitate the run New Orleans went on last year.
John
Hollinger
ESPN.com

NORTHWEST: 2 | WEST: 8 The Blazers have high expectations after a surprise 41-win season a year ago -- unreasonably high, I would argue, unless Greg Oden is a superstar from day one. My guess is that it will take a little time, especially for the young guards. Wait 'til next year.
Jalen
Rose
ESPN.com

NORTHWEST: 2 | WEST: 7 This team is loaded with young talent led by All-Star Brandon Roy. And if Greg Oden is as good as advertised, watch out.
Chris
Sheridan
ESPN.com

NORTHWEST: 2 | WEST: 7 The home of one of our rookie of the year favorites, and we're not talking about Greg Oden. We're talking about Rudy Fernandez, whose game is polished enough to push the Blazers into the playoffs.
Marc
Stein ESPN.com

NORTHWEST: 2 | WEST: 8 Are we all getting ahead of ourselves and expecting too much too soon from the NBA's young darlings? Of course. Isn't that what fans -- and sometimes, even those of us in the media -- are supposed to do?


TOTAL NORTHWEST: 2.0 | Standings WEST: 7.0 | Standings
Team Strength: Size
One reason the Blazers can seemingly play like such an old team is because they're so big. At every position, Portland lines up an inch or two taller than the league average, and although coach Nate McMillan likes to play small he can also send out some freakishly huge lineups this year.
Up front, they have Greg Oden, a dominating 7-footer who should control the paint, and Joel Przybilla, the 7-foot-1 shot-blocker who held down the fort a year ago. At power forward they have two softies in LaMarcus Aldridge and Channing Frye, but both players are 6-foot-11 and can create problems with their length as wing defenders in zones. Some teams don't have any players that big; the Blazers have four (or five, if you still count Raef LaFrentz as a player).
Go down the list and the size advantage gets more daunting. Small forward Martell Webster is 6-foot-7, 230 pounds, and backup Travis Outlaw is 6-foot-9; either can slide down to shooting guard when needed and provide an even more imposing height edge.
Brandon Roy is big for a shooting guard at 6-foot-6, 229, and what's really scary is that he is comfortable playing the point and often closed games at that spot a year ago; when he does that the 6-foot-5 Rudy Fernandez can come off the bench. Even at the point the Blazers are big: Steve Blake, Jerryd Bayless and Sergio Rodriguez all stand 6-foot-3, making them the shortest players on the team.
All that length should make the Blazers an unusually good zone defensive team, especially with Oden as a goalie in the middle and the young players on the outside gaining experience in playing NBA defense.
Sleeper: Rudy Fernandez
I watched his dazzling showing with Spain in the Olympics, and it's good enough for me. Even though he's listed as Roy's backup, I think Fernandez gets solid minutes.
Bust: Jerryd Bayless
If I like Fernandez, I almost have to be down on Bayless. In Portland's crowded backcourt, I think the rookie from Arizona loses the numbers game. Roy is playing. I feel that Fernandez, a rookie in name only, will play. And Blake is going to play. Maybe Bayless starts later in the season, but for now, coach Nate McMillan says that Blake is his starting point guard. And what Nate says, I believe. •
Northwest Preview | ESPN Fantasy Hoops | Sign up today
ESPN The Magazine: How Do You Know ...
... that young talent + grand expectations = last year's Bulls?

GM Kevin Pritchard hasn't offered half his crew for Kobe, and the Blazers didn't put McMillan on mute, as the Bulls did Scott Skiles. That's something, right? More to the point, Roy and Aldridge just won't allow a meltdown. Any dynasty talk is hasty, though. This is the NBA's second-youngest team (23.9) and the likely starters will have only 14 seasons among them. Of course, they won't be lugging the weight of MJ's banners around, so there's that.
ESPN The Magazine's NBA Preview hits stands October 22. For more, go to espnthemag.com.
Blazers down one, 9.2 seconds to play, must-win game. What's the play?
Travis Outlaw inbounds the ball to Brandon Roy near the 3-point line. Roy fakes right, then dives left toward the key. As the defender comes to shut off the lane, Roy threads the needle to Rudy Fernandez on the weak side. He lofts a 3-ball in the air, and you could tell the moment it left his hands it was long and wide by a mile.
Wait a minute ... it wasn't a shot, it was a lob! GREG ODEN sails in from nowhere and THROWS IT DOWN. HE BROKE THE BACKBOARD AT THE HORN! BLAZERS WIN!
---
Chad Ford's NBA Dish: '08-09 Preview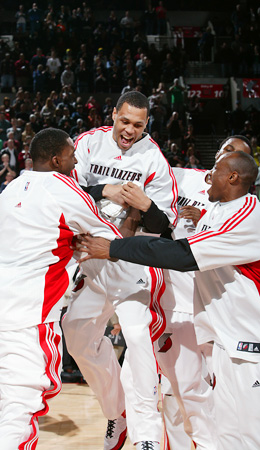 Sam Forencich/NBAE/Getty Images
The young Trail Blazers have an infectious vibe, led by All-Star Brandon Roy.

Nate McMillan
Experience: 8 years
Record: 306-335
Playoffs: 8-8
NBA titles: 0
Coach's profile
With a team this talented and excited about its future, Nate McMillan must get his young guys to focus on today instead of tomorrow. Mixing in his heralded rookies is a must for their future, but McMillan can hold them to higher standards because they are older and/or better than almost anyone in their class.
To fight for playoff contention this season, the youth of Portland has to mature, so McMillan has a significant challenge trying to get so many players to learn the NBA "grind," both game to game and possession to possession.