AP Photo/Dino Vournas
ANALYST
PREDICTION
J.A. Adande
ESPN.com

PACIFIC: 5 | WEST: 14 What will happen first: Artest gets traded, or Artest gets suspended? Combine that with the possibility Mike Bibby gets traded and there's too much instability.
Greg Anthony
ESPN.com
PACIFIC: 4 | WEST: 12 A team in search of a leader -- Mike Bibby, Ron Artest and Kevin Martin can be great players, but not the leaders the Kings need. This team hasn't done much to improve, but I like the Mikki Moore addition.
Jon
Barry
ESPN.com

PACIFIC: 5 | WEST: 12 Yecch. Seemed like a confused team last year, salvaged only by Kevin Martin's breakout year. Now with Reggie Theus as head coach, what are they going to get out of Ron Artest? The Kings could be in for a long season.
Chris
Broussard
ESPN Mag

PACIFIC: 4 | WEST: 13 There's talent here, but with Ron-Ron as a leader, there's bound to be a disruption. The Maloofs should blow it up and start over.
Ric
Bucher
ESPN Mag

PACIFIC: 5 | WEST: 13 No offense to Reggie Theus, but no rookie NBA coach is going to resolve the friction between Ron Artest and Mike Bibby. Dr. Phil couldn't. That elephant hiding under the coffee table aside, they're not athletic enough to run, and don't rebound well enough to grind.
Chad
Ford
ESPN.com

PACIFIC: 4 | WEST: 13 The ship is sinking and the addition of Reggie Theus isn't going to be enough to right it. I think just about everyone is over Ron Artest. Mike Bibby seems to be on a downward spiral. So that leaves things to Kevin Martin. He's good, but not that good.
Jemele
Hill
ESPN.com

PACIFIC: 4 | WEST: 12 When Reggie Theus came in instituting rules about cell phones on buses, it just led me to believe this squad was doomed. They've got solid players in Ron Artest and Kevin Martin, but not much else is noteworthy.
John
Hollinger
ESPN.com

PACIFIC: 4 | WEST: 12 The frontcourt is somewhere between decrepit and decomposing, the bench is weak, the point guard is on the trade market and the best player is off his rocker. Good luck, Reggie Theus.
Chris
Sheridan
ESPN.com

PACIFIC: 3 | WEST: 8 Which lasts longer: Reggie Theus' midnight curfew or Mike Bibby's tenure in Sactown? We'll opt for the latter, and we'll also predict an All-Star-caliber first half of the season for Ron Artest. If things get rocky by early February, however, expect a fire sale to commence.
Marc
Stein ESPN.com

PACIFIC: 5 | WEST: 12 The sad irony of Theus instituting a player curfew on the road is that he won't be able to stop the rebuilding Kings from being sent home early in April when it matters most. They're more than a coaching change away from getting back to a playoff level.


TOTAL PACIFIC: 4.3 | Standings WEST: 12.1 | Standings
Team Strength: Wings
The Kings aren't packing a lot of punch these days, but if you don't have good defenders at the 2 and the 3 you're still in for a long night against them. While Ron Artest can be as selfish as any player in the league when he's in the wrong mood, he played far more under control in the second half of last season and can totally overpower smaller wings while carving up double-teams with his passing. One hopes Reggie Theus can keep him focused all season, but many better men have tried and failed. At the other side, Kevin Martin is the yin to Artest's yang, a slender sniper who is one of the game's most efficient scorers while becoming increasingly confident in his one-on-one arsenal. Coming off the pine, John Salmons had his best offensive season, and I'll damn him with faint praise by saying he's better than the Kings' other reserves. If Francisco Garcia and Quincy Douby develop, this position becomes even more potent. •
John Hollinger's complete Kings forecast


STARTERS
ANALYSIS
Mike Bibby
Point Guard
6-2 | 190
Has to get used to being centerpiece of trade rumors all season.
Kevin Martin
Shooting Guard
6-7 | 185
Wants to be leader, but will Bibby and Artest step aside without a fight?
Ron Artest
Small Forward
6-7 | 246
Says he's focused after a summer of trade and retirement talk. Uh-huh.
Kenny Thomas
Power Forward
6-7 | 245
Fighting off Shareef Abdur-Rahim and Mikki Moore, which says it all.
Brad Miller
Center
7-0 | 261
Losing 25 pounds is a start. But dude, the cornrows have to go too.
ESPN The Magazine's NBA Preview hits newsstands October 24.
Mikki Moore
Player efficiency rating
projection: 10.85
vs. NBA avg.:

-4.15


Kings profiles

Scouting report: A 7-foot stringbean, Moore lacks muscle and has trouble in strength matchups. This hurts him on the boards and in post defense, but he offsets that by playing with tremendous energy and by using his length to bother shots.
The revised defensive rules in the past couple years also have helped him immensely, as he's much more useful in zone defenses.
Offensively, Moore shoots a stand-still push shot from 15-18 feet that was deadly a year ago, in part because defenses were happy to concede it. That won't happen again this year, but he still should be able to get his share of baskets on pick-and-pop plays.
He's also a strong finisher at the basket thanks to his size, and a good foul shooter for a big man. However, he has no post game whatsoever and is a poor ball handler who makes far too many turnovers.
2007-08 outlook: Sacramento signed Moore to a three-year, $18 million deal, overvaluing Moore based on a fluke year that he's unlikely to repeat. Not only was he somewhat over his head last year, but he also turns 32 the first week of the season, meaning decline would be likely even if what he did last year is a true representation of his abilities.
Regardless of how much he drops off, Moore is likely to see playing time in a dilapidated Sacramento frontcourt that consists mostly of early 30-somethings who are making entirely too much money for their production. So he should fit right in.
Though I'm not sure his numbers will decline as sharply as the projections show, I'm much more certain that the Kings quickly will regret paying as much as they did.
If you got some quality time with your team's GM (like those lucky dudes from 3 Shades of Blue), what would you ask?
Tom Ziller, Sactown Royalty:
I would ask Geoff Petrie the meaning of life. I would ask Geoff the meaning of Spencer Hawes. I would ask Geoff how it really felt to trade his pride and joy (Peja) for an unabashed head case (Ron-Ron). I would ask Geoff what year I should plan on buying season tickets. (2010? 2027?) I would ask Geoff where Pete Carril has gone, even though I know where Pete has gone and I just want Geoff to say he'll be back some day. I would ask Geoff if he would hire me; I would tell him I make delicious coffee. •
TrueHoop, ESPN's NBA blog
---
Chad Ford's Dish: '07-08 Preview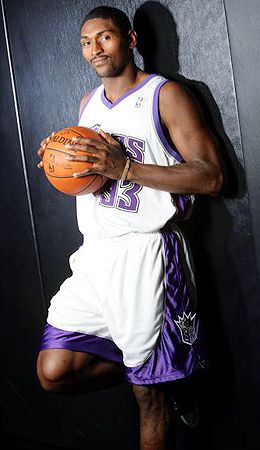 Rocky Widner/NBAE via Getty Images
Ron Artest says a summer of humanitarian work and soul-searching have made him a better man. Now all he has to do is prove it.

Reggie Theus
Experience: 1st year
Record: 0-0
Playoffs: 0-0
NBA titles: 0
Coach's profile
"The Theus Rules" have made headlines, and, on the court, rebounds and defensive effort will be his focal point this season. The Kings played fast but loose last season, and Theus will work to get his new team to play with more intensity after finishing 21st on defense. Core guys Ron Artest and Mike Bibby both are wondering if they'll be Kings by midseason, which could be a distraction. Getting production from their last two first-round picks -- Spencer Hawes and Quincy Douby -- will be a key, too.
• David Thorpe, Scouts Inc.
Sleeper: Brad Miller
Miller doesn't get a lot of blocks, but makes up for that in assists -- he averaged 3.6 assists per game despite his struggles with plantar fasciitis, and averaged 4.7 the season before. Miller should be quite underrated on draft day.
Bust: Shareef Abdur-Rahim
Abdur-Rahim is now on the wrong side of 30, and his lack of blocks is especially harmful now that he doesn't touch the ball enough to offset that with his great free-throw percentage.
• Pacific Preview | Fantasy Hoops