Rocky Widner/Getty Images
ANALYST
PREDICTION
J.A.
Adande
ESPN.com

PACIFIC: 5 | WEST: 13 They give you everything they've got. Unfortunately, it isn't a whole lot. It would be nice to have a guy to dump the ball to and say, "Get us 30."
Jon
Barry
ESPN.com

PACIFIC: 5 | WEST:13 Very little talent in the talented West. K-Mart has been a pleasant surprise, but now that he's the only viable option, we'll see how he handles teams coming after him.
Chris
Broussard
ESPN Mag

PACIFIC: 5 | WEST: 13 I like Kevin Martin, but when he's your franchise player, you're in trouble. He's a high-scoring piece. The Kings can add another piece in the lottery next June.
Ric
Bucher
ESPN Mag

PACIFIC: 5 | WEST: 13 A leaderless bunch of intriguing young talent. Completely off-the-wall theory: Could coach Reggie Theus be suggesting that Kevin Martin will shrink from the moment his way of goading Martin to prove him wrong?
Chad
Ford
ESPN.com

PACIFIC: 5 | WEST: 14 Kevin Martin could average 30 points a night on this squad. He might have to. The Kings have a lot of decent young talent, but I'm not sure any of them are ready.
Jemele
Hill
ESPN.com

PACIFIC: 5 | WEST: 12 Kevin Martin is dangerously underrated, and although the Kings play hard every night, they just don't have enough to make a respectable leap.
John
Hollinger
ESPN.com

PACIFIC: 5 | WEST: 14 With Mike Bibby and Ron Artest gone, it's Kevin Martin's show. Watch for the high-efficiency sniper to crack the top five in scoring. Also watch for the Kings to crack the bottom two in defensive efficiency -- they were 26th, even with Artest.
Jalen
Rose
ESPN.com

PACIFIC: 5 | WEST: 13 Reggie Theus is a good and promising coach although this season the roster won't really give him the chance to show it. Kevin Martin will light it up. Brad Miller will play at a high level.
Chris
Sheridan
ESPN.com

PACIFIC: 5 | WEST: 12 The drop-off at the bottom of this conference is precipitous, and it's hard to fathom this team or any of the three below it winning more than 25 games. My big question: Can Kevin Martin make the All-Star team?
Marc
Stein ESPN.com

PACIFIC: 5 | WEST: 12 The Kings certainly aren't playoff material in the West. Their full-on youth movement is under way, starring Kevin Martin but little else in terms of recognizable names. They'll be pretty scrappy again, though.


TOTAL PACIFIC: 5.0 | Standings WEST: 12.9 | Standings
Team Strength: Shooting
The Kings have a lot of weaknesses, but one thing they will do is make shots. Sacramento was at its best last season when it burned teams from the outside, and this season should be no different.
Leading the way is Kevin Martin, who shot 40.2 percent on 3-pointers and is at 38.0 percent for his career despite an oddball delivery off his right hip; he's even more deadly on midrange shots. With Ron Artest and Mike Bibby gone, he's the unquestioned go-to guy and will likely get far more than last season's 15 shots a game.
Around him in the starting lineup are three other excellent midrange shooters in Beno Udrih, Brad Miller and Mikki Moore. Udrih shot 38.7 percent on 3s last season, and while that may have been above his head, he's proven to be accurate in shooting his lefty line drives from 18 feet. Miller and Moore, meanwhile, are deadly from the free-throw line area, with Miller's range extending all the way out to the 3-point line.
Off the bench it's a similar story. Spencer Hawes is a rainbow-shooting 7-footer who likes to spot up on pick-and-pop plays, while Francisco Garcia ripped the cords at 39.1 percent on 3-pointers last season.
Sleeper: Francisco Garcia
The Kings liked what they saw out of the third-year swingman enough to sign him to five-year contract extension. Looking over his numbers, it's not hard to see why. With minutes, Cisco puts up serious digits. For a sampling, check out his April splits: in 32.7 minutes per game he averaged 16.8 points, 1.2 3-pointers, 2.2 steals and 0.8 blocks with excellent percentages. With sixth-man minutes, this is the kind of playing time owners can expect from Garcia.
Bust: Brad Miller
The problem for Miller and his owners this season is that there is far less room for slippage. Spencer Hawes proved very capable last season stepping in for Miller. In addition, the team drafted Jason Thompson, who at 6-11 and 250 pounds has the size and toughness to seize minutes inside. Miller averages 34.9 minutes per game this season. If either or both of these players shine during Miller's suspension, his minutes stand a good chance of slipping. •
Pacific Preview | ESPN Fantasy Hoops | Sign up today
ESPN The Magazine: How Do You Know ...
... there's any reason for Kevin Martin to show up for work?

This is no sweet gig for K-Mart. Coach Theus is known for his brutal and public player evals, and here's one highlight from the end of last season: Theus suggested Ron Artest was his lone go-to guy. Artest, of course, is gone; so is Mike Bibby. That gives Martin -- the team's leading scorer, by the way -- lots of room to prove Theus wrong. But bruised egos don't heal so fast, even without mounting losses adding to the pain.
ESPN The Magazine's NBA Preview hits stands October 22. For more, go to espnthemag.com.
Kings down one, 9.2 seconds to play, must-win game. What's the play?
It's a "rebuilding" season in Sacramento -- yeah, the front office won't even touch that "retooling" baloney -- so Donte Greene inbounds to Jason Thompson in the high post, who hands off to Bobby Brown, who trips over Thompson's foot and flings the ball to Spencer Hawes, who takes an off-balance three from 26 feet while Kevin Martin stands in the corner calling for the ball.
The shot, of course, goes in. (Spencer Hawes is mystically evil that way.) The nameless opponent answers with a 3-pointer, and the Kings lose. Francisco Garcia won't sing on the team plane this time.
---
Chad Ford's NBA Dish: '08-09 Preview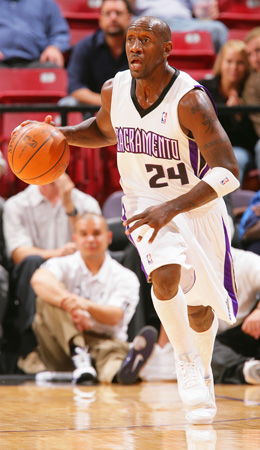 Rocky Widner/NBAE via Getty Images
A crowd favorite his previous stint with the Kings, veteran Bobby Jackson is ready to reignite some of those memories.

Reggie Theus
Experience: 1 year
Record: 38-44
Playoffs: 0-0
NBA titles: 0
Coach's profile
Reggie Theus has talked about getting his team to run some "triangle" actions this season, in an effort to create quicker and more fluid ball movement. But it won't matter much if he can't help the Kings defend better, considering they finished 26th in defensive efficiency last season, with Ron Artest playing the majority of games.
Development of their two rookies (Donte Greene and Jason Thompson) and last year's No. 10 overall pick (Spencer Hawes) will be a key part of their rebuilding plan. Winning games, though, is still part of the formula to help secure Theus' future.