AP Photo/Bob Levey
ANALYST
PREDICTION
J.A.
Adande
ESPN.com

SOUTHWEST: 3 | WEST: 5 They would have had a slow start with or without Manu Ginobili. That's how they do it under Gregg Popovich. But this time, their finishing kick won't be as strong because they'll be a year older.
Jon
Barry
ESPN.com

SOUTHWEST: 3 | WEST: 6 No Manu for two months will hurt. This team has won from whatever its playoff spot, but with few additions outside of Roger Mason, it's tough. Their lengthy playoff experience means something -- it means they're getting old. And this team is old.
Chris
Broussard
ESPN Mag

SOUTHWEST: 3 | WEST: 5 I refuse to count them out. Duncan's still as good as anyone. Parker's just 26, and come playoff time, Manu may benefit from the rest his injury forces him to take. The Spurs are far from favorites, but only a fool would stick a fork in them.
Ric
Bucher
ESPN Mag

SOUTHWEST: 3 | WEST: 5 A lot of troops have departed, and -- no offense to Roger Mason -- I haven't seen much of a surge. They always will be competitive as long as they have Tim Duncan, but they're only the best of the rest now.
Chad
Ford
ESPN.com

SOUTHWEST: 3 | WEST: 5 You can never count out a team that has Tim Duncan, Tony Parker, Manu Ginobili and Gregg Popovich. But what happened to that youth infusion we heard about this summer?
Jemele
Hill
ESPN.com

SOUTHWEST: 2 | WEST: 4 Ginobili's early-season absence will sting, but the Spurs typically round into form in the second half anyway. It's an odd-numbered year, so that means the Spurs are back in contention. Very encouraging that Finley came back 20 pounds lighter.
John
Hollinger
ESPN.com

SOUTHWEST: 3 | WEST: 5 The Spurs were facing some serious age issues even before Manu got hurt, especially on offense, where they imploded late last season. Without their most dynamic offensive player (apologies to Timmy and Tony), expect a slow start before their patented late charge.
Jalen
Rose
ESPN.com

SOUTHWEST: 3 | WEST: 6 Can't write this team off, especially with their championship core -- Duncan, Ginobili and Parker. Keep the beard, Pop!
Chris
Sheridan
ESPN.com

SOUTHWEST: 3 | WEST: 5 As bad as it is that they'll spend the first two months without Manu Ginobili, it'll give folks a chance to take a liking to free-agent acquisition Roger Mason, whose combination of shooting and defense will endear him to the silver and black faithful.
Marc
Stein ESPN.com

SOUTHWEST: 3 | WEST: 5 The Spurs are a year older. The playoffs, however, fall in an odd-numbered year. The feeling here is that the latter means more than the former, so expect to see these guys in title contention, as usual, once Manu heals.


TOTAL SOUTHWEST: 3.0 | Standings WEST: 5.1 | Standings
Team Strength: Interior scoring
No matter how much they struggle to score, the Spurs have always been able to fall back on the fact that their opponents will struggle just as much. The Spurs have been one of the league's top three defenses every year of the Gregg Popovich-Tim Duncan era, and last season was no exception.
Coach Popovich is one of the game's top teachers and motivators, and he has two outstanding individual defenders to base his system around in Bruce Bowen and Duncan. Bowen shuts down the opponents' top wing player with his quickness and savvy, while Duncan quietly dominates inside with his shot-blocking and rebounding.
Around them are other strong defenders. Ime Udoka is the heir apparent to Bowen as the wing specialist, Kurt Thomas is excellent at defending the post and helping teammates, and even scorers like Manu Ginobili and Tony Parker are solid defenders -- as are most of the secondary players. Even with the team getting up in years, it's hard to imagine San Antonio finishing outside the league's elite in defensive efficiency.
Sleeper: Roger Mason
Acquired from the Wizards in the offseason to help provide depth and 3-point shooting, Roger Mason figures to be the primary beneficiary of Manu Ginobili's worrisome ankle injury. Mason shot nearly 40 percent from downtown in Washington last season, and with Brent Barry out of town, the Spurs will lean heavily on Mason's sharp-shooting, especially early in the season.
Bust: Manu Ginobili
Given the severity of Manu's ankle injury, Gregg Popovich will be even more careful with his prized possession this season. Those expecting a repeat of last-season's numbers -- 19.5 points, 4.8 rebounds, 4.5 assists, 1.5 steals and 2.1 3-pointers -- will be sorely disappointed when Manu returns. It is not surprising that Manu's career-high statistics coincided with a career-high in minutes. When his minutes retreat to his typical 27-28 per game, his statistics will follow suit. •
Southwest Preview | ESPN Fantasy Hoops | Sign up today
ESPN The Magazine: How Do You Know ...
... the every-other-year title cycle is over?

Can they do over the Luis Scola deal? Will 2007 first-rounder Tiago Splitter renege on his Spanish team? Any chance former D-Leaguer Ian Mahinmi gets one of those growth spurts in the skills department? Ever since TD paired with The Admiral on those first two titles, the Spurs' ring runs have been fueled by the arrival of front-line stoppers -- Nazr Mohammed, Francisco Elson. Miracles aside, no one is up to that task this time.
ESPN The Magazine's NBA Preview hits stands October 22. For more, go to espnthemag.com.
Spurs down one, 9.2 seconds to play, must-win game. What's the play?
Tim Duncan prepares himself by putting on his robe and wizard hat. Now dressed for the legerdemain, he removes his twenty-sided die, and rolls it across the hardwood. If the numbers one through 10 come up, victory rests upon Manu Ginobili. Eleven through 20 -- Duncan himself will take the shot.
Number Thirteen.
Being that he is a practitioner of the dark arts, it's not Duncan whom luck plans to scorn. For his final trick, the Merlin of south Texas positions himself in the most unexpected of places, beyond the 3-point line, and makes the opponent's tenuous lead disappear.
---
Chad Ford's NBA Dish: '08-09 Preview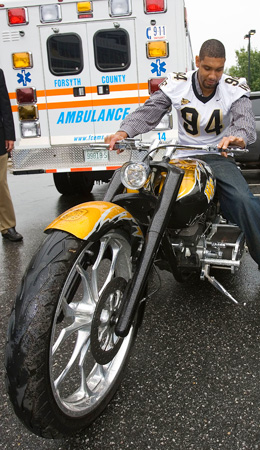 Brian A. Westerholt/Getty Images
Here are three things San Antonio fans don't want to see in the same photo: Tim Duncan, a motorcycle and an ambulance.

Gregg Popovich
Experience: 12 years
Record: 632-302
Playoffs: 101-59
NBA titles: 4
Coach's profile
As much as it hurt Gregg Popovich to see his team struggle to score without a healthy Manu Ginobili in last season's playoffs, it provided him with a vision of the Spurs' future unless something is changed.
San Antonio relies so heavily on the combination of Tim Duncan inside and Manu Ginobili or Tony Parker scoring off ball screens that a drop-off (or missed games) from any of them can decimate the Spurs' scoring efficiency. But finding strategies and creating points from the other players is a true challenge. Losing Manu to start the season gives Pop an immediate opportunity to figure things out.