Rocky Widner/NBAE via Getty Images
ANALYST
PREDICTION
J.A. Adande
ESPN.com

NORTHWEST: 3 | WEST: 13 If this is their last look at the Sonics, Seattle fans will at least enjoy Kevin Durant and this squad. They won't be playoff contenders, but they'll do better than last year's 31 victories.
Greg Anthony
ESPN.com
NORTHWEST: 4 | WEST: 11 A monster season from Kevin Durant is possible, but this team is looking for its identity. P.J. Carlesimo will do a solid job of coaching. They need a better Luke Ridnour. Still a player or two away.
Jon
Barry
ESPN.com

NORTHWEST: 5 | WEST: 15 Could be 1-2 in the draft with Portland again. Everybody's excited to see Kevin Durant, who looks like the real deal. But it's a lot to ask a kid who should be a sophomore in college to carry a franchise.
Chris
Broussard
ESPN Mag

NORTHWEST: 4 | WEST: 12 With all the hype -- well-deserved, I might add -- surrounding Kevin Durant, don't forget about fellow rookie Jeff Green. Smart, heady and skilled, he'll be a nice complement to the budding superstar. Sonics have talented guys who will be nice role players for Durant -- in the future.
Ric
Bucher
ESPN Mag

NORTHWEST: 4 | WEST: 14 Getting cap relief comes with a price, as they'll find out. So does making inroads to skipping town. Surrounding incredibly young teams with turmoil isn't the way to maximize their potential. They'll find that out, too.
Chad
Ford
ESPN.com

NORTHWEST: 3 | WEST: 11 They lost Ray Allen and Rashard Lewis, but the addition of Kevin Durant, Jeff Green, Delonte West and Kurt Thomas should keep the team respectable. If they ever get anything from their young centers, their future will look brighter.
Jemele
Hill
ESPN.com

NORTHWEST: 3 | WEST: 11 Kevin Durant is going to put up huge numbers, and while he's the only real star, they have some intriguing young possibilities. Stealing GM Sam Presti and P.J. Carleismo was a shrewd set of moves.
John
Hollinger
ESPN.com

NORTHWEST: 3 | WEST: 10 New GM Sam Presti blew things up to build around Kevin Durant, but don't sleep on this team -- the Sonics are deep and have upgraded the frontcourt, so they should stay in the playoff chase.
Chris
Sheridan
ESPN.com

NORTHWEST: 3 | WEST: 13 Good to see P.J. Carlesimo back where he belongs. Eager to see Kevin Durant become the league's best 3-point shooter from the corners. Don't expect Earl Watson to last the entire season here. He'd be much more valuable on a contending team.
Marc
Stein ESPN.com

NORTHWEST: 4 | WEST: 14 Forget wins and losses. This season? You need only keep track of two things when it comes to the Sonics: Kevin Durant's status in the Rookie of the Year race and where the team plans to play next season.


TOTAL NORTHWEST: 3.6 | Standings West: 12.3 | Standings
Team Strength: Depth
This might be as deep a lottery team as the league has seen in years. The Sonics don't have much for star power besides Kevin Durant, but they go 12 deep and should be able to withstand the 82-game regular-season grind as well as anyone. In fact, few teams can boast a frontcourt rotation as deep as this one. Chris Wilcox, Robert Swift, Nick Collison, Kurt Thomas and Johan Petro all are decent players, while the 6-11 Durant and 6-9 Green also can shift to the frontcourt. That's seven potential bodies the Sonics can use in their rotation up front, and not one is a stiff. (But if you did want to count stiffs, Sene makes eight.) The Sonics have plenty on the wings too, where Delonte West, Wally Szczerbiak, Damien Wilkins and Mickael Gelabale all are capable subs behind Durant and Jeff Green. Even at the point there are three solid candidates with West, Luke Ridnour and Earl Watson. In fact Seattle could end up with a minutes crunch, as at least one or two decent players figure to be odd men out in the rotation. If I had to bet I'd say the two French guys and Damien Wilkins are the ones who lose out, but it seems there will be some interesting training camp battles this year. •
John Hollinger's complete SuperSonics forecast


STARTERS
ANALYSIS
Luke Ridnour
Point Guard
6-2 | 167
Part of dynamic time-share with Earl Watson … if dynamic means average.
Wally Szczerbiak
Shooting Guard
6-7 | 244
Might be compelled to outduel Durant. That would be a mistake.
Kevin Durant
Small Forward
6-9 | 225
There's talk of moving him to SG, but that's too much to ask right now.
Chris Wilcox
Power Forward
6-10 | 235
So much for brittle: Went the full 82 last season.
Robert Swift
Center
7-0 | 245
Last season's knee injury stunted growth. If you can call it that.
ESPN The Magazine's NBA Preview hits newsstands October 24.
Scouting report: A high-flying finisher, Wilcox will make one or two highlight-film dunks every game. He's especially forceful when throwing down alley-oops, and loves to come flying down the lane in half-court sets and cram dunks home.
He has no post game at all and I'm not sure I've ever seen him attempt a real jump shot -- the closest thing is that sometimes he'll realize he can't get all the way to the rim and just palm the ball over his head and try to throw in a one-hander.
Defensively, Wilcox is below par. His athleticism hasn't translated into shot-blocking, and his lack of muscle makes him a below-average shot-blocker. Additionally, he tends to lose track of plays off the ball and needs work on his help defense. That's likely to be a bigger issue with the new regime, which values defense first.
2007-08 outlook: Wilcox looks to be one of the big losers from the Sonics' draft, as the arrival of Kevin Durant and Jeff Green figures to cut into his action at the power forward spot. While he has a good chance of being the opening day starter (Durant would play the 3), it seems likely the Sonics will pair the two first-rounders at the forward spot sometime during the season.
Of course, Wilcox can be a part of the Sonics' youth movement too -- he's only 25 and is coming off two straight productive pro seasons.
But for him to be a long-term cast member, he has to add to his bag of tricks. Those highlight-reel dunks won't come as easily in his late 20s and early 30s, and so far he's given himself nothing to fall back on.
If you got some quality time with your team's GM (like those lucky dudes from 3 Shades of Blue), what would you ask?
Paul Merrill, Supersonicsoul:
Sam Presti, why are you trying to break my heart? You're our first competent GM in over a decade, we just drafted the Next Big Thing, and here you are packing your bags. You're like a girlfriend who threatens to leave unless you buy her a $500 million ring. Even if you really, really love this girl, how can you possibly have a relationship with someone who has such little respect for you? And yet here I am, ready to pledge my allegiance for as long as you stay with me. I am a fool for your love. •
TrueHoop, ESPN's NBA blog
---
Chad Ford's NBA Dish: '07-08 Preview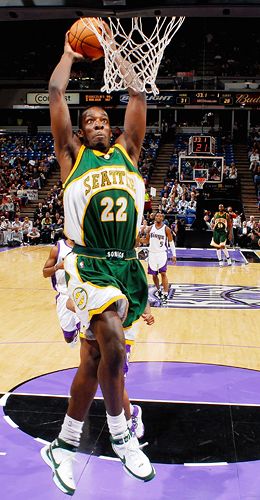 Rocky Widner/ NBAE via Getty Images
Jeff Green does a little bit of everything. He's the glue guy the Sonics hope will be Kevin Durant's running mate for years to come.

P.J. Carlesimo
Experience: 6 years
Record: 237-222
Playoffs: 3-9
NBA titles: 0
Coach's profile
Yet another team looking to build a foundation and an identity, but P.J. Carlesimo at least has the knowledge that this Sonics team is being built around, perhaps, the best 19-year-old ever to join the league. However, veterans don't always take to rookies being the go-to guy. So Carlesimo will work to create a plan that incorporates everyone, hoping that Durant's talent and energy will allow him to genuinely take on a leadership role going forward.
• David Thorpe, Scouts Inc.
Sleeper: Robert Swift
Swift missed all of last season after a promising 2005-06 campaign. He's a talented young man with the size and skill set (capable rebounder, good shot-blocker, moves well and is adept with his post offense) to prosper as an NBA center.
Bust: Kevin Durant
This is more a product of there being few guys who actually have hype (which you must have to be a bust) than anything else. But it's going to take some time for him to add the weight and strength he'll need to succeed at the NBA level, and in the meantime he merely will serve as a scorer who pulls in some defensive rebounds but hurt your percentages.
• Northwest Preview | Fantasy Hoops