Stefano Silvestri/NBAE via Getty Images
ANALYST
PREDICTION
J.A. Adande
ESPN.com

ATLANTIC: 2 | EAST: 6 Just entered that strange zone where they've racked up too many W's to be a surprise, but don't have enough firepower to be a real threat. Good at all positions, not great at any.
Greg Anthony
ESPN.com
ATLANTIC: 2 | EAST: 5 Good additions with Carlos Delfino and Jason Kapono. But the health of Chris Bosh and Jorge Garbajosa are big questions. Raps not going to sneak up on anyone this season; they've earned the league's respect.
Jon
Barry
ESPN.com

ATLANTIC: 2 | EAST: 6 Some say they're an automatic 50-win team. Wait. This is a good solid team, but don't hold your breath for them to be in the East's elite. Chris Bosh is a true superstar, but his team's not going to sneak up on people now.
Chris
Broussard
ESPN Mag

ATLANTIC: 2 | EAST: 6 Andrea Bargnani is about to blossom into a star, giving the Raptors a Twin Towers frontcourt that will give opponents nightmares and headaches. For one more year, though, Raptors will be better in regular season than postseason.
Ric
Bucher
ESPN Mag

ATLANTIC: 1 | EAST: 3 The health of Jorge Garbajosa is vital. Without him, they lose a major chunk of their toughness. But there isn't a more versatile squad in the league, which is why last year wasn't a mirage.
Chad
Ford
ESPN.com

ATLANTIC: 2 | EAST: 6 There's a big drop-off between the conference's top five and the rest of the East. Last year's surprise seems poised for a repeat -- especially if Chris Bosh, T. J. Ford and Andrea Bargnani keep developing.
Jemele
Hill
ESPN.com

ATLANTIC: 2 | EAST: 6 It's very possible this team will take a step forward without their record reflecting it. Chris Bosh's disappointing playoff performance should be a motivator. This will be one of those teams no one wants to see in the playoffs.
John
Hollinger
ESPN.com

ATLANTIC: 2 | EAST: 8 Surprisingly won the division last year, with the help of huge, unexpected years from both point guards. I don't expect them to do it again, and expect the Raps to take step back as a result.
Chris
Sheridan
ESPN.com

ATLANTIC: 1 | EAST: 3 Year 1 of playing EuroBall went well, and I see improvement this year thanks to Carlos Delfino coming aboard and Jose Calderon developing a 3-point shot. We won't see another 20-win improvement, but 50 wins is within reach.
Marc
Stein ESPN.com

ATLANTIC: 3 | EAST: 9 J-Kidd says that the defending division champs deserve Team To Beat status in the Atlantic. I still root for the plucky Raps as a Canada lover, but J-Kidd is just being polite given what Boston did and the uncertain health of Bosh and Garbajosa.


TOTAL ATLANTIC: 1.9 | Standings EAST: 5.8 | Standings
Team Strength: Shooting
Last season the Raptors were only an average 3-point shooting team, making 35.7 percent of their long bombs. They had some good shooters, of course -- Chris Bosh, Jorge Garbajosa, Anthony Parker and Jose Calderon can all hit from 20, and T.J. Ford was an improved marksman as well -- but Colangelo's goal is to build a superior shooting team. And this season they should qualify thanks to three personnel changes. The first, of course, is adding Jason Kapono. While he remains frustratingly reluctant to use his best weapon -- barely a third of his shots last season were 3-pointers -- there's no doubt about his ability to shoot from distance. If the Raptors can sit him down and explain that the 18-footer off the dribble shouldn't be his go-to move, he can be even more effective. The second is a swap the team made at the trade deadline a season ago that sent Fred Jones to Portland for Juan Dixon. I'm not sure why the Raptors signed Jones in the first place, but they made a nice direction shift once they realized their mistake and pawned him off on the Blazers in return for Dixon -- a man who has no position but can really stroke it from outside. Finally, there's Andrea Bargnani. A sub last season who didn't start earning major minutes until the second half of the season, Bargnani's line drives from the top of the key are a deadly weapon. He's likely to break into the starting lineup this season, and as he gets more familiar with the pro 3-point line his stroke will make the Raps even more difficult to contain outside. •
John Hollinger's complete Raptors forecast


STARTERS
ANALYSIS
T.J. Ford
Point Guard
6-0 | 165
Burner is ideal for spread offense with top big man -- like this offense, for instance.
Anthony Parker
Shooting Guard
6-6 | 215
Under-the-radar guy is clever, mature and can shoot (lousy radar).
Jason Kapono
Small Forward
6-8 | 215
Got big dollars to spread the floor, so he'd better be money from deep.
Chris Bosh
Power Forward
6-10 | 230
Was looking like the best big in the East -- then KG showed up.
Andrea Bargnani
Center
6-10 | 250
Three-point threat isn't typical center -- at least not on this continent.
ESPN The Magazine's NBA Preview hits newsstands October 24.
Carlos Delfino
Player efficiency rating
projection: 12.14
vs. NBA avg.:

-2.86


Raptors profiles

Scouting report: Delfino handles the ball very well for his size and is a good passer who ranked 19th at his position in assist ratio. He likes to play in the open court, but he might like it a bit too much -- he tends to gets out of control. However, he's a strong finisher when coming in from his right.
Defensively, Delfino has good size and is a decent athlete, so while he's no Tayshaun Prince he did a quality job and was often used as the defensive stopper when Prince wasn't on the floor. Notably, he cut way back on the fouling last season, chopping his per-minute rate nearly in half after enduring a plague of whistles in his first two seasons. His defensive ability makes it easier to live with some of his offensive shortcomings.
2007-08 outlook: Delfino was traded to Toronto after the season for two second-round draft picks, where he is likely to be the main small forward off the bench behind fellow newbie Jason Kapono. His defensive skills should be more appreciated in Toronto, and his playing style may fit in better with the Raps' international flavor.
Interestingly, Delfino's similarity with Jud Buechler was 99.51 out of 100, the fourth highest similarity rate among the players I evaluated this year. That's probably about right, actually -- the Raptors shouldn't expect anything too grand, but for 15-20 minutes a night, he makes for a dependable sub with a cap-friendly contract.
If you got some quality time with your team's GM (like those lucky dudes from 3 Shades of Blue), what would you ask?
J.E. Skeets, The Basketball Jones:
Mr. Colangelo: When you touch gold does it turn to "super gold?" Can I wear a small, light-colored, checkered shirt with a pinstriped suit? You ever fight a bear? How much does Chuck Norris fear you? Is it acceptable to tuck a button-down shirt into jeans? Can I bottle your scent, call it "Important" and sell it to other GMs? Does walking on water bore you? What do you think of these shoes? Will you please adopt me? •
TrueHoop, ESPN's NBA blog
Chad Ford's NBA Dish: '07-08 Preview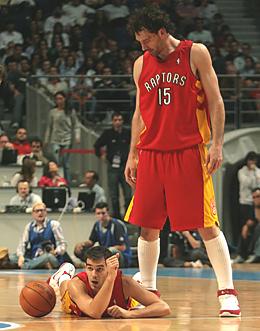 Pierre-Philippe Marcou/AFP/Getty Images
Toronto's surprising success can be laid (in part) at the feet of their pair of Spaniards, Jose Calderon (left) and Jorge Garbajosa (returning from a gruesome ankle injury).

Sam Mitchell
Experience: 3 years
Record: 107-139
Playoffs: 2-4
NBA titles: 0
Coach's profile
The Raptors' lack of "nastiness" inside really hurt them in their playoff loss to New Jersey. With a new contract and the Coach of the Year award, Sam Mitchell should be able to get his players to buy into playing defense and working hard on the glass. Toronto may have caught the league by surprise last year, but it won't this year. The East has improved, so Mitchell and the Raptors can't take anything for granted.
• David Thorpe, Scouts Inc.
Sleeper: Jose Calderon
In the second half of the '06-07 season, Calderon's per-40-minute averages were 16 points and 10 assists on 50 percent shooting (40 percent on 3s) to go along with two steals and only three turnovers. Unfortunately, he played only 21 minutes per game, splitting time with
T.J. Ford
. If Calderon's minutes go up, or if Ford gets hurt, Calderon could be one of the better fantasy options at point guard.
Bust: Jason Kapono
Kapono made 108 3-pointers last season. That is a very useful number in fantasy, and some people will probably draft him this season hoping for similar production. The problem is, Kapono doesn't give you much else. If you think he'll hit 51.4 percent of his 3s again this season, then he might be worth drafting late, but I'm going to assume he shoots somewhere in the vicinity of his career average of 46 percent and has far fewer attempts as well.
• Atlantic Preview | Fantasy Hoops