David Liam Kyle/Getty Images
ANALYST
PREDICTION
J.A.
Adande
ESPN.com

ATLANTIC: 3 | EAST: 6 At times, Chris Bosh did all the big-man chores on the U.S. Olympic team -- imagine how productive he'll be with Jermaine O'Neal around to help out in Toronto. But the thin backcourt will hurt them come playoff time.
Jon
Barry
ESPN.com

ATLANTIC: 2 | EAST: 5 Can Bosh and O'Neal coexist? Calderon now has the reins and is one of the more underrated point guards in the league. Kapono just doesn't get enough opportunities out there.
Chris
Broussard
ESPN Mag

ATLANTIC: 3 | EAST: 6 O'Neal doesn't need to be great to justify the trade, but if he is, there could be another East contender. If he's near pre-injury form, that's a legit Twin Towers (with Bosh). And only the foolish will give up on Bargnani this early.
Ric
Bucher
ESPN Mag

ATLANTIC: 2 | EAST: 3 Nothing invigorates a team quite like a risky blockbuster offseason deal. (See Celtics, 2007.) Not that Jermaine O'Neal is KG, but GM Bryan Colangelo has sent a message: We're going for it. I have to believe Chris Bosh and Jose Calderon heard him.
Chad
Ford
ESPN.com

ATLANTIC: 3 | EAST: 6 To me, the Raptors are the East's sleeper. Another All-Star year by Chris Bosh and another great season by Jose Calderon will be critical. If Jermaine O'Neal returns to anything near All-Star form, the Raptors will win often.
Jemele
Hill
ESPN.com

ATLANTIC: 3 | EAST: 7 If Jermaine O'Neal can stay healthy, Chris Bosh will have a superstar season. Jose Calderon entrenched at point makes a huge difference in floor chemistry. If they play defense consistently, they are talented enough to be a top-four seed.
John
Hollinger
ESPN.com

ATLANTIC: 3 | EAST: 6 Jermaine O'Neal is a spent force offensively, but his defense will be huge for a team that has lacked backbone in the middle. Plus, he saves Chris Bosh some pounding. Alas, a lack of dynamic wings and shaky depth mean the Raps are one-and-done again.
Jalen
Rose
ESPN.com

ATLANTIC: 3 | EAST: 6 Jose Calderon takes care of the ball and plays well on both ends. Raps will shoot the 3 very well with Kapono, Parker and Bargnani. Bosh will be an All-NBA pick, and Jermaine O'Neal is hungry to show he can still play at an All-Star level.
Chris
Sheridan
ESPN.com

ATLANTIC: 3 | EAST: 6 Will be interesting to see how Chris Bosh and Jermaine O'Neal co-exist on the low blocks, and we expect to see them struggle when Roko Ukic is running the show behind Jose Calderon. They could crack the top four if they are dominant at home.
Marc
Stein ESPN.com

ATLANTIC: 3 | EAST: 6 In spite of J. O'Neal's injury history, pairing him with Bosh and making it clear that this is Calderon's team to run ... I'm sold on Toronto's new three-man core. But I wonder how much help they'll get.


TOTAL ATLANTIC: 2.8 | Standings EAST: 5.7 | Standings
Team Strength: Interior defense
It sounds crazy to be saying this about a Raptors team, but if Jermaine O'Neal is even remotely healthy it will be true. His defense hasn't received a lot of attention so I'm not sure casual fans understand what a force he is at that end -- he not only block shots, rebounds and takes charges, but he's tough enough to guard the opponent's top post threat every night. Those attributes will be immensely helpful to Chris Bosh, as he often was an undersized center in previous Raptors lineups.
Instead, he can be the active, perimeter-focused guy who guards the lesser of the opponent's frontcourt threats and can make plays from the weak side with his quickness and length. Those who watched the U.S. Olympic team saw what a force he can be in that role.
In addition, don't forget about small forward Jamario Moon, another long high-flier who blocks shots like a big man. Between he, Bosh and O'Neal the Raps should be among the league leaders in shot blocks and defensive rebounding, even with relatively little help from the frontcourt off the pine.
Sleeper: Jermaine O'Neal
Remember what happened the last time O'Neal got a change of scenery? He became a superstar. And even though it seems like he's older than the hills, the man will be just 30 this season. You should ignore all the problems and focus on the positive: O'Neal's been good for at least two blocks per game every season for the past eight, and when he's healthy he's still a great source of points and rebounds.
Bust: Anthony Parker
He's 33 years old and he showed a significant drop in his ability to get to the line last season. If people are expecting Parker to get a bump in minutes with Carlos Delfino and T.J. Ford out of town, I think his age precludes that possibility. He will stay the same or get slightly worse, which is what tends to happen to players when they are 33.
•
Atlantic Preview | ESPN Fantasy Hoops | Sign up today
ESPN The Magazine: How Do You Know ...
... Jermaine O'Neal has anything left to give?

O'Neal averaged 31 DNPs in each of the previous four seasons and a subpar 13.6 points and 6.7 rebounds per when he was on the floor last season. But with Bosh a nightly lock for 20 and 10, the Raps don't need JO to dominate like he once did. And as long as foes focus on Bosh, the six-time All-Star could find that points come more easily than they did in Indy. Healthy, even a diminished O'Neal makes Toronto matter. Long-shot contenders even.
ESPN The Magazine's NBA Preview hits stands October 22. For more, go to espnthemag.com.
Raptors down one, 9.2 seconds to play, must-win game. What's the play?
First of all, my lineup: Jose Calderon, Anthony Parker, Jason Kapono, Kris Humphries and Chris Bosh.
I'd call a 1-3-1 with Bosh in the low post and Humphries in the high post. Bosh is the first option if he gets good position. Otherwise, Bosh moves to the high post while Parker and Kapono head to the baseline around 20 feet from the basket.
Calderon could dish to Bosh in the high post for the shot or drive; Calderon can take the shot himself if he breaks down his defender, or he could pass to either of the corner men if they're open. Humphries' job is to crash the boards on the shot release.
---
Chad Ford's NBA Dish: '08-09 Preview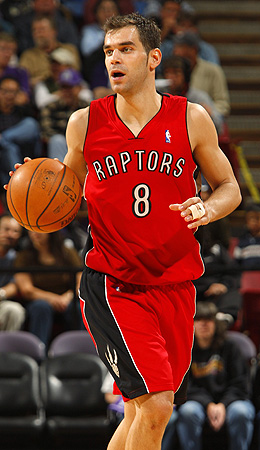 Rocky Widner/NBAE via Getty Images
Toronto's Jose Calderon was able to outlast T.J. Ford to become the full-time floor general for one of the East's most intriguing teams.

Sam Mitchell
Experience: 4 years
Record: 148-180
Playoffs: 3-8
NBA titles: 0
Coach's profile
No coach wants his team's success to largely hinge on one player. But Sam Mitchell may be facing that scenario entering this season. For Toronto to jump ahead a level or two, it needs its No. 1 overall pick from two years ago to develop into at least a solid scorer and overall contributor.
If Mitchell can coax Andrea Bargnani into providing more than an occasional strong perimeter game, and get him to start consistently producing at a level equal to his considerable talent, then the Raps will feature four potential All-Stars.